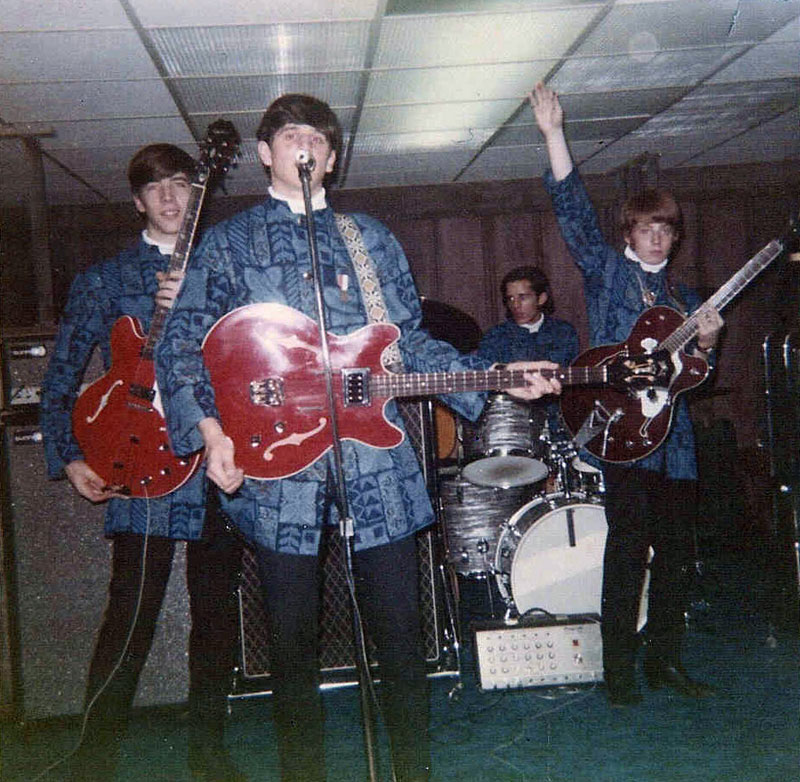 The Ruins, 1968, l to r: Paul Turchetta, Paul Ferda, John Menadrysa on drums, and Dennis Girard.
The Ruins were from Lincoln Park, Michigan, with only this one excellent 45 as their legacy. "The End" is an original song written by singer and guitarist Dennis Girard. "Take My Love (And Shove It Up Your Heart)" is a good cover of the Blues Magoos song.

What follows is Dennis Girard's account of the Ruins, in his own words:

I come from a musical family (both parents had been involved with music and performed on local radio in Detroit, my father was a professional piano player), so it was natural to grab an instrument. The Beatles appearance on Ed Sullivan created my interest like many Americans in the guitar. My uncle was a professional guitar player and helped in selecting my first instrument.It was early 1965 when my cousin Tim Phillips was playing drums. His neighbor across the street was Randy McMillan and he played guitar. So the band started and we called ourselves the "Mysterions."

We were fortunate to have Tim's older brother Harry Phillips enter the scene. Harry was a few years older (we were only 13 years of age) and played with some of the bigger names in the Detroit music scene (Mitch Ryder and Catfish Hodge to name a few). He played the Hammond B3, and offered advice as we practiced.

The Ruins went through several changes in personnel. What is amazing is that these changes were never as a result of any disagreement or argument. It was a family in the true sense of the word, perhaps because it started out with cousins and close friends.

Early in 1966 the name of the group became a problem. Question Mark and the Mysterians had the hit 96 tears, there was confusion when we played out. I came up with the name, "The Ruins." I had found a reference to the name in a Beatle tune (Think For Yourself).

We needed a bass player, Paul Ferda was a friend from junior high school and he had a bass guitar. 1966, The Ruins are created including the following members:

Dennis Girard… lead singer and rhythm guitar
Tim Phillips… drums and backup vocals.
Randy McMillan… lead guitar and backup vocals.
Paul Ferda… bass guitar and backup vocals.


Tim Phillips, 1952 -2008


clockwise from left: Dennis Girard, Paul Ferda, Randy McMillan, and seated Tim Phillips

We played top forty tunes and were influenced by the Beatles, The English Invasion and the Motown sound of the Detroit Music scene. Our early outfits included Beatle collarless jackets and bright blue Nehru jackets. Our parents forked out the money for some big time equipment. At the time we made around $75.00 to a $100.00 dollars a night. This was immediately given to our parents to help defray the cost of more guitars, amps, and PA equipment. We were one of the few groups in Detroit to have not one, but four Vox Beatle amps. The group was enjoying popularity and playing every weekend. We hit the teen clubs (Chatter-Box, By-Pass, Hullabaloo, and the Club in Monroe Michigan) and local high schools.

In 1965 I had written a song called, "The End." I was thirteen when I wrote it. We started including the song in our live performances. It was sometime in 1966 that we made contact with Mutt Records. As I recall Randy's father had taken over the role of manager, and he put us in touch with Nate Dore. Nate Dore was the owner of Mutt Records located at 27316 Michigan Avenue in Inkster, Michigan (the studio was only 15 miles west of Detroit). Nate was a bondsman and the studio was located in the rear of this business. His sound engineer was Bill Williams.

From the beginning we were treated like family. Nate and the rest of the staff were African American and we were called, "the blue eyed soul boys." Nate never charged us for studio time. He was convinced that The Ruins would allow him to break into the new sound that was being influenced by the English Invasion.

We signed a contract with Mutt records (well it was our parents who signed) and began to spend nights after school working on the two songs for the 45 record. My cousin Harry Phillips added the Hammond B3 and helped with arrangements for both songs. Harry because of other musical commitments, only performed a few times with the group. It was around this time I added a Farfisa organ to my instruments. Even with hours of practice, I never came close to the sound and skills of Harry. The record did not sell very well because of distrbution problems or lack of. Nate Dore did stick with the group till the end.


Dennis Girard – a late night at Mutt Records

1968: I cannot recall the exact details of why Tim Phillips left the band. I know he had a steady girlfriend (Jackie would become his wife) and started working with his brother Harry and Randy McMillan on another musical project. There was no argument or hard feelings.

Now Paul Ferda and myself set about trying to save The Ruins. It was in 1968 that Ann Marston approached me about helping to form a new band. Because of our record and local success, Ann wanted to manage the band. Again there were high hopes and dreams. Ann Marston was a well known band promoter at this time (you can read about her life in the book, "Shooting Star" by Alana Paluszewski). She introduced John Menadrysa as the bands new drummer.

There was a lot of competition during those years between bands. For the most part it was not malicious, it often was over your equipment status. Things were often territorial in those years. You had the East Siders (east side of Detroit), Ann Arbor bands, and the Downriver Groups. We were in the later. Downriver included the middle class blue collar suburbs located south of Detroit and near the Detroit River. These groups were often called, "The Downriver Rats."

There was a unofficial tier system for groups. The highest tier would have had bands like Bob Seger, MC5, Stooges, Scott Richard Case (SRC), Mitch Ryder and the Rationals as examples. These guys played The Grande Ballroom and often left the state to perform.

We made it into the second tier. These groups would often open for the above listed and had a 45 record released. I would include The Unrelated Segments, The Satellites, and of course ourselves as examples. The third tier was made up of groups that had no management and often poor equipment. They were lucky to grab a high school dance.

What hindered our group was the fact that we were so young. We had to have our parents drive us to many gigs. That was the beauty of having Ann Marston take over. Ann would pull a rented trailer around with her 1965 Plymouth Fury.

When a second tier group opened for on of the main acts, there was not much contact. The big groups had their roadies and stuck to themselves for the most part. The one exception I can remember was Scott Richardson (SRC). We opened for them at a gig on their side of town (St Clair Shores). Scott offered his PA (which even had a guy mixing and was huge compared to ours) to our group. He went out of his way to make us feel relaxed, even inviting us to a party in Ann Arbor after the gig (all the parents present vetoed that invite).


John Menadrysa


The Ruins, 1968: l-r: Paul Turchetta, Paul Ferda, Dennis Girard, John Menadrysa

Again there was a good chemistry and now we searched for a lead guitar replacement for Randy. Ann brought Paul Turchetta to my basement for an audition. Paul was the first and only lead guitar player to try out. The three of us (Paul Ferda, John Menadrysa, and myself) knew after the first song that Paul Turchetta was the one. I had never seen anyone fit into a group as fast as Paul Turchetta. The group began to practice and within a week started playing clubs.


Paul Turchetta: "Would you believe I still have the Epiphone Riviera and the Sunn amp and the jacket.
Dennis's mom made us those."

The Ruins were once again together, and working closely with Ann Marston and Nate Dore. But more changes waited around the corner.

Paul Turchetta after only eleven months announced that his family was moving to Arizona. The band was devastated. Ann wanted Paul to stay behind and offered to have him live with her parents. Paul's parents were not fond of this idea (he was only 16). The group almost broke up, but Ann and Nate convinced us to stick it out. As I stated before, The Ruins were an extended family, and one phone call to Randy McMillan found him back in the group.

By late 1968 The Ruins were Dennis Girard, Paul Ferda, Randy McMillan, and John Menadrysa.


The Ruins with their manager Ann Marston

In September, 1968 found the group again playing gigs and Ann Marston got what we hoped would be our big break. We were scheduled to perform our two songs (The End and Take my Love) on the popular television show, "Swingin Time" with Robin Seymour. Robin Seymour could make or break any group in the Detroit area.

This was our big chance, but another change was about to take place. Paul Ferda decided he wanted to quit music and take a real job. On the eve of appearing on Swingin Time, we found ourselves without a bass player. A good friend of mine from high school Vic Grasso appeared with the group on The Robin Seymour Television Show (broadcast from Windsor Canada).

Ann Marston quickly brought in Mike Monday as the permanent replacement for Paul Ferda. The one photo of me in the studio was taken when the final version of the Ruins went back to record a follow up record (late 1968). In the studio at this time was Randy McMillan, John Menadrysa, Mike Monday and myself. It's a shame but several tracks were recorded of new songs, but I have no idea where they are.

Again this version of The Ruins enjoyed success and began playing some major venues. A quick story: the night we played in Southgate Michigan with Teegarden and Van Winkle their song "God, Love and Rock & Roll" was big on the charts. the place was packed but they arrived with no equipment. Their trailer had been impounded by a local police department for improper plates.

They were not "hip" on using our equipment (they needed a Hammond B3, my small Farfisa was not a match). Enter Nate Dore the bail-bondsman. Nate was able to drive to the police department and get all of their equipment released in time for the show. We did a longer opening set and the show was a success.


On the Robin Seymour TV Show, l-r: John Menadrysa, Vic Grasso, Randy McMillan, Dennis Girard





The Ruins with Robin Seymour


The final version of the Ruins, l-r: Randy McMillan, Dennis Girard, John Menadrysa and Mike Monday

Ann Marston was beginning to become upset with the many changes that The Ruins were going through. She began working with other bands. Randy's father again stepped in and started booking the band. The Vietnam war would bring "The End" to the Ruins. John Menadrysa found himself drafted into the Marines. After the many changes and loss of Ann Marston, the group disbanded. The magic of the Ruins had ended. It had been an amazing experience with great memories and many friendships that would last a lifetime.

In 1969 Randy McMillan and myself entered the studio again with a band called "NRG" or "ENERGY." The group lasted only a few months. I can only recall the first names of the bass player (Frank) and the drummer (Tom). We did record an album under that band name. None of this material was ever released. I exited the band scene as a full time musician in 1970.

I still talk daily with Paul Turchetta and have visited him in Arizona many times. Paul owns Cave Creek Guitar has provided me with many guitars and advice. The one member who continued in music full time was Harry Phillips. He played with Mitch Ryder, John Cougar and did studio work with the Rolling Stones.

– Dennis Girard, Feb. 2008

Thank you to Paul Turchetta and Dennis Girard for their help with this article and use of their photos.