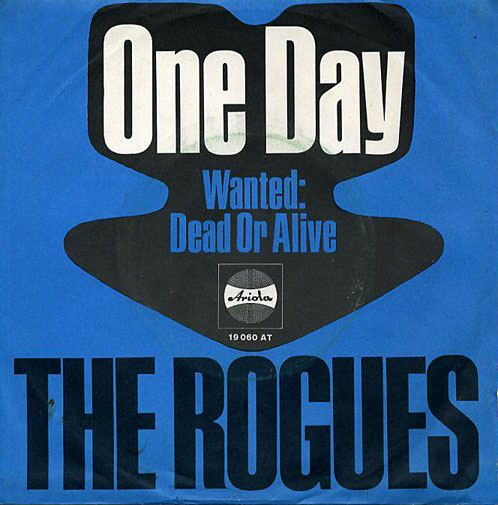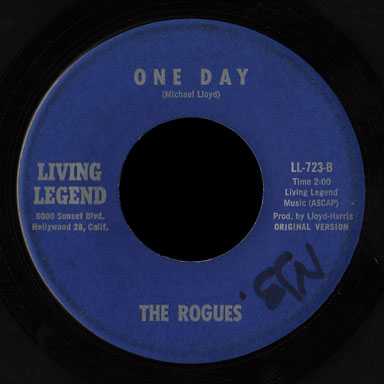 Michael Lloyd formed the Rogues while he was at Hollywood Professional School. It was his third band after the surf instrumental group the New Dimensions and the vocal version of the Dimensions, the Alley Kats.
Shaun Harris met Lloyd while playing bass in another band at Hollywood Professional, the Snowmen, who had recorded "Ski Storm" with Kim Fowley producing. Shaun joined the Rogues in time to help produce their only 45, "Wanted: Dead or Alive"/"One Day."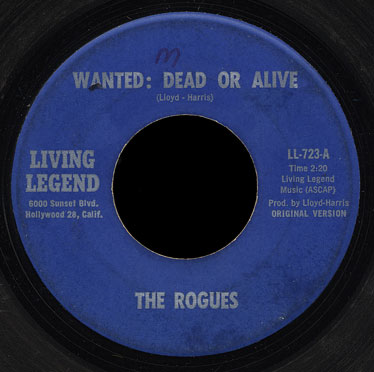 "Wanted: Dead or Alive" is basically Hey Joe with altered lyrics, despite the songwriting credit to Harris and Lloyd. It's an unusual version though, with ethereal harmonies and a guitar solo accompanied by a change in rhythm that just manages to stay on track. On the flip is Michael Lloyd's excellent "One Day", which demonstrates the direction his songwriting was heading in.
Lloyd and Harris produced the 45, which was released on Kim Fowley's Living Legend label. This record marks the start of Shaun Harris' work with Lloyd; they would soon start the West Coast Pop Art Experimental Band with Shaun's brother Danny. It may also mark the beginning of Lloyd's frequent collaborations with Kim Fowley.
On the Living Legend label are also a couple solo 45s by Kim Fowley "Mr. Responsibility"/"My Foolish Heart" and "Underground Lady"/"Pop Art '66"; a Fowley duet with Gail Zappa as Bunny and Bear titled "America's Sweethearts"; and one by Vito and the Hands, "Where It's At," featuring the Mothers of Invention.
The sleeve above shows the German release, probably a result of Fowley's connections in Europe.
For another example of Michael Lloyd's early work, see the entry on Boystown.