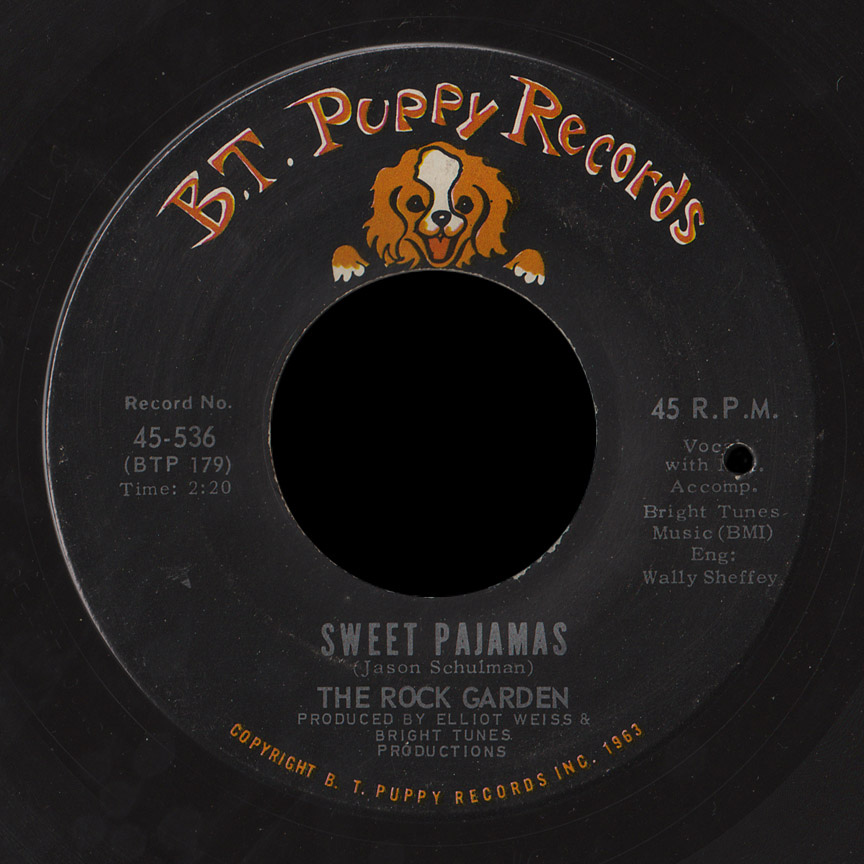 Not the Rock Garden from Arkansas who recorded "Super Stuff" for the Revise label, or the Georgia group who cut "Starry Eyed Woman" for Prophet, or even the one from Michigan (formerly Frederic) who recorded for Capitol. This Rock Garden seems to be an unknown group, possibly only a studio creation.
Released in 1968, "Sweet Pajamas", written by Jason Schulman, was nearly forgotten for years. I could call this psychedelia-by-numbers due to the anonymity of the group, elaborate production touches like the harpsichord break, and an instrumental middle section taking after the Dead or Mad River. Despite these criticisms, the disparate parts add up to a gem of a song with an endearing hook. The musicianship is professional: the drums crack on the stop-and-start tempo changes, the bass nicely doubles the vocal melody and the rhythm guitar loosens up in the second half of the song.
The B.T. Puppy label was owned by the vocal group the Tokens. Their hit "The Lion Sleeps Tonight" was recently discussed on a garage forum as being possibly the most unbearable song of the '60s. Regardless, by 1967 the Tokens used their harmonies and writing skills to craft some fine psychedelic pop for their LP It's a Happening World, including "For All that I Am" that the Creation would cover for one of their final singles, and a brief vignette called "Perhaps, the Joy of Giving".
On the B-side of the Rock Garden single, "Perhaps, the Joy of Giving" is extended to two minutes, laden with effects and voices.
The 45 was produced by Elliot Weiss & Bright Tunes Productions, engineered by Wally Sheffey.