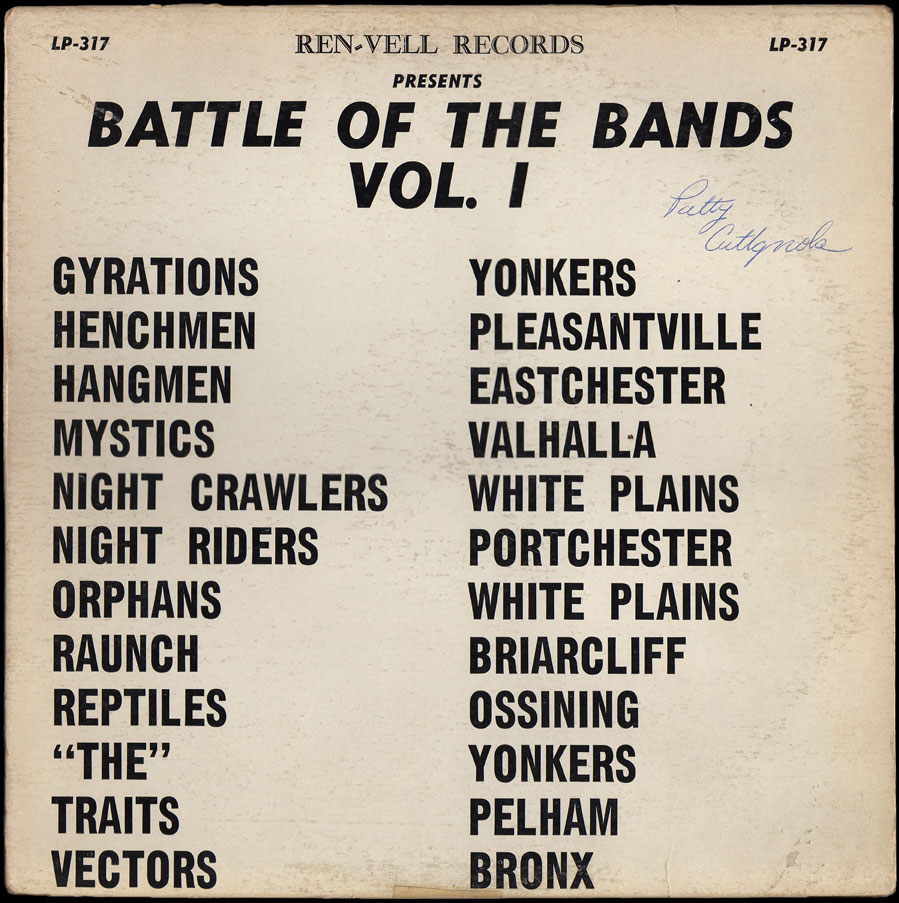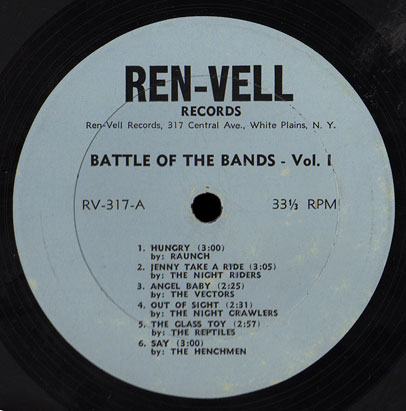 This is a classic garage LP, even though it's a real mixed-bag of styles and quality. All the bands culled from Westchester County and the northern Bronx. Judging from the songs the bands cover it probably dates to sometime in 1967. A note on the back cover says the label auditioned over 100 groups. Jimmy Carpenito of the Mystics tells me Renvell's studio was next to Gun Town on Central Ave in White Plains.
I thought it was likely Ren-Vell advertised for bands then asked them to put up some dollars to get their cut on the album. However, since first posting about this record, a sibling of one of the members of "The" wrote to me: "there definitely was a Battle of the Bands in Westchester County to compete for participation in the album. The guys didn't pay to have their song on the album."The best song on the record is undoubtedly the Traits' "High on a Cloud", an antisocial ode to chemical escape written by their singer, Mike Carrol.

I got a nickel bag, my eyes are drooping, they're starting to sag
Since you left me girl, well I think that life is a drag
I'll show you girl that you can't keep on running around
Because I'm high on a cloud and I ain't never coming down
Well you left me girl, with two feet down on the ground
I'll show you girl that you can't keep on running around
I'll get me a bag and I'll show you just what I can do
I'll get so high I'll wave goodbye to you
Cause I'm high on a cloud, high on a cloud,
High on a cloud, and I ain't comin' down no more
With lyrics like those, it would be no wonder that Ren Vell buried it at the end of the second side, but the band said they chose to be last on the album. I wonder how many listeners made it all the way through the LP! About the time this album was cut, the Traits appeared on Ted Mack's Original Amateur Hour (taped at CBS studios on Broadway – sponsored by Geritol!) doing Paul Revere & the Raiders' "Just Like Me". Mack introduces them as "high school students and a machinist from Pelham, NY!" In 1969, they recorded "Nobody Loves the Hulk", an interesting attempt to capitalize on the Marvel Comics hero that I'll feature soon.
The other great original is the Henchmen's "Say," written by their guitarist and vocalist John Wallin. The drummer bashes away behind a leaden fuzz riff, segueing to a relatively complex bridge. Andy Porter lays down a good, crude solo, with nice tremolo at the end.
The Henchmen also cut a number of demos at Bruno-Dean Recording Studios in New Rochelle and at United Recording including "Strangers", "Jack of All Trades", "Walk With Me Baby", "Sad Clown" and "Stepping Stone". Hear some of these on the new comp "I've Had Enough!" on Norton.
Of the cover songs, my favorite is "Respect" by "The", followed by the Gyration's take on "Stepping Stone" and the Night Rider's version of "Jenny Take a Ride".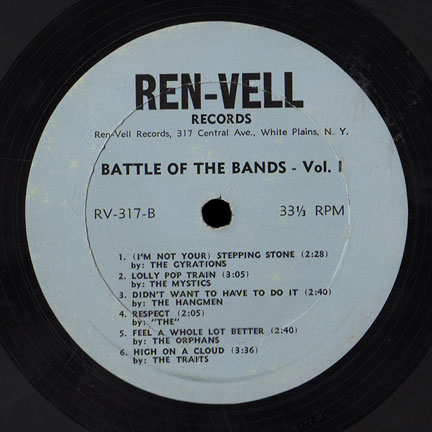 Raunch's version of "Hungry" is good, but my copy has a skip in it. Their bassist Frank Taxiera told me, "Joe Renda asked us to submit a song from about fifteen that we recorded at his studio between '66 and '67." I've since posted more on Raunch here.
As for the rest, there are a couple light pop numbers, like "Lolly Pop Train" by the Mystics and "The Glass Toy" by the Reptiles, but they're not bad. The most out of touch with the times is "Angel Baby" by the Vectors of the Bronx, where Carol Pecchio's fine vocal performance is buried in echo behind the drums and bass. Some of the covers are unremarkable, but the Orphans out-of-tune vocals on the Byrds' "Feel a Whole Lot Better" dooms that cut despite good instrumental playing.
I spent far too much time typing out the credits in the interests of ah, history. What follows is a complete list of songs and band members on the album, and links to a few of the better songs.
A1. Hungry – Raunch, from Ossining and Briarcliff Manor
Sandy Katz – rhythm guitar & vocal
Jay Manning – lead guitar
Frank Taxiera – bass
Tom Walker – drums
A2. Jenny Take a Ride – The Night Riders, Portchester
Henry Lopez – lead guitar
Cheno Lopez – guitar
Dominick Gabrieli – rhythm guitar
Tony Ojeda – bass
Mike Lopez – drums
A3. Angel Baby – The Vectors, Bronx
Louie Glattino – drums
Ronnie Salotto – organ
Doug LoPresti guitar
Charlie Pecchio – guitar
Carol Pecchio – vocal
A4. Out of Sight – The Night Crawlers, White Plains
Geof. Greenburg – drums
Bob Bloomfield – guitar & vocal
Gary Kemp – guitar
Rodge Altman – bass
Otis Moore – vocals
A5. The Glass Toy – The Reptiles, Ossining
Mark Worthy – guitar & vocal
Ron Macera – drums
Paul Slavin – bass
Steve Worthy – guitar & vocal
A6. Say – The Henchmen, Pleasantville
Ray Greene – organ
Jimmy Porter – drums
Mark Zvonkovic – bass
Andy Porter – guitar
John Wallin – guitar, vocal
B1. (I'm Not Your) Stepping Stone – The Gyrations, Yonkers
John Soares, 3rd. – guitar, vocal
Ronnie Christmann – bass
John Karlsson – guitar
Nick Vitulli – organ
Robert Karlsson – drums
B2. Lolly Pop Train – Tne Mystics, Valhalla or White Plains
Jimmy Carpenito – vocal & guitar
Charlie Sinerate – guitar
Dan Liberati – bass
Mike Mruz – drums
Bob Fresta – organ
B3. Didn't Want to Have to Do It – The Hangmen, Eastchester
Joe Montclare – vocals
Art Sammartino – Cordavox
Jim Miranti – drums, John Bruno – bass
Joe Manganiello – guitar
B4. Respect – "The", Yonkers
Richard Kudelka – bass
Sal Del Bene – drums
Bill Connors – guitar
Bob Kolachik – vocal & guitar
Frank Longo – organ
B5. Feel a Whole Lot Better – The Orphans, White Plains
Vinny Leonardis – guitar & vocals
Joe Gangemi – bass & vocal
Mike Saland – guitar and vocal
Ricky Pelpzman – drums
B6. High On A Cloud – The Traits, Pelham
Don Chicherchia – guitar
Bob Creaturo – guitar
Mike Carrol – vocal
Bobby Williams – drums
Jim Klieforth – organ
Recording engineer: Ernie Rivellino
A&R: Joe Renda
Supervision: Pete Iarussi
Renda-Rivell Studios 317 Central Ave, White Plains
There are also at least two singles on Ren-Vell, best of which may be the Mystics (covered here):
RV-318 The Sherwoods – Third Summer (That I Loved You) (by Joe Lanza) / Lonely for You, supervised by Ken Luttman.
RV-320 The Mystics – This Is What I Was Made For / Ride My Pony (Come) – not the Lee Dorsey song but an original by James Carpenito and B. Fresta
Updates:
Since writing this I've heard from Vinnie Leonardis of the Orphans:
I was the founder of the Orphans out of White Plains High School. We played school dances around 1965 tru 1967.

How did we get on the album? Joe Renda belonged to the same church. He had a band that played for one of the church dinner dances. They played for the older crowd. They let the Orphans get up a play a few songs for the teenagers. As I remember it about three seconds into the first song, the priest ran up to the stage waving his arms frantically to TURN THAT NOISE DOWN! Well, we got tru it. At the end of the night Joe told us about the album he was making and were we interested in being on it. Of course we gladly accepted. Thanks to father Julius for letting us finish the set.

Not sure how that song got picked for the album. We surely had better songs than that. And YES the vocals on our cut of the album were humorous.

There actually was a battle of the bands around the time that album was cut. I still have the third place plaque. I think Jimmie Carps Mystics took first place.

Unfortunately the other three members of the band have all passed on. I still have my 1964 Rickenbacker guitar that I use on gigs once in a while but nothing can replace the excitement of that era.
Doug LoPresti wrote to me with some info about the Vectors:
Although we were billed as being from the Bronx, I and three others were from Yonkers! And White Plains was part of the community of interest. I was guitar with Ron Salotto on keyboard for many years. We hooked up with Carol and Charlie and Louie later. We were a classic garage band … Louie's basement! We called it the "Cellarino" Geez! I'm sorry we got such bad reviews for that recording! That version of "Angel Baby" was a huge hit wherever we played. It was Carol in person that made it so … without seeing her, it loses impact!

We continued through the 70's as an active group, switched to the wedding scene as everyone did. By the 80s we all had kids and not enough time to continue. I reconnected with Carol about ten years ago, she's in North Carolina now. I'm still friends with Ron (keyboard) but can't find Louie. Actually there were many times when we couldn't find him then either!
Thanks to Rockin' Rex for info on the Ren-Vell 45s and Raunch single.