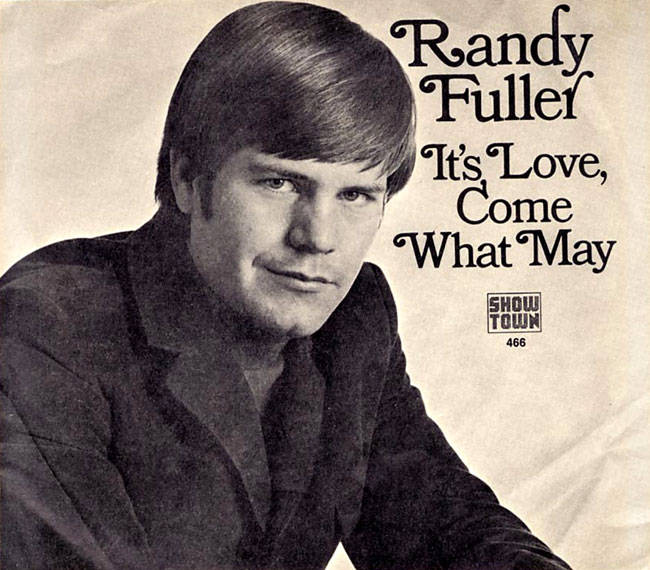 When Texan rock legend Bobby Fuller was found dead in his car on 18 July 1966 in suspicious circumstances, those nearest and dearest were devastated, not least his younger brother Randy, who had also been bass player in the aptly named, Bobby Fuller Four. From the early 1960s up until his brother's untimely, and yet to be solved, death, Randy Fuller was Bobby's closest collaborator and during those frenetic years of recording and touring witness to his brother's extensive talents as a singer/songwriter, guitarist and skilled engineer and producer.

In the first few months following his brother's death, Randy Fuller came close to jacking in the music career he had so cherished when Bobby was alive. "I came home to El Paso with no idea what I was going to do with my life," says Fuller. "I felt like I was going to go insane because my mother was having such a hard time over Bobby."

Later that autumn, however, Randy received a phone call from Bobby Fuller Four member DeWayne Bryant (aka Quirico) and Bob Keane, who ran Del-Fi studios, to return to Hollywood and form a new group with some musicians that Quirico had been playing gigs with in the intervening months. "Keane said that if I came back he could get us back in PJ's nightclub," remembers Fuller.

To stimulate some local interest in the new group, prior to it playing live, Keane financed some studio time to record a handful of tracks in late 1966. For these recordings, the studio band consisted of Randy Fuller on bass, rhythm guitar and lead vocals; DeWayne Quirico on drums; Howard Steele on bass; and Mike Ciccarelli on lead guitar and vocals.

"The musicians on all the songs were from El Paso, Texas but [they] never stayed together long enough to promote them [the singles]," explains Fuller, who points out the recordings were all laid down in the final days of the studio's existence.

The first single to be released (under Randy's name only on the obscure Mustang label) was the catchy "It's Love, Come What May". "[That] is the original track from Bobby Fuller Four recorded at Del-Fi," says Fuller. "Bob Keane and I recorded my voice on a separate track and remixed it a little louder than Bobby's in the final mix."

An infectious folk-rocker, "It's Love, Come What May" should have been a smash hit but mysteriously did not attract many sales. Unperturbed, Keane prepared a second single coupling Randy Fuller and Johnny Daniel's "The Things You Do" with another collaboration "Now She's Gone" but it appears the Mustang release never hit the shops.

Interestingly, Randy Fuller reveals that two of soul music's heavy weights had a hand in the creative process. "[On] 'The Things You Do', Barry White and Dionne Warwick threw in a line or two."

Events meanwhile were about to take a dark turn. When Del-Fi was forced to close in early 1967, Keane, unbeknown to Fuller, began to issue the recordings through the Show Town and President labels. "Del-Fi went under and Bob kept the masters in a vault," explains Fuller. "I [later] found out he had been selling these [singles] over in the UK for years!"

Perhaps the most fascinating of these releases are the trippy, Buffalo Springfield-influenced, "1,000 Miles Into Space", which features some tasty lead guitar work and superb lead vocal by Randy, and "Revelation".

While Keane was busy releasing the tracks on the sly, Fuller and Quirico began working back at PJ's joined by guitarists Jim Fonseca and Jimmy Smith. The line up played at the club for nearly two years and according to Fuller, "We probably would have had a hit or two, but as usual ego destroyed the band."

Left without a band, Randy hooked up with Dewey Martin's New Buffalo Springfield in February 1969 and toured with this group for the best part of the year, before it morphed into Blue Mountain Eagle. Fuller's new band recorded an excellent album for Atco Records in 1970 with the bass player's "Sweet Mama" providing one of the highlights.

Unlike Blue Mountain Eagle's album, which has been released on CD, very few of The Randy Fuller Four recordings have reached a wider audience via compilation CDs. Perhaps now is the time to rediscover the magic of this material, especially "It's Love, Come What May" and "1,000 Miles In Space".


Randy Fuller with New Buffalo Springfield, Spring 1969.
Clockwise from top: Dewey Martin, Bob Jones, David Price and Randy Fuller


Blue Mountain Eagle, December 1969, Randy Fuller second from left.

Solo releases:

It's Love, Come What May (actually Bobby Fuller Four with Randy's overdubbed vocals) c/w Wolfman (Mustang 3020) 1966 US (credited to Randy Fuller)
The Things You Do c/w Now She's Gone (Mustang 3023) 1966 US (credited to Randy Fuller Four but not released)
It's Love, Come What May c/w Revelation (Show Town 466) 1967 US (credited to Randy Fuller)
It's Love, Come What May c/w The Things You Do (President PT 111) 1967 UK (credited to Randy Fuller)
1,000 Miles In Space c/w 1,000 Miles In Space (Show Town 482) 1967 US (credited to Randy Fuller)

Many thanks to Randy Fuller for his invaluable input into this story.

Transfer and scan of "1,000 Miles in Space" courtesy of Colin (Expo67), transfer of "Revelation" courtesy of Bård H., scan courtesy of Freddy Fortune. "Wolfman" scan and transfer courtesy of JP Coumans.

© Copyright, Nick Warburton, April 2009, All Rights Reserved

Visit: www.nickwarburton.com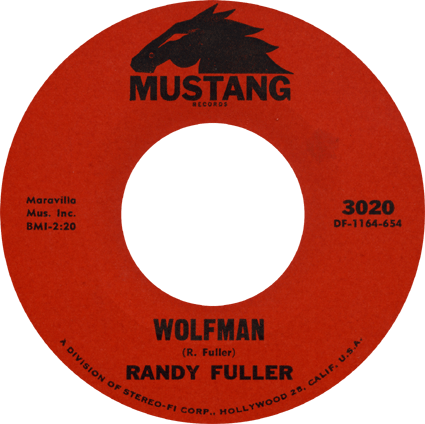 The great b-side "Wolfman", a Bobby Fuller Four cut
originally released as by the Shindigs on the flip of "Thunder Reef",
Mustang 3003 and used again on Randy Fuller's first 45.