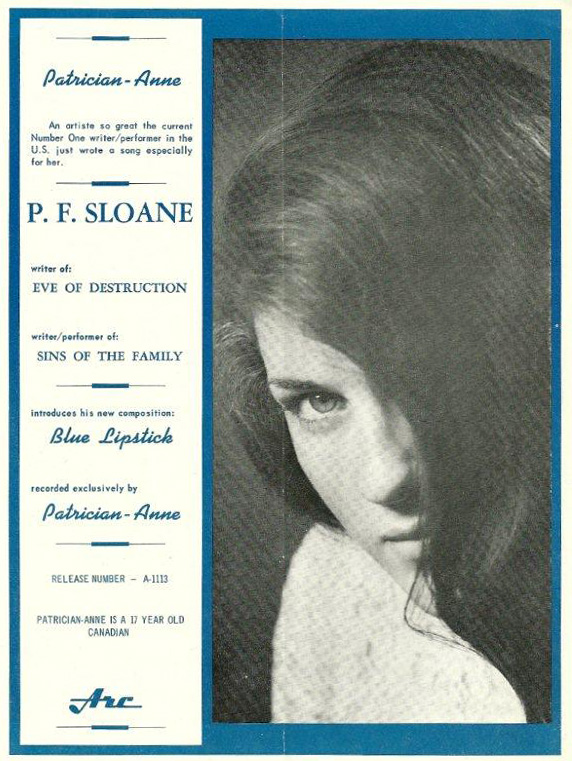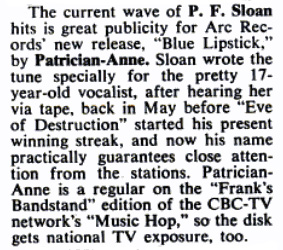 Ivan Amirault sent in these two great ads for Patrician-Anne, who had a single featuring a P.F. Sloan original "Blue Lipstick" b/w "What About Me" on Arc 1113 from late '65.She also has the great "Changin' Time" on the CTV After Four LP that is best known for the song "Four in the Morning" by the Quiet Jungle (as the Scarlet Ribbon).
Patrician-Anne was the stage name of Patrician Anne McKinnon, sister of singer and actress Catherine McKinnon, and wife of Brian Ahern, a long-time producer and musician.
Brian had his own groups, the Offbeats and the Badd Cedes, whose song "Dolly Magic" was released on two singles as the Chapter V: Verve Forecast KF5046 with "The Sun Is Green" and again on Verve Forecast KF5057 with "Headshrinker", all three songs Ahern originals. Brian also played with 3's a Crowd. More on the Badd Cedes at Nova Scotia Classic Rock.
Patricia often appeared on Frank Cameron's TV show, Frank's Bandstand. An Arc LP Do You "Wanna" Dance (The Best of Frank's Bandstand) has covers of "I Only Want to Be With You" and "As Tears Go By", credited to Patricia McKinnon, along with a couple songs by the Offbeats, "Wild Weekend" and "Swingin' Shepherd Blues".
Patrician-Anne is also featured on various volumes of CBC-TV's Singalong Jubilee, which I haven't heard.