Vanco was a label from Vancouver, Washington, near Portland, Oregon, so bands on the label could be from either side of the Columbia River.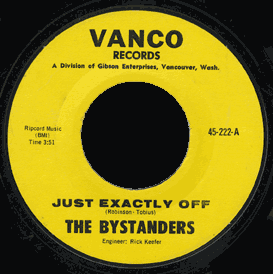 The Bystanders had at least two 45s on Vanco, but I haven't been able to find out much else about the band. The label credits Rick Keefer as engineer – he later went on to produce the New Tweedy Brothers among others. "Just Exactly Off" is pretty fine garage. The b-side is a ballad, "Flower Song". Songwriting credits for both songs are Robinson – Tobius.
Another band on the Vanco label was the Twilighters.
Anyone have a photo of the group?