Mark Markham & His Jesters had this one underrated two-sider from Ft. Lauderdale, Florida, "I Don't Need You" / "Marlboro Country".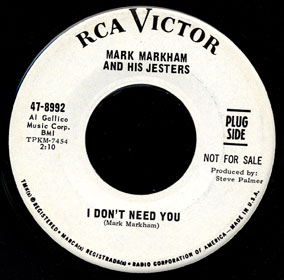 Originaly released on a local label, Power, then picked up by RCA.
I usually find major-label releases of garage 45s as white-label promos. I guess when the records failed to get any national attention from djs, the label wouldn't bother pressing and distributing stock copies for sale. There are so many major-label garage 45s that exist mainly as promo copies, it makes me wonder if the companies really cared about these records or did they prefer to tie them up so no one else couldn't do anything with them.
Anyone have a photo of the group?