Updated to include information on the Chris Ducey album and the Penny Arkade
In 1965, Chris Ducey recorded the album Songs of Protest and Anti-Protest for the Surrey label (Mira's budget subsidiary). Surrey had printed the sleeves when they realized they had a problem. Ducey was either under contract to another label or publisher, or he just refused to sign what was probably a one-sided contract favoring the label.
Supposedly Mira/Surrey label owner Randy Wood had already sold the album's European rights based solely on the cover, a photo of Brian Jones at the Action Club in West Hollywood.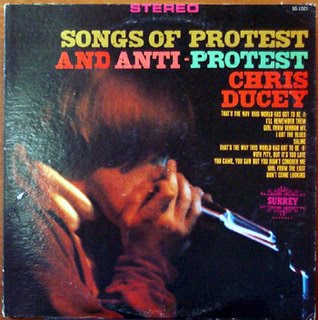 Randy Wood hired Bobby Jameson (who had not been part of the original album sessions) to write new songs to match the titles on the album! Jameson recorded these songs with Marshall Leib producing. Jameson claims he never signed a contract either, and that releases from then to now have all been illegal. All he was paid was $20 or $25 a song for writing and recording them.
The Leaves recorded Jameson's version of "Girl from the East" as the b-side to their second release of "Hey Joe" in March of 1966, though when the song started breaking nationally, they dropped it in favor of a band original.
Some of the sleeves changed Ducey's name on the front to "Chris Lucey", but some still read Chris Ducey so there must have been a couple printings of the covers.
The album saw release again in 1966 on the Joy label, this time in Bobby Jameson's own name and the title changed to Too Many Mornings with a photograph of smokestacks. For some reason this release changes the title of"With Pity, But It's Too Late" to "Just One of Those Days".
Read the full story on Bobby Jameson's blog, bobbyjameson.blogspot.com
In 2012 Chris Ducey's original version of the album showed up as an mp3 download on Amazon released by something called Essential Media Group, LLC. Though sharing the titles, the songs are completely different from Jameson's, with different lyrics, tempos, and simpler arrangements. Overall it's more of a folk session, dominated by acoustic guitar and Ducey's voice. Neither the compositions nor the production are as adventurous as Jameson's version.
Jameson wrote on his blog "I purposely didn't listen to Ducey's songs in 1965 for fear of being influenced by his work."
After this debacle, Chris Ducey met Craig Smith while auditioning and landing starring roles along with Suzannah Jordan in a series pilot called The Happeners about a Greenwich Village folk trio. They performed their own original songs, and there was an appearance by the Dave Clark Five. ABC never picked up the series, and the pilot itself seems to have aired only once and is currently lost.
Craig Smith had been in the Good Time Singers for their two albums on Capitol in 1964.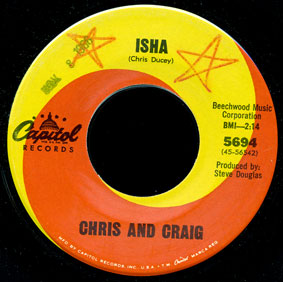 Together Chris and Craig made the pop-psych gem "Isha", released by Capitol in July of 1966, with "I Need You" on the flip. It's their only 45 on Capitol that I know of.
Around the same time as this 45 came a single on Downey 140, which credits the artists as Craig & Michael. Both songs, "Drifty" and "That Kind of Girl" were written by Brian Carman and Steve Crawford, and I see it mentioned, accurately or not, that Craig was Brian Carman of the Chantays, so I'm doubtful this is Chris Ducey and Craig Smith.
They spent nearly a year rehearsing their originals with musicians including Don Glut on bass and Mort Marker on lead guitar. They cut a demo, now seemingly lost, "Rhyme or Reason" (written by Chris) and "(She Brought Me) Something Beautiful" (written by Craig) with John London of the Louis and Clark Expedition.
In 1967, they formed the Penny Arkade with Don "Marvel" Glut on bass and Bobby Donaho on drums. Michael Nesmith backed them with equipment and rehearsal space and they started playing live shows. Nesmith brought them into TTJ studios in Hollywood and Wally Heider's studio. Late in 1967 they went into RCA studios to record songs for what they anticipated would be their first album, including the twelve-minute "Not the Freeze".
Also at the end of 1967 the Monkees used a Craig Smith composition, "Salesman" as the opening song for their album Pisces, Aquarius, Capricorn & Jones Ltd.. Smith placed other songs, such as "Country Girl" with Glen Campbell, and "Holly" with Andy Williams. He co-produced with Bob Thiele a single for Heather MacRae, his girlfriend at the time, writing both songs "Hands of the Clock" / "Lazy Summer Day", and with the Penny Arkade providing the music.
Enriched by his songwriting royalties, Craig Smith decided to leave the Penny Arkade to travel in South America and Asia. He returned around 1970 a changed man. Monkees producer Chip Douglas ran into Craig in 1971. "He was spaced out and had come back from Peru and had an album he was selling hand to hand. He had a spider tattooed in the middle of his forehead. He was just a nice kid, a nice American boy. To see him years later it was pretty bizarre. He said 'Remember me. I used to be Craig Smith'".
Without Craig, the Penny Arkade recorded four more songs, "Woodstock Fireplace," "Sparkle and Shine," "Face in the Crowd" and "Year of the Monkey", and then added a new lead guitarist, Dave Turner. Turner left and they added David Price on rhythm, John Andrews on lead guitar and Bob Arthur, and rechristened the band Armadillo for another year or so of live shows.
Craig utilized half a dozen Penny Arkade songs on his early '70s solo albums, Apache and Inca under his new name, Maitreya Kali. The rest of the Penny Arkade tracks were not released until Sundazed collected what could be found on Not the Freeze, though many other recordings including their masters seem to have been lost.
Craig Smith passed away on March 16, 2012.
Sources include: Don Glut's detailed history of the Penny Arkade (a good read, I recommend it).