Here's an overview of early recordings by members of Love, including Arthur Lee, Bryan MacLean and Ken Forssi who have passed away, and Johnny Echols who is thankfully still with us.
Before Love, Arthur Lee and Johnny Echols fronted bands or wrote songs for a series of 45s in a variety of styles, from surf to soul to pop, including a single as Arthur Lee & the LAG's "The Ninth Wave" / "Rumble-Still-Skins" for Capitol.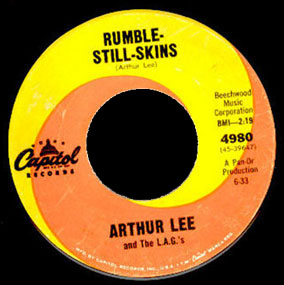 Lee wrote the great soul song "My Diary" for Rosa Lee Brooks, recorded in early 1965. The flip is "Utee" an excellent upbeat dance number. This is also an early session for Jimi Hendrix (not his first, which was probably either with the Isley Brothers in early '64, or with Don Covay in May of '64).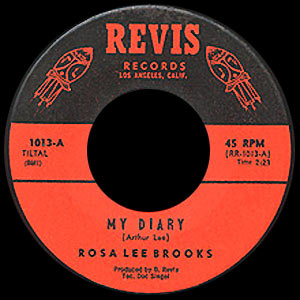 Lee also wrote "I've Been Trying" for Little Ray.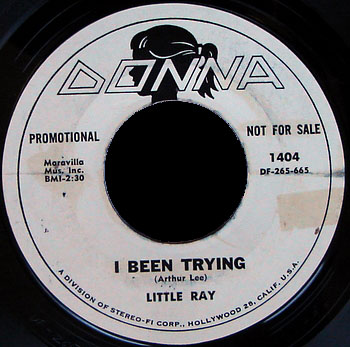 Arthur wrote songs for Ronnie and the Pomona Casuals including "Everybody Do the Jerk" and "Slow Jerk". He may be singing backup vocals as well. I used to think Arthur was singing lead on these songs, but that was probably mistaken, as lead vocalist Charles Lett was a very talented singer and other people have said he was singing on these tracks. I've come to believe Arthur partially modeled his vocal style on Charlie Lett, or at least on Curtis Mayfield.
The American Four just preceded Love's first incarnation, which was known as the Grass Roots. With typical acerbity, Arthur wrote a dance song named "Luci Baines" after Lyndon Johnson's homely daughter and called the label Selma. "Soul Food" is Arthur's take on Booker T. and the MGs; he was born and raised in Memphis, Tennesee, home to Stax.
Following is was a selection of rare tracks by Love, most taken from the great bootleg Last Wall of the Castle. "Gazing" is one of my favorite tracks from the first lp. "It's the Marlin, Baby" seems to have been recorded around the time of the American Four and was release on a Texas label under the Love name. Release date is uncertain, but it could have been after Love scored a hit with" My Little Red Book"
"7 And 7 Is" required over 80 tracks just to get the backing right! Vocals were recorded later. On these takes you hear the bluesy coda taking form as the band idly jams to relax after frantically tearing through the song. Arthur probably played drums (though some sources say Michael Stuart) on these takes, leaving the guitar to Johnny Echols and Bryan, with Ken Forssi on bass.
An instrumental take of "Your Mind and We Belong Together" showcases Johnny Echol's lead. Arthur wrote "Feathered Fish" for fellow LA band the Sons of Adam. He recorded his own version in 1994, but it sounds like vintage Love.
Bryan MacLean's contribution to Love is more important than most know, both in songwriting and in the distinctive sensitivity he brought to the band. There are several fine demos are from 1966, including "Orange Skies" and "Old Man" and strong originals like "Strong Commitment". There's also a great version of "Alone Again Or" from 1982. Bryan died in 1998.
Anyone not familiar with the band's studio lps should definitely check out the first four: Love, Da Capo, Forever Changes, and Four Sail. Out Here and False Start also have good individual tracks, as does Arthur Lee's solo lp Vindicator. For a different kind of tribute, see my next post on cover versions of Love songs.