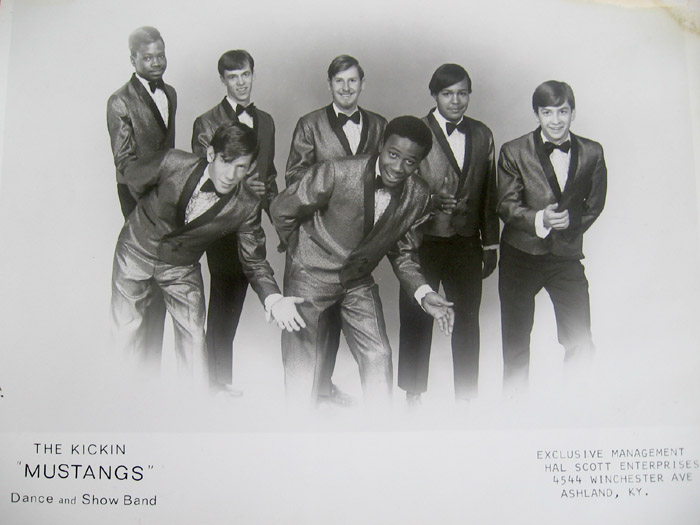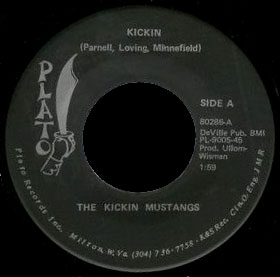 Unlike the other 45s on the Plato label, the Kickin' Mustangs record is not garage, but has a wild two-minute funk number "Kickin'" on the top side and a fine ballad "Take a Miracle" on the flip. It was recorded in Cincinnati, Ohio the same day as the Outcasts' record, which shows the range of musical styles of the time.The band was from Ashland, Kentucky, original billed as simply the Mustangs. The original band included
Danny Shortridge – lead vocals
Larry Creech – sax
Darrel Tucker – trumpet
Rudy Hester – keyboards
Boots Shelton – bass, replaced by Larry 'Frog' Johnson
Dave Osborne – drums
By the time of the Kickin Mustangs single, Danny Shortridge and Larry Creech remained from the original group, but the rest of the members were new:
Danny Shortridge – lead vocals
Bruce France – lead vocals
Larry Creech – sax
Larry Talerico – trumpet
Pat Loving – lead guitar
Brad Rhodes – keyboards
Albert Richardson – bass
Buddy McCoy – drums
"Kickin'" was written by Parnell, Loving, & Minnefield. "Take a Miracle" on the flip is a nice ballad written by Bob Minnefield. This is also the most valuable record on the Plato label, by the way.
Keyboardist Brad Rhodes sent in the photo above and gave me some background on the group:
I was the keyboardist for the Kickin' Mustangs when we recorded our 45 rpm disc in Cincinnati. At the time, the members were Larry Creech, Pat Loving, Danny Shortridge, Larry Talerico, Bruce France, Buddy McCoy and Albert Richardson.

Attached is a promotional photo of the Kickin'Mustangs from back in the day with Hal Scott Enterprises. The only person missing is Pat Loving, our guitar player. This photo may have been taken when Pat was laid up after a car accident.

I had joined the Mustangs around 1966-67 after playing in a band out of Flatwoods, KY. "Frog" Johnson was the bass player initially and the group always had an R&B / soul feel to it, but when Albert, Buddy and Bruce were added, it created a whole new sound that complimented the R&B scene during those days. Bruce, Buddy, Albert and Talerico were from Huntington and they were instrumental in taking the Mustangs to another level. Man, I miss the days of R&B!.

We played the usual Tri-State venues, but were also fortunate to have played with Cream, The Grass Roots, and performed in an event in Ashland with The Left Banke and Mitch Ryder and the Detroit Wheels.

I remember when Hal Scott came to us with the opportunity to cut a disc with Plato Records, because all the bands he booked received the same offer. Although I do not recall the date, I remember traveling to Cleveland, Ohio after cutting the record, and appearing on "Upbeat", a syndicated T.V. show. I imagine it is lost in the archives!

Brad Rhodes, July 2010
Later members included Terry Sanders on drums and Mike Tolone. Pat Loving and Larry Creech have since passed away.