The 3rd Evolution were from the Bronx, NY, beginning as a doo-wop group the Hi-Dells.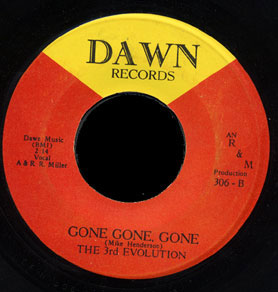 Argot Meyer founded the group, singing and managing it. He first found Mike Saglimberi (Mike Henderson) to sing and play rhythm guitar. Mike brought in his good friend from Junior High (PS 98), Manny Colon on drums. Louis Bonilla (bass) and Ron Lupi (lead guitar) joined last.
They began rehearsing in Argot's basement, then met Phil Rosano, owner of Dawn Records at Music Makers Record shop on Fordham Road, who released two of their records.
The first has both "Gone Gone Gone" with its ripping guitar solo and their most original work, "Don't Play with Me". Mike Henderson is given song writing credit on both of these, and R. Miller is credited with A&R. This was one of the first garage 45s I ever bought, for $10.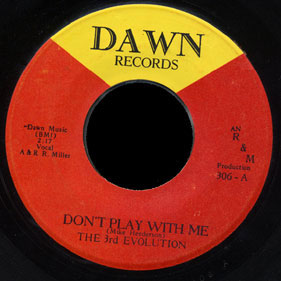 "Don't Play With Me" made the local radio charts of WLOF 950.0 AM in Orlando, Florida in 1966. The Third Evolution played at the World's Fair, and there's talk of these guys opening for Jay and the Americans.
The second 45 has the weird slow version of "Everybody Needs Somebody to Love" which I still find pretty cool, backed with a ballad, "You're Gonna Lose the Only Love You Ever Had".
They also have a good demo acetate recorded at Bruno-Dean Recording Studios in New Rochelle, NY, "Help Me" / "Turn Around" that has not yet been released.
Anyone have a photo of the group?
Dawn discography (garage-type 45s only):
Any help with this would be appreciated
Dawn 303 – Derbys " People Say (She's No Good" b/w The Bondsmen "Wipeout '66"
Dawn 306 – 3rd Evolution – Don't Play With Me / Gone Gone Gone (June 1966)
Dawn 309 – Creation's Disciple "Psychedelic Retraction" / "I'll Remember"
Dawn 312 – 3rd Evolution – Everybody Needs Somebody (to Love) / You're Gonna Lose the Only Love You Ever Had (December '66)
The Creation's Disciple had their own unreleased Bruno-Dean acetate, "Strings of Rhyme"
Source: Mike Henderson's notes in Psychedelic States: New York vol. 1