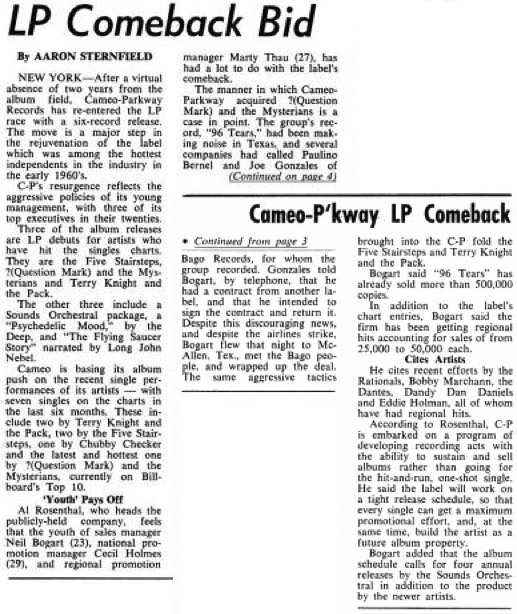 Any help with the discography or info on Pa-Go-Go in general would be appreciated!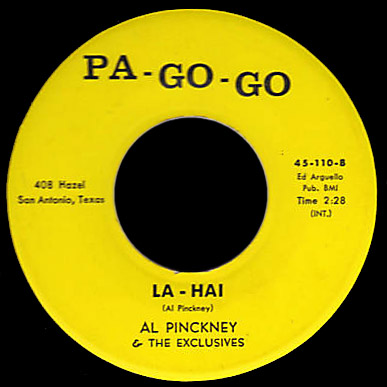 Lillian Gonzales and her husband Joe "Pato" Gonzales owned the El Pato grocery store in Saginaw, Michigan, and also ran the Gonzales & Gonzales artist management company. Joe, whose name I've seen in print as Jose Gonzales or Victor Gonzales, owned half of Bego Records with Paulino Bernal, which had been releasing conjunto records in McAllen, Texas since the early '60s.
Joe started the Pa-Go-Go record with brothers Rudy "Tee" Gonzales and Manuel Gonzales (apparently no relation to Joe – see comment from Cisco below), basing the label out of San Antonio where Rudy Gonzales had his group, Rudy & the Reno Bops. Pa-Go-Go's focus would be less specialized than Bego's, with rock, soul and r&b releases.
Lillie Gonzales brought ? & the Mysterians to Art Schiell's Recording Studio in Bay City, Michigan in April, 1966 to record a version of "Midnight Hour" and their original song, "96 Tears", with Rudy Gonzales producing. The first pressing was 750 copies, but there were additional pressings as the single broke out on stations in Saginaw, Flint, Windsor and Detroit.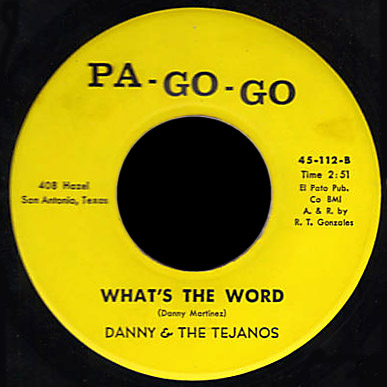 According to Billboard, Neil Bogart, a twenty-three year old sales manager at Cameo-Parkway flew to McAllen, Texas to purchase the master of "96 Tears" from Bego, winning out over a verbal agreement with Roulette's Morris Levy.
Although Pa-Go-Go's address of 408 Hazel St. San Antonio, Texas was on the labels of every release, about half the acts were from Michigan. A Billboard item from October, 1967 even mentions the label being headquartered in Saginaw. Pa-Go-Go only existed for about a year and a half, but released some fine music in that time, with the last single I can find mention of, Count & the Colony's "Say What You Think" being sold to SSS International.
Pa-Go-Go Discography:
101 – Danny & the Tejanos – "Mi otra movida" (Polka) / "Con esta copa" (Ranchera)
102 – Question Mark & the Mysterians – "96 Tears" / "Midnight Hour" (April, 1966)
103 – Sir David & His Knights – "Shotgun" / "All My Love"
104 – Fernando Y Juan – "Se te llego tu dia" / "Vuela vuela Palomita"
105 – Chavez & the Chevelles – "Buscando Una Estrella" / "El Trenesito (The Train)" (D.A.R.)
106 – Danny & The Tejanos – "Confecion" / "Mundo raro"
107 – Little Henry & His Band – "No soy tu arroz con pollo" (Isidrio Lopez) / "Amor sin medida" (Jose A. Jimenez)
108 – Sonny Ace- "Ya volvio la Palomia" (Lonnie Guerrero) / "Sandra" (Martin Linan)
109 – ?
110 – Al Pinckney & the Exclusives – "Coasting" / "La-Hai"
111 – Chavez & the Chevelles – "Pido" / "Angelitos Negros"
112 – Danny & the Tejanos – "Listen, Sweet Thing" / "What's the Word" (Danny Martinez)
113 – Conjunto Los Galantes de Manuel Gutierrez – "Contestaction a 'Me Voy Lejos'" / "Ellas"
114 – ?
115 – Freddie Fender & His All Stars – "Cool Mary Lou" / "You Are My Sunshine"
116 – ?
117 – ?
118 – Staffs – "Another Love" / "I Just Can't Go to Sleep"
119 – ?
120 – ?
121 – Count and the Colony – "Can't You See" (Dick Brown, Butch Burden) / "That's the Way" (Larry Wheatley, Butch Burden)
201 – Count and the Colony – "Say What You Think" / "Symptoms of Love" (October, 1967)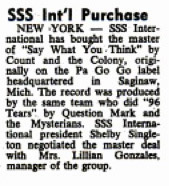 #101 shows only "Go-Go" on the label.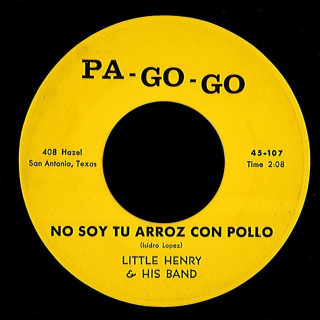 See the entry on the Staffs for more about that band.
At this point I'm not sure if the missing numbers were actually issued, as I haven't found any evidence of them, nor has Davie Gordon (see his comment below) or Mike Markesich.
? & the Mysterians, Sir David and His Knights, and Count and the Colony were all Michigan acts. Danny & the Tejanos, the Staffs and Al Pinckney & the Exclusives were from Texas (see comment from Robert Villarreal below).
Sources: background on Bego from Wikipedia, most complete account of the early days of ? & the Mysterians I could find was at MichiganRockandRollLegends.com, with further background from the ChicagoReader.com, Fredric Dannen's Hit Men, and info on Danny & the Tejanos and Sir David & His Knights from I'm Shakin'.
Thank you to Martin Hancock for info on the Little Henry 45 and to Antonio of La Plebe for his contributions to the discography. Thanks also to Francisco Candia, Shane, Alfonso, and Josh (jollyrarestuff) for their help with the discography.