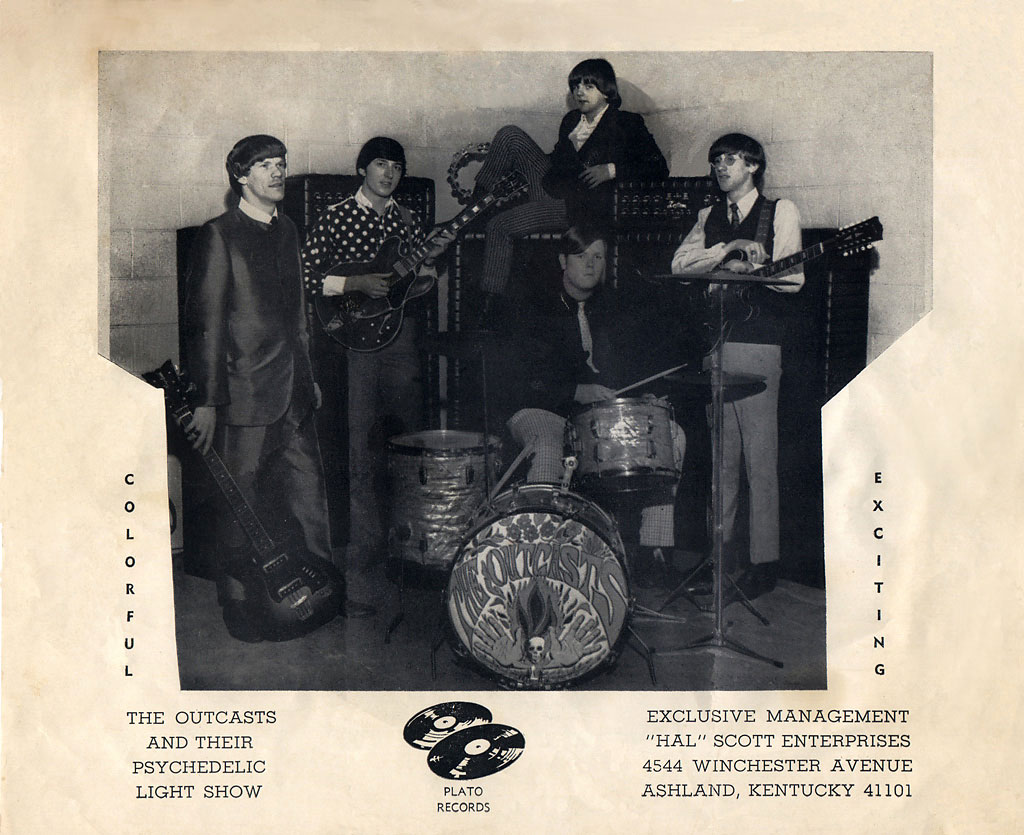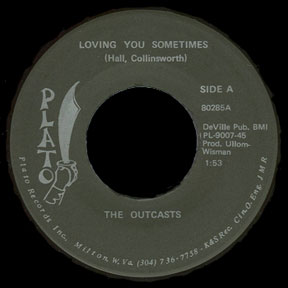 The Outcasts of Ashland, Kentucky, just over the West Virginia border turn in a fine mid-tempo ballad, "Loving You Somtimes".
I recently heard from Al Collinsworth, vocalist and co-songwriter for the Outcasts. He filled me in on some questions I had about the band, including interesting background about the Plato label and about how "Loving You Sometimes" has become well known in funk and hip hop DJ circles.
I was in the Outcasts and remember the whole Plato experience. The Outcasts included Nick Wickware on drums (deceased); Dick Hall-Hawkins on bass (deceased); Ronnie Gibson on lead guitar; Ralph Morman and myself on vocals. I sang lead on "Lovin' You".

The Outcasts mostly played school parties, bars, the Hullabaloo Club in Huntington and we auditioned for Buddha Records in 1969. The group disbanded in 1969. We did manage to be an opening act for Neil Diamond one night.

Plato was originally intended to be an African-American music (Afrilachian) label. Dick Hall was the person who worked out the deal. Dick spent most of his life proving that Hawkshaw Hawkins was his father. Hawkshaw was a popular country star that died in a plane crash with Patsy Cline and Cowboy Copas.

Plato wasn't sure they wanted to sign us. We paid for the studio time and Plato pressed the records. We recorded the record in Cincinnati at Queen City Studios, the same day that the Mustangs recorded their song. We were all friends and it was a very good time for both bands.

The record received local airplay and got on the Billboard charts. The amazing thing is that Lovin You has been released 4 different times on 4 different labels. Plato was the original release.

A second release was with a compilation record along with ZZ Tops' first release and The Allman Joys' first release (Allman Bros). I don't have a copy of this record. A third release was in 1984 with BFD records in Australia on a compilation called "Highs in the Mid Sixties Vol. 9 – Ohio". The liner notes read, "A Zombies-influenced, moody punk sound from Cincinnati, not to be confused with 18 other groups called the Outcasts!"

A 4th release was done in 2002 by Arista Records Hip-Hop Artists, DJ Shadow and Cut Chemist on the very popular "Product Placement" CD. Oddly, and I don't know why, Loving You Sometimes is now a very popular hip-hop hit. Remixes have been done by DJ Shadow and DJ Ayres. LSD Phone Calls (a NYC hip-hop e-magazine wrote, "Maybe the perfect song. Garage psych dorks who hate this also hate the Zombies. Who hates the Zombies!?"

Ralph Morman later worked with the Joe Perry Project (Aerosmith) and Savoy Brown.

In 1972, I worked with Pre (ZNR Records) which was a Prog-Rock Band. I now have a self-titled release on CD Baby. I also play steel guitar and have a promo photo on the MSA steel guitar site in the SuperSlide section.

It seems that it took a long time for the song to become popular, but that's always the opportunity for any recording. All I can say is why not?

Al Collinsworth
Thank you to Al Collinsworth for relating the history of the band, to Ronnie Gibson for the great photo at top and to jgtiger for the photo at bottom.