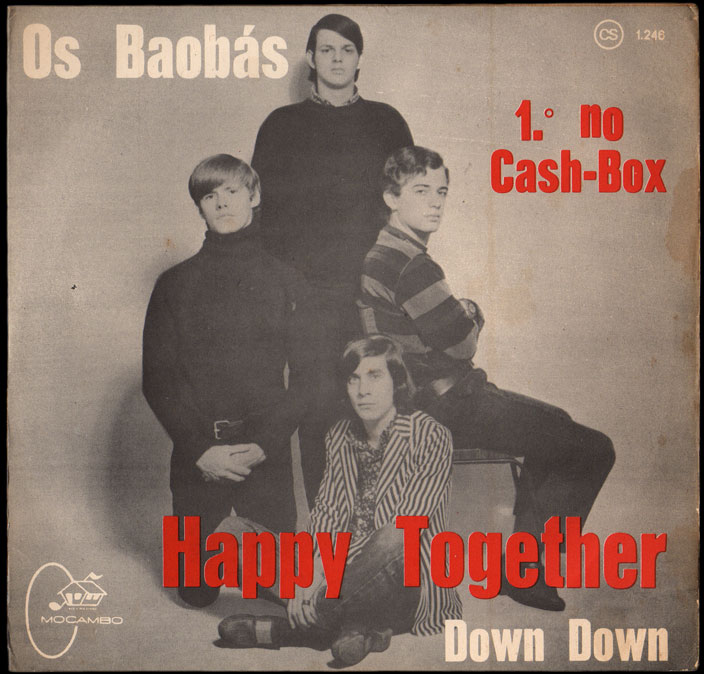 The best track I've heard from Os Baobás is undoubtedly "Down Down", an original by guitarist Ricardo Contins. It was the b-side of their second single, a cover of "Happy Together".

Another fine track by them is their first 45, "Bye Bye My Darling". The band was named by Ronnie Von, who is also credited with naming Os Mutantes.

Garage Hangover's Brazilian correspondent Ayrton Mugnaini Jr. wrote this history of the band for the Arquivo do Rock Brasleiro:

Os Baobás formed in 1966 in São Paulo, SP, by Ricardo Contins (rhythm guitar), Jorge Pagura (drums), Carlos (bass), Renato (lead guitar) and Arquimedes (percussion), first under The Rubber Souls name, then adopting the name Baobás (from "baobab", an African tree whose trunk is the thickest in the world).

The group distinguished themselves because of his repertoire, almost entirely made of USA and UK pop rock covers, but not the most obvious songs, by such artists as The Kinks, Love and Turtles, whose originals had not been released in Brazil at the time (or ever!).

They participated in the first Jovem Guarda festival in April 1966, playing "Pintada de Preto", their own version of the Rolling Stones' "Paint It Black". Backed Ronnie Von and Caetano Veloso on TV and stage all over Brazil. In 1968, with singer Raí (not the same artist who recorded a LP named A Máquina in 1971), they participated in the Festival Universitário, on TV Tupi, with the song "O Tigre" (not the homonymous rock song played by Os Mutantes in the As Amorosas movie), which got second prize (after "Que Bacana" by Suely & Os Kantikus).

Os Baobás released four singles and one LP, all for the Rozenblit record company. Other members were guitar players Raphael Villardi (ex-O'Seis and Os Tremendões) and Tuca (ex-Lunáticos, then Beatniks, Galaxies, Watt's 69 and Sunday – and who is sometimes confused with the female singer-songwriter-guitarist of the same alias who later relocated to France and wrote & recorded with Françoise Hardy), Nescau, Tico Terpins (later of Joelho de Porco) and Liminha (later of Os Mutantes and who can be seen on the cover of the single of "Light My Fire", their cover of the Doors song, released in Brazil ahead of the original).

Thanks to Ayrton for the history, and to Borja for playing this track for me when I was in Valencia.