These photos are of Bud Powell's funeral procession on August 8, 1966. I've added a few more photos since I first put these on the site. These are scans of negatives from an unknown photographer's collection – see my other pages of photos from the Apollo Theater and of Moondog, Jimmy Nottingham and street musicians in Harlem, Greenwich Village and Central Park.
Dan Morgenstern reported on the funeral for Down Beat's September 22, 1966 issue:
In the lead was Harlem's own Jazzmobile, appropriately draped for the occasion, and carrying a jazz band … the members were Benny Green, trombone; John Gilmore, tenor saxophone; Barry Harris, piano; Don Moore, bass; Billy Higgins, drums, and at the last moment, Lee Morgan, trumpet. First came "Now's the Time" and then, perhaps more appropriately, "'Round Midnight", followed by two Powell tunes, "Bud's Bubble" and "Dance of the Infidels".

The music stopped when the cortege reached the church. The pallbearers, including musicians Max Roach, Tony Scott, Eddie Bonnemere, Kenny Dorham, Willie Jones, Hayes Alvis and Claude Hopkins, brought Powell's coffin into the church where, many years before, he had been an altar boy.
If anyone can help identify anyone in the photos below, I'd appreciate it.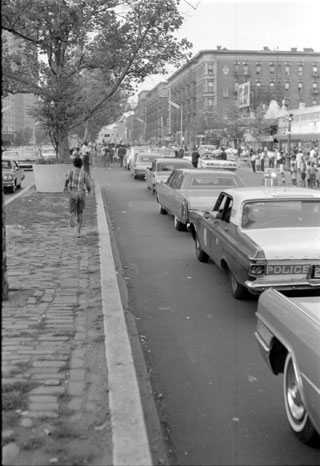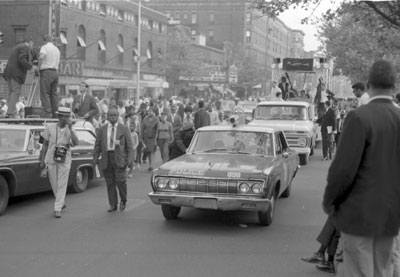 The theater in the background is the Renaissance Theater connected to ballroom of the same name (now demolished).
See here for a comparable photo of the theater.
For info on the deterioration and demolition see here, here and here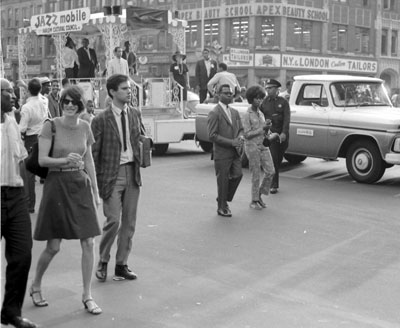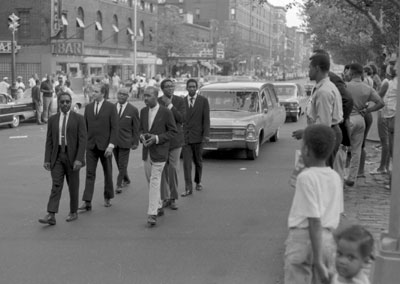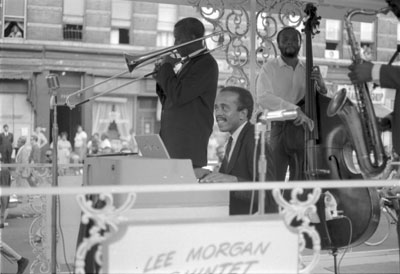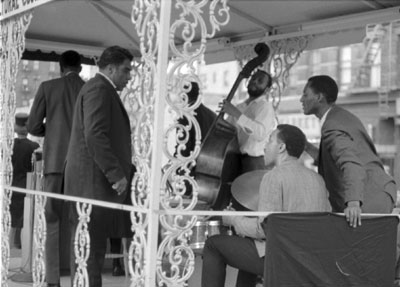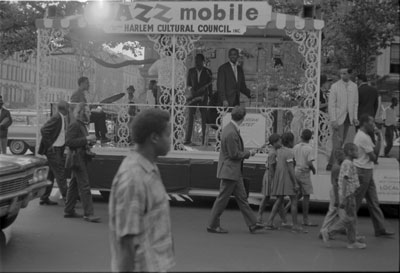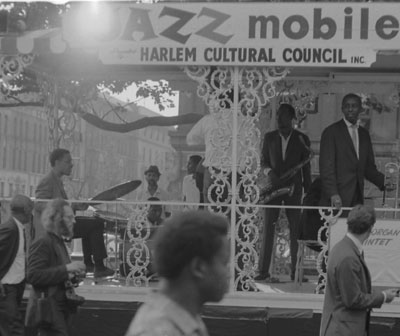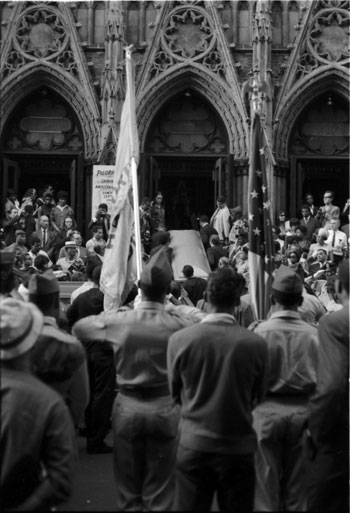 Much thanks to all who have helped with IDs, including Vince Gardner, Hyland Harris, Dan Morgenstern, Ira Gitler and Mike Boone.