"Strange Land, Strange People" reminds me of some of the Strawberry Alarm Clock's songs, and has a solo section with organ and piano in unison. Songwriting is by Dennis Stewart. The flip "Crying All Alone," is similar in sound and was written by Greg Schuller.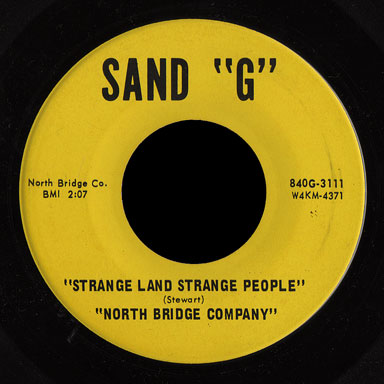 Released on the Sand "G" label in 1968 it was also put out on the Golden Voice label with the band's production address listed at 1118 Nowland, Peoria, Illinois.
I didn't know anything about the band until Ed Mooberry left his comment (see below) and Deborah Shawgo contacted me.
Members of the band were:
Greg Schuller (lead vocals)
Mike Summerville (lead guitar) replaced by Gary Shawgo (lead guitar, backing vocals)
Ed Mooberry (rhythm guitar)
Dennis Stewart (keyboards)
Mike Creek (bass)
Frank Ballard (drums)
Gary Shawgo had been in the Furniture, who are likely the group out of Galesburg that released "Keep on Running" / "I Love It Baby" on Stature, though I don't know if Gary was in the group when the record was released. Deborah Shawgo remembered the Furniture often playing "Keep on Running" live.
Other members of the Furniture were Ron Stockard on keyboards (he later joined Chaka Khan – though I've seen his name spelled Ron Stockert), and Jerry "Pork" Armstrong who had a lot of success with his own group Pork and the Havana Ducks and passed away in 2003. Randy Moody is another name I associate with the Furniture as he wrote "I Love It Baby".
By the time he joined the North Bridge Company, Gary was attending the University of Missouri at Rolla, and commuting back on weekends for gigs and rehearsal. Gary and Deborah Shawgo had a group in the late '80s called Sudden Impact in Springfield, IL. Gary passed away in 2007.