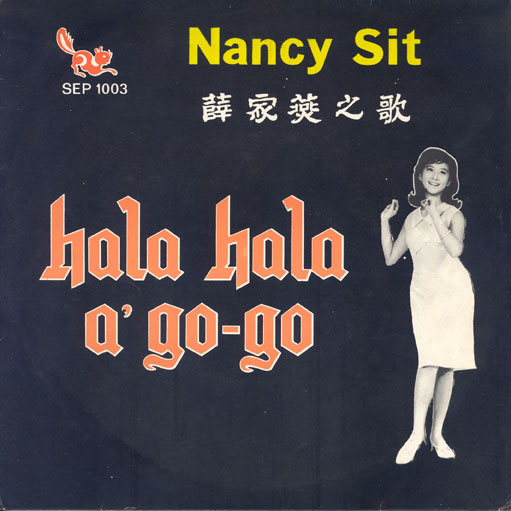 Nancy Sit (aka Nancy Sit Ka Yin) was born in Hong Kong in 1950 and is today well-known in Hong Kong, Malaysia and Singapore as an actress who has starred in many popular films and television serials since the mid 1990s. She also hosts a popular radio show in Hong Kong. Older fans may remember that Nancy begun her career as a child actress at the age of nine and appeared in many films until the 1980s, when she retired from the entertainment industry. She returned to the screen after divorcing her businessman husband, who apparently left her and their three children to go with another woman.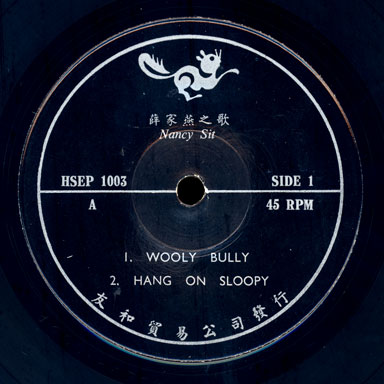 Others may know Nancy from her mid to late 1960s career as a singer of A Go Go music (aka Hala Hala). Four of Nancy's songs appeared on the Girls In The Garage Oriental Special compilation album: Love Potion No. 9, Hanky Panky (both in Chinese, but presented here in English-language versions), Come Back When You Grow Up and Fever. The liner notes to that album made much of the spelling mistakes that appeared on the covers of the original records and the fact that many of the female singers did cover versions of songs originally sung by men, but did not change the lyrics to reflect the change in gender of the singer. Both of these things can be found on the records presented here, but even more so. In the printed lyrics for Love Potion No. 9 the cop Nancy kisses on Thirty-Fourth and Vine has also been made a woman! On the other hand, the printed lyrics for Hanky Panky are the original ones, with 'a pretty little girl standing all alone' and a boy asking can he take her home, but Nancy sings about seeing a boy and asking him to take her home, ands adds 'I didn't have to tell him what to do'.
Nancy covered some great songs in the 1960s and her records are a lot of fun. Her backing bands seem pretty competent for this type of music as well. On her Hala Hala A' Go Go EP on Squirrel Records she sings Wooly Bully, Hang On Sloopy (with a great little scream near the end), Love Potion No. 9 and Shakin' All Over. The same songs appear on a Silver Horse EP, but with a different cover. The Squirrel record is from Singapore, and I am not certain, but think the other one is from Hong Kong. On her I'm A Believer EP Nancy tackles the title track, and Hanky Panky, Hippy Hippy Shake and Pretty Flamingo. All good stuff. I also include here a song from one of Nancy's Chinese-language EPs. The songs on this record are not A Go Go, but popular Chinese songs, although judging from the photos of Nancy on the cover they were also meant for dancing. I can't understand what Nancy is singing about here, but I get the impression that as great as her English-language A Go Go songs are, her voice may well have been better suited to singing in Chinese.
Steve Farram
For more scans of Nancy Sit sleeves check here
| | |
| --- | --- |
| | |
| | |
| | This EP (sleeve at left) contains the Chinese versions of Hanky Panky and Love Potion No. 9 |
| | |
| | A more recent photo of Nancy |