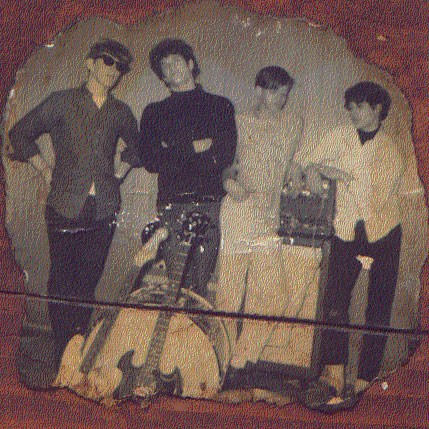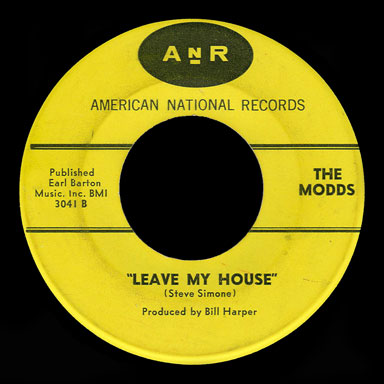 The Modds 45 is notorious for the unbelievably crude sound of "Leave My House".
The Modds were also one of the big mysteries of the sixties, as no one had been able to find anyone who was involved with making this record until I spoke to rhythm guitarist John George.On "Leave My House", most of the band has been buried by the mix of the lead guitar and vocals. One can hear some tambourine, a little bass, rhythm and drums back in the distance. The lead guitar tone is as dirty as can be, breaking up when the picking gets fast. Two minutes into the song he's nearly fried the amp! The singer doesn't hold back, either.
The ostensible A-Side is the much more sedate "All the Time In the World", kind of a Rubber Soul style of ballad with a clean and well-rehearsed guitar solo. Both songs were written by Steve Simone and published by Earl Barton Music. Interestingly, each side has a different producer listed, Bill Harper credited with "Leave My House", and Jerry McDaniel on "All the Time in the World". These Modds are not the group from Miami who cut Don't Be Late.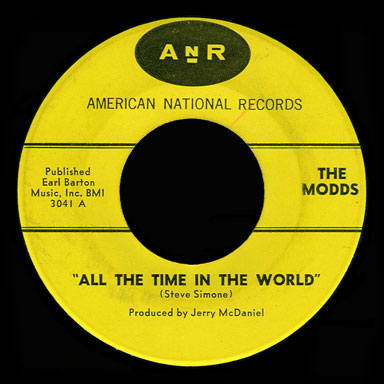 Mop Top Mike sent in the songs and label scans, and provided more detail about publishing and label info:
The pub company is Earl Barton Music, most famous for having writer Wayne Carson Thompson (or whatever his name is!) on the staff – he wrote "The Letter" for the Boxtops, and sides for the Skeptics ("East Side Tenement House", etc.) When the outfit was contacted back in the 80s, there was no paper file on either song by the Modds, despite showing the pub credit for both songs. E Barton music was based in Springfield, Missouri.
The record label looks like a short-lived offshoot of the Nashville label, based in Madison, Tennesse (had the Kenetics 45 "Put Your Loving On Me"). There is no release time frame established as well, the numbering of the label doesn't follow the Nashville label master number series.
Leave My House of course is famous because the band track is obliterated by the vocal and lead guitar overmodulating, causing high frequency distortion. Note that two different producers are credited for each song. Bill Harper must've been aghast at the result when the record was pressed!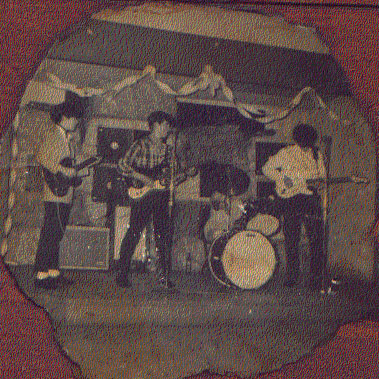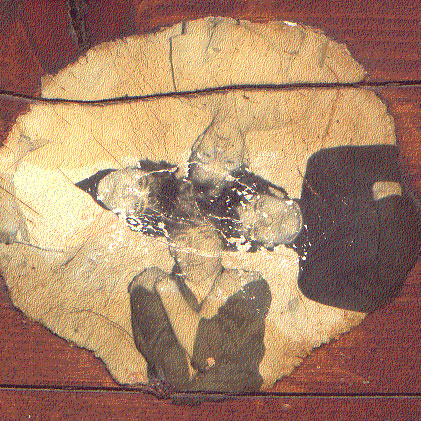 I interviewed John George, rhythm guitarist and vocalist for the Modds. John sent in these great photos of the band, as well as the scan of the Modd Mag fan club newsletter.
I was one of the Modds, my name is John George.

John George of the Modds

Poplar Bluff, MO, 1962, I got a guitar for Christmas when I was 12 years old. I wanted bongo drums, but my parents thought that wasn't enough, so I also got a $12 guitar (Silvertone from Sears). We became inseparable, wherever I went the guitar went. By my 13th birthday, I got my first electric guitar (again from Sears the Silvertone 1448 with amp in case). I think it sold then for around $52.00.

I met Steve Simone through school, and went to his house to hear him play. He had a white Fender Stratocaster, and Gibson amp. Played "House of the Rising Sun." I was flabergasted, we became instant friends.

Eddie Simone

I played rhythm guitar, and vocals, Steve Simone played lead guitar, his younger brother Eddie Simone played bass guitar, Steve Ellis played drums. We were all students at Poplar Bluff High School. The Simone brothers were from southern California, and wound up in Missouri when their mother married a fellow from Poplar Bluff. Steve Simone was a senior, both Steve Ellis and I were sophmores, and Eddie was a freshman. Because or our youth, my father used to drive us to our gigs and look out for us at some of the rougher establishments.

As I recall the name came from one of the people groups in Great Britain. There were the modds and the rockers. We liked the modds, so it stuck. We were the first in the region (because of the Simone's influence) to start playing the English sounds…..became an instant local success.

John George

We played all over southeast Missouri, did a TV appearance in Harrisburg IL. Lots of high school dances and shows. Another band in our area were the Hatchers from Doniphan MO.

Steve played a White Fender Strat through a Gibson amp. I used the Silvertone 1448 (amp in case from Sears) with a Gibson Explorerer amp, till I was able to save enought to get a Gibson Firebird. I bought it brand new in 1966 at Hays Music in Poplar Bluff, $169.95. Eddie used a Gibson ebo Bass, and Steve E. had a set of black pearl Ludwig drums. Our P.A. was the biggest Silvertone amp we could get.

Radio station KLID in Poplar Bluff was the local teen station, and they began to get alot of calls requesting our music, seems we had a fan club. Bill Harper and Jerry McDaniel were both DJs at the station, and asked to manage us. They would regularly record us on station equipment (covers), and play our recordings, keeping us in the top ten.

We played everything we knew, from Eric Burdon to Gary and the Pacemakers every show. The recording sessions would go into the wee hours of the morning. My tenth grade English teacher (Mrs. Virginia Young) would come to every session, and bring food and refreshments (her daughter was president of the fan club). Of course the next day in English class she would often say "you look tired Johnny, why don't you lay your head on your desk and rest." There are no tapes in existance that I know of.

The managers had connections with American National Records out of Memphis, TN. Steve wrote "Leave My House", and "All the Time in the World" for our first single. The recordings were made in a studio in Poplar Bluff on a reel to reel, then sent to Earl Barton at ANR in Memphis. TM. The studio later became a dance club called the Psychedelic Comic Book.

The "Leave My House' recording was really good, and before it was made into the record everything sounded great. Full sound, lead, rhythm, bass, and drums. What you hear is what we got from the producer. It was a dissapointment that it didn't all come through. I sang lead vocal on "All the Time in the World", Steve did the harmony.

There were a total of 500 records pressed, distribution was in local shops, I never did know how many sold, but I think on a local level they went pretty well. I'm very surprised to hear that the 45 has that kind of value [Modds 45s sell for as much as $1,500 – ed.]

Earl Barton called after the release of our record, and asked us to write eight more songs for an album, which we did. The only other original song of the eight for the album I remember is called "Make Loose Ends Meet". I remember it because its the only one I wrote, a nice little ballad.

We had no idea who Earl Barton was, so we were somewhat skeptical. Steve's father Silvan Simone had an art gallery in Torrance, California, and was good friends with the manager of Crown Cadet Records in LA. We sent Eddie Simone to L.A. with the tape. Crown Cadet offered a contract, but that was our downfall, we were young from 14 to 16 years old. Several parents just said no. Steve eventually went back to L.A. where I'm told he became a studio musician, and played rhythm guitar on MacArthur Park.

Vinyl reissue of the Modds from the original master tapes, available from Groovie Records

After the Modds, I played on with another local group, but didn't do anything that really sticks out in my mind. I moved to St. Louis in mid 1967, graduated from Central High School in 1968, enlisted in the Marine Corps, (Viet Nam Vet). Came home and settled in Jefferson County, just minutes south of St. Louis. I played with several different groups in St. Louis, but again no major milestones. Have been involved in music all my life, from rock to country to blues. I have a band of old guys today, The Flamm City Band, check us out at luky7music.com.
Special thanks to John George for sharing his history and photos of the band. This is an update of the original article, posted November 2007.
Harold Ott discovered the original master tape for the Modds 45, and has reissued it on CD, available on his site, which also has more information on the band.
Also, Groovie Records of Portugal has reissued the master-tape version of the 45 on vinyl. I can recommend both of these releases highly.