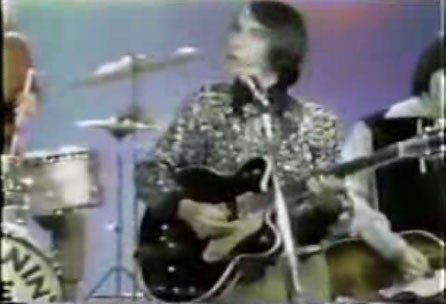 Ritchie Kunkle (guitar) and Andy Gore (bass) formed the Candelles in Wichita, Kansas in 1965. They changed their name to the Moanin' Glories after Karl Berkebile (keyboards) and Marc Mourning (drums) joined in 1966.

The Moanin' Glories recorded just one 45 for the Yorkshire label in 1967. The organ and harmony vocals give a dense sound to "She Took The Rain Out Of My Mind" and "You Better Watch Out For That Girl". Both sides were written by Kunkle and Gore, and produced by Ken Ham.

Andy Gore had the band filmed performing both sides of the 45, using the set of KAKE-TV in Wichita for a promotional reel. The photos here are screen shots I took, but I unfortunately didn't try to save the videos themselves. These were up on YouTube until a few days ago, hopefully they'll be made available again soon.

The band relocated to Boston, Massachusetts in 1970, and toured Japan that year, but I'm not sure what they sounded like by that point. They broke up in 1971.