Welcome to another posting of a series of gig listings for 1960s bands. None of these lists is exhaustive and my idea is to add to them in the comments section below over time. They are here for future researchers to draw on.  I have also added a few interesting bits of information and will add images in time.
I'd like to encourage band members to get in touch to share memories, or for anyone to send corrections/clarifications to my email: Warchive@aol.com 
Equally important, if you attended any of the gigs below or played in the support band, please do leave your memories below in the comments section for future historians to use. If you know of any missing gigs, please add them too, if possible, with the sources.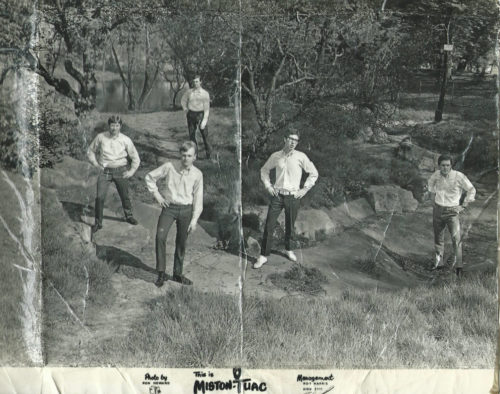 MISTON-TUAC:
I have the following list of musicians who were members but have no further information about the band's history and would welcome readers' insights.
Barry Allmark – lead vocals
Andy Allsup – lead/rhythm guitar
Joe Miller – rhythm/lead guitar
Phil Wallington – bass
John Roberts – drums (real name: John Salisbury)
Peter Buckner – bass
Stuart Mead – lead/rhythm guitar
Bobby Gee – lead vocals
Andrew Perry – drums
The band's manager Roy Harris, who had left a message on the Ealing Club entry, and has since been in touch, said that they were a Hounslow band, which was confirmed by Peter Buckner, who added that they may have rehearsed in the Lord Palmerston.
According to the message that drummer John Salisbury left on the Ealing Club entry, the band's original lead singer Bobby Gee died in France in a road accident. Former Downliner's Sect member Barry Allmark came in as his replacement. However, Roy Harris says that it was the other way round; Bobby Gee replaced Barry Allmark.
Peter Buckner confirms that the line-up he worked with was Bobby Gee, Andy Allsup, Stuart Mead and John Salisbury.
At some point, John Salisbury (who worked under the name John Roberts) left and Andrew Perry joined on drums.
According to Roy Harris, another group billed as Mistral-Tuac appeared on the scene but bore no relation to this band. However, I've listed any gigs I have found by this band below.
Selected gigs:
13 June 1964 – Attic Club, Hounslow, Middlesex with Alex Harvey Soul Band (Kingston & Malden Borough News)
23 June 1964 – Attic Club, Hounslow, Middlesex with The Faires (Kingston & Malden Borough News)
4 July 1964 – Attic Club, Hounslow, Middlesex with Blues By Six (Kingston & Malden Borough News)
14 July 1964 – Attic Club, Hounslow, Middlesex with Alex Harvey Soul Band (Kingston & Malden Borough News)
25 August 1964 – Nurses Club, Jolly Gardeners, Isleworth, Middlesex (Middlesex County Times & West Middlesex Gazette)
30 October 1964 – Borough Assembly Hall, Aylesbury, Bucks with The Berries (http://aylesburymusictown.co.uk/) By other group, billed as Mistral Tuac
30 October 1964 – Ealing Club, Ealing, Middlesex (Middlesex County Times & West Middlesex Gazette) May have played other Fridays around this time
5 December 1964 – Borough Assembly Hall, Aylesbury, Bucks with The Penny Blacks (http://aylesburymusictown.co.uk/) By other group, billed as Mistral Tuac
2 January 1965 – Egham Hythe Social Centre, Egham, Surrey (Staines and Egham News) By other group, billed as Mistral Tuac
16 January 1965 – Royal Links Pavilion, Cromer, Norfolk with The Brokers (Julie Fielder book: What Flo Said Next) By other group, billed as Mistral Tuac
12 February 1965 – Ealing Club, Ealing, Middlesex (Middlesex County Times & West Middlesex Gazette)
6 March 1965 – Graven Hill Theatre, Bicester, Oxfordshire with The Primitives (Oxford Mail) By other group, billed as Mistral Tuac
20 March 1965 – Carfax Ballroom, Oxford with The Trolls (Oxford Mail) By other group, billed as Mistral Tuac
29 October 1965 – Borough Assembly Hall, Aylesbury, Bucks with The Quantum (http://aylesburymusictown.co.uk/) By other group, billed as Mistral Tuac
10 July 1966 – Byron, Greenford, Middlesex with Group One (Middlesex County Times & West Middlesex Gazette)
Thanks to Peter Buckner for the photo