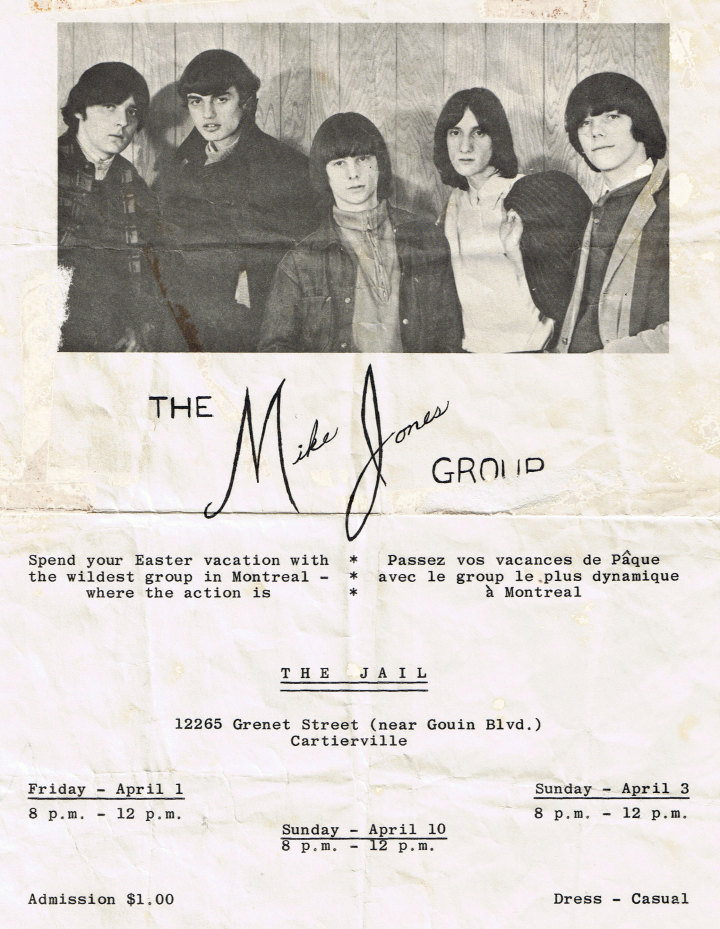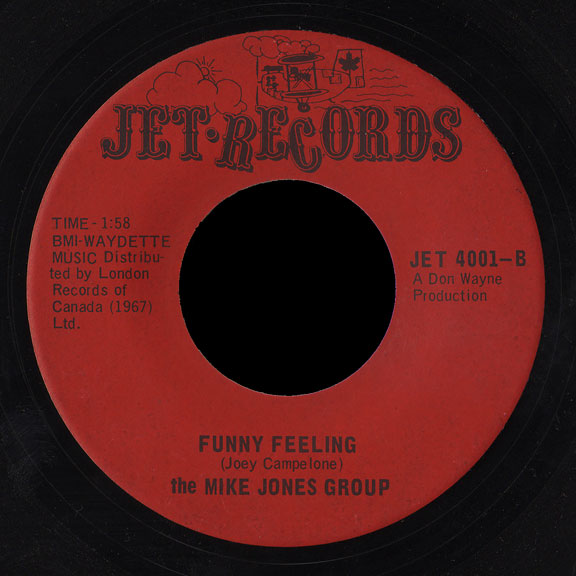 One of the very top Canadian records of the 60's, its origins were somewhat obscure until I heard from Bob Panetta and George Legrady in 2010 and 2011.
The A-side is a good cover of "Each and Every Day", recorded by Manfred Mann and written by Mike Hugg. The flip, "Funny Feeling", is something else altogether, blending a heavy fuzz riff, pounding drums, swirling organ and a first-rate vocal, with a ripping guitar solo to top it all off. It was written by the group's bassist, Joey Campelone.
Mike Jones was an alias for Michael LaChance, a recording engineer from Montreal. I'd read that he put a studio band together with musicians from other groups for this 45, but the band was actually a working group. Roger Rodier described recording an acetate with the Mike Jones Group and traveling to New York to try for a record deal which didn't materialize.
The original group, who recorded demos in New York that have yet to be released:
Mike Jones – lead vocals
Bob Panetta – lead guitar
Richard Dupuis – rhythm guitar
Roger Rodier – bass
Earl Kimble – drums
Later lineup:
Mike Jones – lead vocals
Bob Panetta – lead guitar (replaced by Richard Lasnier)
Billy Smith – rhythm guitar
George Legrady – keyboards
Joe Campelone – bass
Earl Kimble – drums
Jet Records was run by Don Wayne Patterson and distributed by London Records. Rumor had it there is a whole LP's worth of material in the Jet vaults, but that seems to be an exaggeration.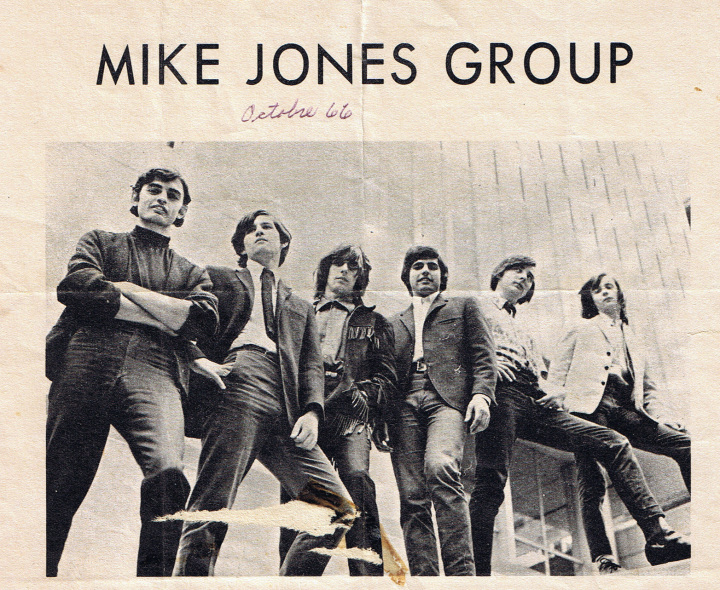 Recently founding member Bob Panetta contacted me with the photos and some early history of the band:
I unearthed this rare photo of a later version of the Mike Jones Group. An old friend of the band, Louise D. had kept it in an old shoebox. From left to right: Bob Panetta lead guitar, George Legrady keyboards, Billy Smith rhythm guitar, Joe Camplone bass and vocals, Earl Kimble drums and Mike lead vocals.

When I met Mike at the St-Germain high school in Ville St-Laurent, I was already playing guitar for a few years. He was a great pop music aficionado. He had all the recent albums by Manfred Mann, The Animals, Stones, Beatles and the rest. We'd get together and learn all of the more obscure songs of these groups. We didn't want people to tag us as a cover band.

We formed our first group The Forgotten, but it was just a garage band. I don't think we ever played anywhere. Then we auditioned for Mel Younger who was to be our manager (he was also The Rabbles' manager). We reformed the band with different musicians and changed our name to The Mike Jones Group with Earl Kimble on drums and Roger Rodier on bass. There was also a guy called Richard Dupuis on rhythm guitar. That's the original band who went to New York to record a few demos.

We started at the Jail, a pretty hip little joint in the north-end of Montreal. We started getting a pretty good following of fans. As time went on we were playing bigger and bigger dance halls around Montreal. In those days there were literally hundreds of places you could play.

One of the more memorable places was the Bonaventure Curling Club in Dorval. That hall could contain thousands of people. If you were booked there, it meant that you had made it big in Montreal. There was also a place called the Hullabaloo but it's kind of vague in my mind.

I was in the band for most of the journey and when I quit Richard Lasnier replaced me. They went on to record a single but the band broke up not long after that. I used to have a copy of the demos we recorded in New York but I lent them to some friends and never got them back.

I've been a musician all my life and still play to this day. In the '60's I played with a group called The Oven with Gary Marcus, a great guitarist and friend. We were the opening act for The Young Rascals at the Paul Sauvé arena if I recall. Then went on to backup French artists like Nicole Martin, Steve Fiset and Claire Lepage. Today I'm more into jazz & blues.

Bob Panetta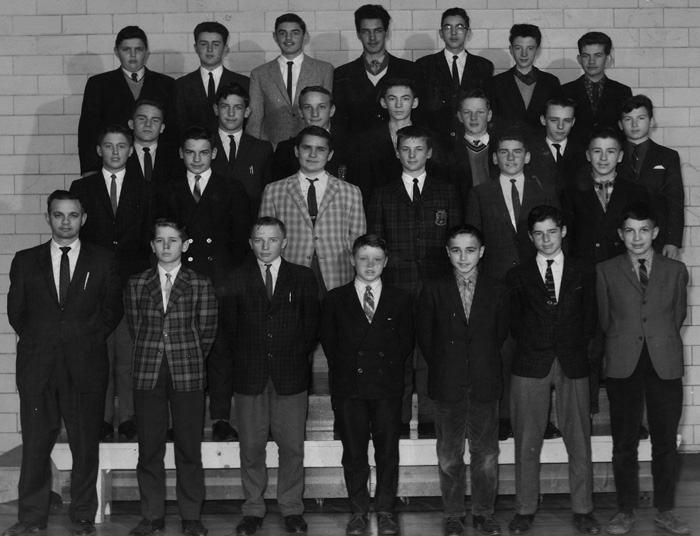 Keyboardist George Legrady wrote to me with some information about the band and also his later experience with the Haunted:
The Mike Jones group in Montreal consisted of Mike Jones (Michel Lachance) on vocals, Earl Kimble on drums, Joey Campelone on bass, Ricky on lead guitar, I think Bill Smith on rhythm guitar, (he and I later played in the Haunted with Bob Bosak, Johnny Monk, Gary Marcus) and I on keyboards. I was the last to join the band in January 1966. We rehearsed in the basement of a suburban house out in north Montreal – I think Pierre Dumouchel was the name of the roadie and it was his parents' house.

We were together for about 1.5 years and played all the time. There was a lot of youthful "lets conquer the world" energy. I was the youngest at 16 as most of the others were between 18-19 which at that time seemed to make a big difference. We played week-ends mostly french Canadian dance halls. I remember competition were "The Sinners" but then we crossed paths with the Rabble, and did see and admire the Haunted. We began with Animals songs, and moved on to Kinks, and other top music of the time. It was a great experience to be part of this group as for me, I was still in high school and it definitely gave me a boost in the "getting out into the world" scheme of things.

The group was very eager to get Don Wayne as manager.

"Funny Felling" was recorded in a Montreal studio near Cotes-des-Neiges Blvd. The song was written right near the end of the band's existence, in fact. I played a Hammond B3 with Leslie speaker, but on gigs I normally used a Hohner keyboard and Fender amplifier. I don't have any photos, nor have kept in touch with anyone, but I do have a tape with three other songs. We used to play at a club called the "Jail" in east end Montreal and one of the songs begins with an intro by Don Wayne…I have to find it…

Mike Jones Group stayed together from 1966 to about 1968. The band broke up because Mike got the offer to become a recording engineer at the studio where we recorded "Funny Feeling" [and] reverted back to Michel Lachance. I knew Roger Rodier but don't remember when he was with the band. I think before I was in it. I don't know what happened to the players.

Q. I asked Jurgen Peter of the Haunted if any members were involved in the Mike Jones Group, and he said no, but maybe he just didn't know about it?

Jurgen does not list me at his website: http://www.thehaunted.com/ and he may have a block about keyboard players as there were others who are not listed either. I was part of the last group consisting of Johnny Monk, Joey Toplay, Gary Marcus, Bill Smith. The original mythic power of the early "1-2-5" rock band Haunted was gone. Jurgen continued to rebuild the band, and I was in the last one which was more Doors/Hendrix/LCD/hippie direction. Our lead guitarist wore a long Japanese robe and sword and went barefoot on Trois-Rivieres TV.

Jurgen did not play anymore but was the manager. He would travel with Hank Squires in front of the truck. I was also the youngest in this band. Jurgen and I had some email exchanges a few years ago about the fact I am not listed, and he was not that receptive to my request to list me as keyboard player. In fact, the exchange could have been a bit more constructive.

Q. How long did you play with the Haunted?

I think it may have been about 8-9 months. My father was pressuring me to go to college, and I had to drop around May 1969. I remember this as I chose to stop playing the night when the Haunted opened for the Who at the Forum who were on their highly successful "Tommy" tour.

Q. I'm curious as to how separate the French and English music scenes were in Montreal, and if it changed between the mid and late 60s. Did the Mike Jones Group sing only in English?

Mike Jones and also the Haunted played at a lot of French gigs. The odd thing was that the French were crazy about R & B. With the Mike Jones group at the Jail, I remember the minute we would break in-between sets Wilson Picket's "Midnight Hour" would be received with total joy by everyone. We would make jokes about it.

Q. The flip of the Haunted's 45 "Vapeur Mauve" was a cover of Talk Talk in French called 'Porquoi'. I've read this was a different group and the Haunted were not pleased about it showing up on the b-side of their record. Any idea who the band was and why this was done?

I am playing the keyboards on "Vapeur Mauve" but there was a previous keyboardist I met who played on "Out of Time" the Rolling Stones song and some other recordings…I forget his name…nice person. Jurgen Peter was the business manager and so he was the one negotiating all of this. We were all surprised about the fact that someone else was put on the back.

George Legrady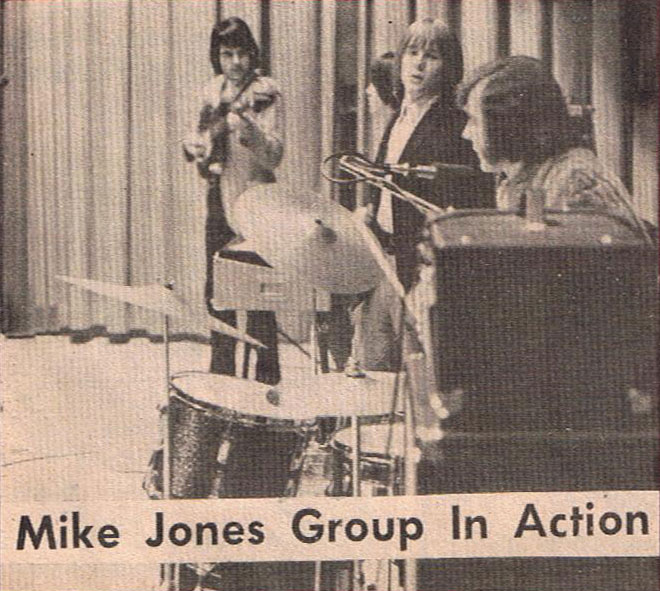 Don Wayne Patterson sent to me the photo above from the cover of Rag Pot no. 1 and wrote to me:
Managed and recorded Mike Jones Group – have an album in the vault and a 45 RPM one-sided French version of "Each and Every Day". Also put out a lot of other Garage bands on my Jet Label. Have a full album in the can from King Beezz (Edmonton). And have several master tapes of Louis McKelvey bought at a garage sale in Montreal.

Published seven issues of RagPot promoting Canadian groups … missing vol. 1 no. 3 and hope to reprint all issues (book form) along with several columns I wrote for Hollywood's Teen Screen magazine and a small Rosemere newspaper.
Sources include: Roger Rodier's notes in the reissue of his 1972 LP Upon Velveatur (thanks to Ivan for pointing that out). Thank you to George Legrady and Bob Panetta for their help.