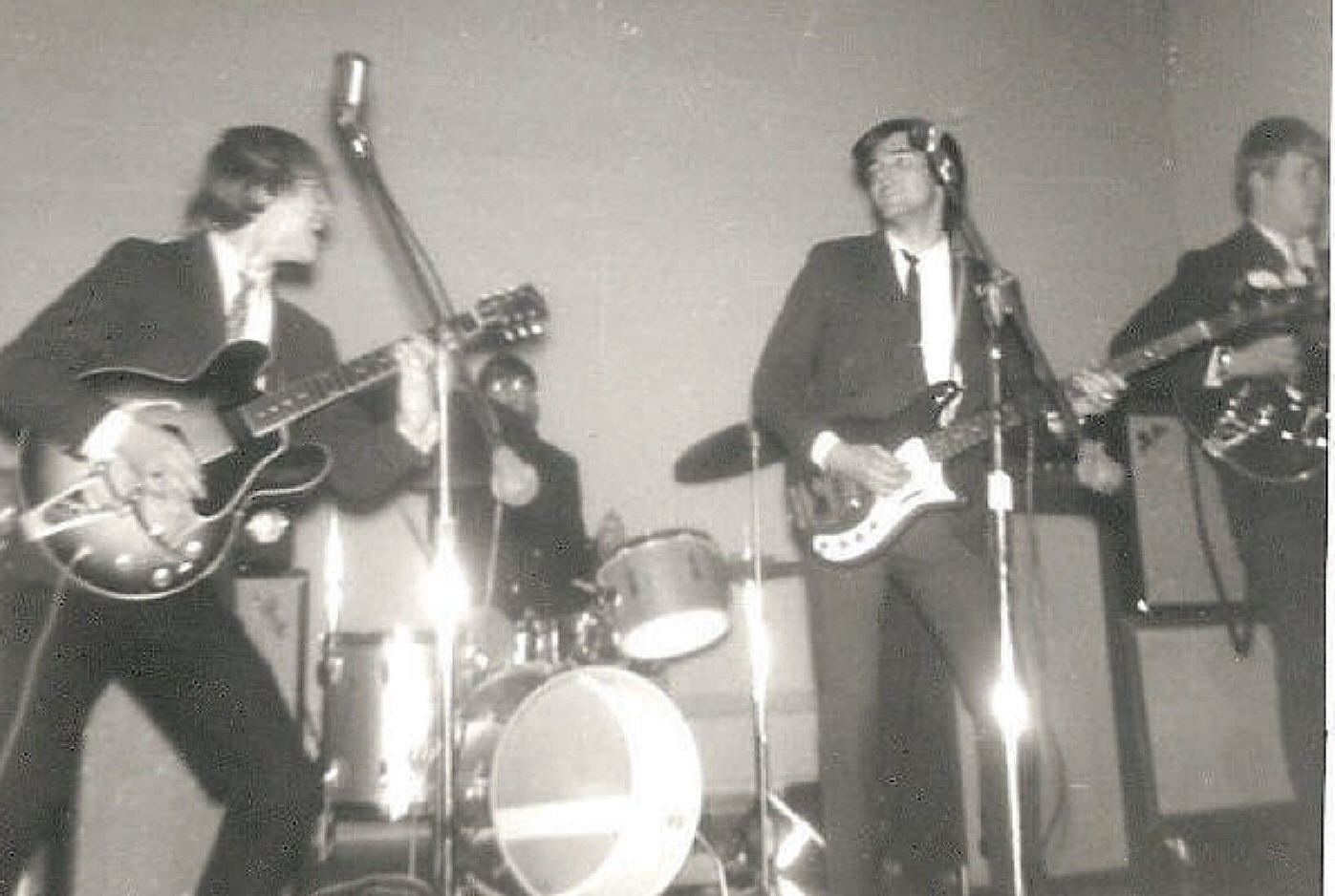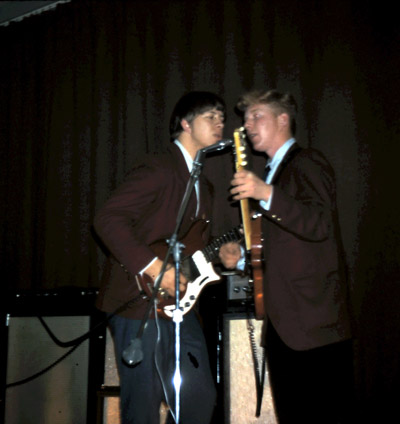 I am proud to present Men at Work – a group based out of St. Paul, Minnesota originally called the Exiles. The members came from the Chisago Lakes area: Chisago City, Center City and Taylors Falls. They chose the moniker Men at Work years before the dippy Australian novelty act and cut one rare 45 with two fine versions of r&b from the day.
Gene Markus – lead vocals
Karl Lundeen – lead guitar / bass
Dean Johnson – organ / guitar / bass
Dale Madison – bass / guitar
John Lindbloom – drums, replaced by Marvin Glenna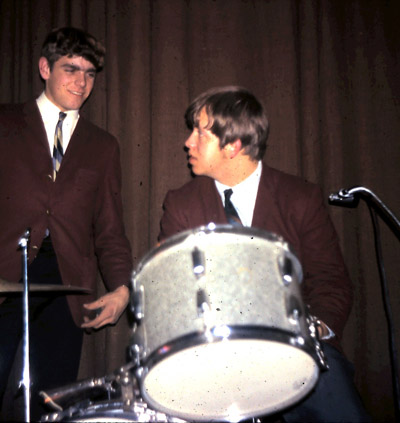 Pauline Kabe introduces her father Dean Johnson's band:
This little known 1960's garage band played with the likes of The Castaways, The Trashmen and other local rock bands. Inspired by The Beatles and The Rolling Stones, they were one of the many garage bands that hoped to ride the wave of pop music in the wake of the British Invasion. They took the name "Men At Work" decades before the Australian 1980's pop group.

This 45 was recorded at Dove Studios in Bloomington, Minnesota in 1966 and produced by Peter Steinberg. "It's All Right" is a cover of the Rolling Stones "I'm Alright". "Shame, Shame, Shame" is a cover of a Jimmy Reed tune. One of the hot teen places they played was The Country Dam (now razed), which was located in Turtle Lake, WI. The Country Dam funded 1000 singles to be cut in hopes to reach local DJ's and gain popularity.

The band only saw 100 copies and the remaining copies were to be sent to local DJ's for air play. The remaining 900 copies mysteriously disappeared (or were never cut). Only a few remaining copies are owned by family members of the band.

They have also played under the name Walt's Rhythm Kings and in the 1980's The Georgia Express.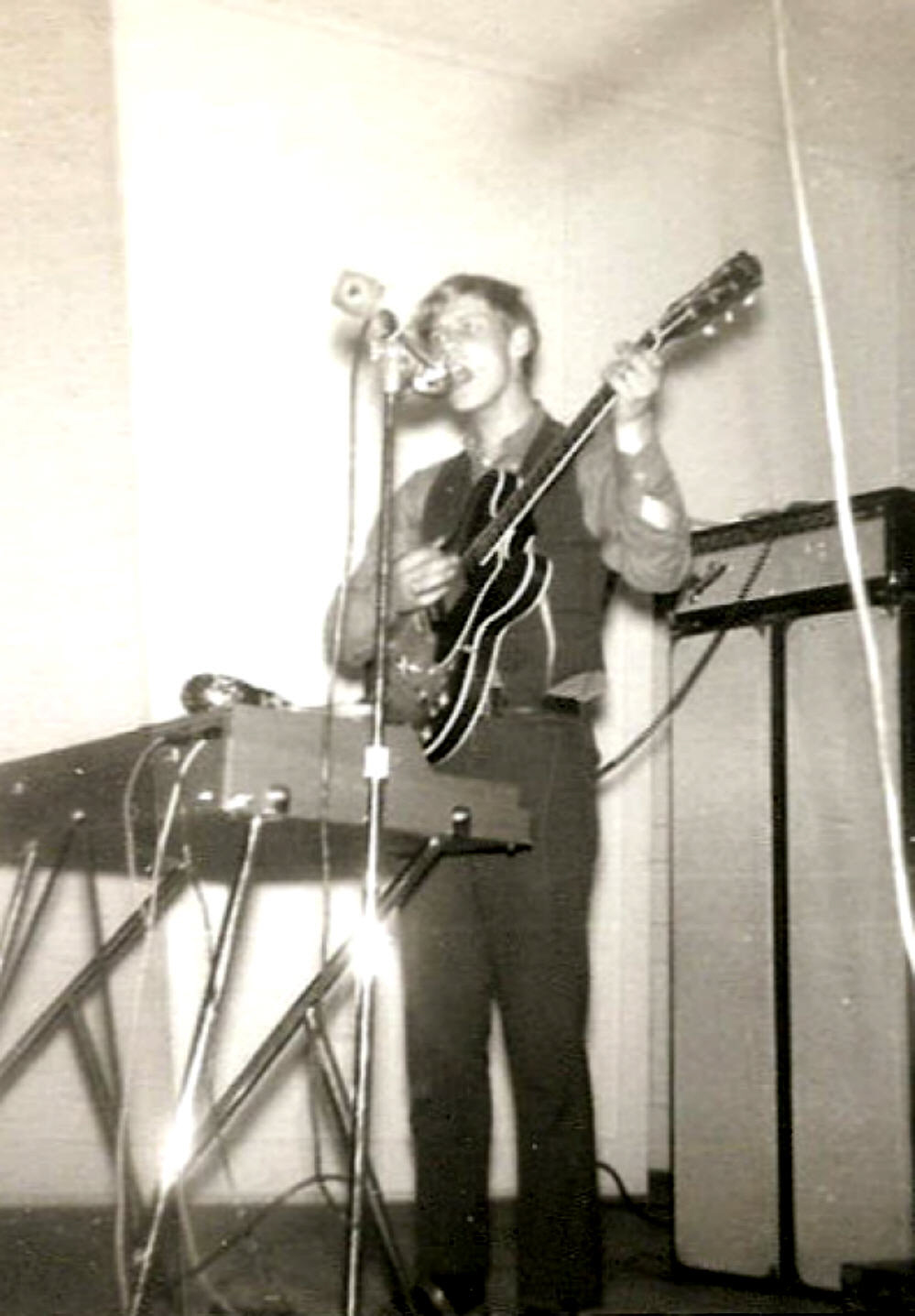 Dean Johnson wrote:
I believe it was the summer of 1966 when the Exiles went into the recording studio and cut "It's All Right" and "Shame, Shame, Shame". By this time Dale Madison had joined the group as the primary bass guitar player as I had bought a keyboard (organ), and there were five of us. Not terribly long after we cut the record, John Lindbloom was drafted and went off to serve in the Viet Nam war.

We, of course, had some advance notice this was going to happen, and we had been looking for a drummer. Marvin Glenna was one of the first that we tried out. While he had the ability, he was very young and inexperienced, and we were concerned about getting him in to the bars we were playing in. We tried out two or three more who were just crap, and eventually decided to give Marvin a whirl. It turned out to be a great decision.

Marvin Glenna

For sometime before as well as after we cut the record, we were bring booked by Jim Donna of the Castaways and also by a prominent DJ from KDWB radio. We were playing the teen club circuit from Buffalo to Renville and also some college gigs at the University of Minnesota, St Cloud, and Storm Lake, Iowa….including many weekends at Woodley's Country Dam. The owner – Jim Woodley – actually financed the studio time and the cost of pressing the records; and we in turn played for him for nothing for many, many weekends until we had paid him back.

It was a cold, wintery night and we had a gig up at a Catholic High School in St Cloud. Marcus didn't show up for the job, and we were ill prepared to do a complete four set night with out him. We stumbled and struggled the best we could, but none of us knew the words to all the songs he had sung, and we ended up butchering his songs and playing the handful that were our numbers over and over again for maybe the fourth or fifth times. The kids were pretty upset with this shitty band, and rightly so. We got peppered with snowballs, I ended up cussing out a priest which made Dale Madison – a devout catholic – extremely angry.

Dale Madison

Marcus showed up at my house later in the week. Karl and I were there at the time and we told him to take a flying leap and that we didn't want to see him again. He had helped us purchase some equipment, so he demanded a guitar, amp and microphone and went on his way. We have never seen him since.

So the four of us learned all of the words to the songs that Marcus had sung, and we continued as the Men at Work for the remainder of 1966, all of 1967, and up until about a month before [my daughter Pauline was] born in March of 1968. I had promised that I would quit playing in order to be around to help when and after she was born. We were sort of a unique group for the times as the three front men, Dale, Karl & I would all switch around on each other's instruments because we could all play a little bass, a little lead and a little rhythm guitar. We would do three or four numbers and then switch instruments and do two or three more, etc., all night long.

We were all supposed to get together again later that summer to regroup and practice up as we had playing dates booked at the Country Dam and other sites beginning in September. However, when the time came, Karl and Marvin had been playing with Marv's brother, Walt, down in the cities, and they announced that they had decided to stay there instead. After a while, I was asked to come down and join in… which I did.

So then we became Walt's Rhythm Kings for the next couple of years, playing at country bars and clubs on the NE side of Minneapolis, eventually settling in as the house band at the Forest Lake bowling alley which had a significant club and dance wing. Eventually we went uptown to play at the Forest Laker in downtown Forest Lake as the house band there.

Karl Lundeen

We at some point had the revelation that we should be the Georgia Express, and we played again at the Country Dam, the Tea House (country club at Chisago Lakes Golf Course), Forest Lake, weddings, Fireman's Balls, local town street dances, the Conestoga, Lindstrom Golf Course, and many private parties.
Walts Rhythm Kings and Georgia Express:
Walter Glenna – lead vocals / guitar
Marvin Glenna – drummer / vocals
Dean Johnson – bass / vocals
Karl Lundeen – lead guitar / vocals
Thank you to Pauline Kabe for alerting me to Men at Work, and to Dean Johnson for his help with this article.