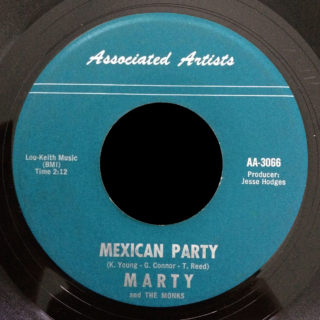 Herman's Hermits "Mrs. Brown, You've Got a Lovely Daughter" topped the Billboard Hot 100 in May of 1965, so a Hollywood studio owner rushed out a parody, "Mrs. Schwartz You've Got An Ugly Daughter" with the artist listed as Marty & the Monks. This version is on youtube if you want to subject yourself to it, but the real gold is the instrumental on flip, cut by a group that seems to have been totally unrelated to the musicians on the A-side.
"Mexican Party" is a rocking take-off on "Money" that sounds like it was actually recorded live in the studio. There are whoops, shouts, lots of string bending, a ridiculous horn blast. It has a lot in common with the Pacific Northwest sound like the Moguls "Avalanche", the Jesters' "Alki Point" or even Don & the Goodtimes version of "Money".
Released on Associated Artists AA-3066, the song was retitled "Psychedelic City" when it came out as the flip to "Mrs. Schwartz" on Era Records 5037.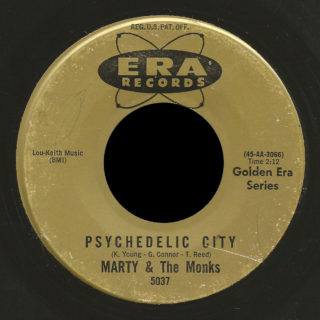 Jesse Hodges is credited as producer. Hodges owned Hollywood Sound Recorders and I believe he owned the Associated Artists label, which released about twenty 45s, including a couple of Hodges' own singles. K. Young, G. Connor, and T. Reed have writer credits on "Mexican Party", but none of their names appear on other Associated Artists releases as far as I can tell.
Both the Associated Artists 45 and the Era release have ∆-57190 in the deadwax, which dates the stampers for both 45s to June of 1965. I assume the Associated Artists was the original release. I have no idea when this "Golden Era Series" came out but 1967 wouldn't be a bad guess, given the new, topical title.
My fellow WGXC deejay Jillian found a possible source for the band name in the obscure Marty the Monk cartoons of the 1930s.