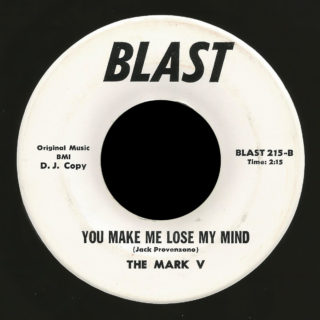 I don't have any info on the Mark V other than what's on the labels. BMI lists the "Mark V" as the song writer for "I Want To Say", so that indicates the band members were L. Cerame, G. Snow, R. Eder, T. Montanino, and R. Hackling.
The b-side "You Make Me Lose My Mind" is the wilder of the two songs; Jack Provenzano is the writer. Unfortunately it's not on youtube right now, but it's worth seeking out for the weird scream after the opening drum roll.
Released on Blast 215 in 1964. Vincent Catalano (Vinnie) owned the Blast label, and also had the Sinclair, Whale, Mermaid, and Camay Records labels with Don Ames. Blast is known for doo wop, especially "Coney Island Baby" by the Excellents. Basil Bova did some A&R work for the Blast label.
The best source of info on Vince Catalano that I could find is from the Double Dates of Luck Records.
The Mark V single comes towards the end of the Blast catalog. New York City was my best guess on the band, but it turns out they were a Belleville, New Jersey group.