Daniel McNabb submits this, the first record by the Magic Reign from October of 1968.
Vocalist Mike Volk and drummer and keyboard player Bobby Winkler had been in the Manassas, VA band the Chocolate Snowflake, whose members included Charlie Johnson and Rocky Isaac, both of whom were also in the Fallen Angels.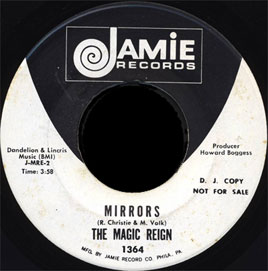 Winkler and Volk moved to Arlington and formed the Magic Reign, with original band members Duke Aires on guitar and Mike Burker on bass. Later additions include Pick Kelly bass, Johnny Peterson drums, Steve Summers lead guitar and Steve Crossan guitar.
Both the moody Mirrors and its flip (an adaption of "Pop Goes the Weasel"), were written by R. Christie and Michael Volk. Production was by Howard Boggess. "Pop Goes the Weasel" starts off well, but the nursery rhyme lyrics and an annoying whistle doom it to novelty status. "Mirrors" is genuinely intense, with a subdued fuzz solo and good production.
They released a second on Jamie, "Jefferson Street" b/w "Charcoal Sketch", early in '69. Jefferson Street was named after the street where they lived and is a good late-60's psychedelic pop number.
Recently Dan met guitarist Duke Aires, when working on Duke's '63 Fender Jaguar, which inspired him to contribute this post. Thanks Dan!