The Magic Plants were a New York City group connected to Harry Lookofsky, owner of World United Studios.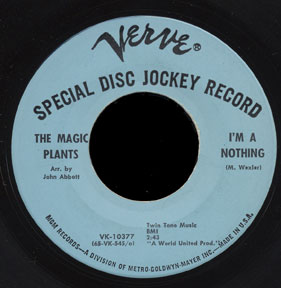 The only band members whose names I could find are Peter Schekeryk and Tom Finn, but since first posting this, Tom Finn contacted me to say that Mick Wexler was lead singer and also guitarist on the record. The band's drummer was Warren David Scherhorst who became the first drummer for the Left Banke.
Finn stated in a later interview that he was just 16 at the time, not a good bassist yet, and only sang backup vocals on the record. Very likely then, at least some of the musicians on the record were studio pros. Contrary to prior publications, this record was never released with a World United label, but went straight to Verve in December '65, making no impression on the public at the time.
While recording "I'm A Nothing", Finn met Lookofsky's son, Michael Brown, also just 16, who was working as an assistant at the studio. They started composing songs with Finn's friends drummer George Cameron and singer Steve Martin. Together they became the Left Banke, managed and produced by Harry Lookofsky.
John Abbott, who arranged this 45, also arranged and played bass and guitar on several early Left Banke recordings done within a couple months of the Magic Plants record. This leads me to believe there's a good chance that he played bass on "I'm a Nothing". I had thought maybe Hugh McCracken (another local studio pro) played guitar – though Tom Finn says he did not.
The b-side here, "I Know She's Waiting There", hints at something of the future Left Banke sound, and also has a beautiful fuzz guitar solo. Harry Lookofsky, by the way, also recorded interesting jazz discs and provided backing for doo-wop groups under the name Hash Brown and His Orchestra. John Abbott was involved in some of these as well.
Peter Schekeryk passed away on October 26, 2010.
Tom's comment below is worth including in its entirety here:
I think I can help you with this, as I was in the group. The lead singer of the group was Mick Wexler. The only thing I can tell you about him is, he was from an area of Philadephia called Mount Airy. I don't think his real 1st name was Mick, because he thought he was (Mick) Jagger. I believe he wrote both songs. Harry Lookofsky did produce them. The reason it got onto a major label so quick is: 1. Harry's reputation. 2. Longhaired bands were few and far between back then. 3. It was sort of commercial.

Peter Schekeryk was a talent scout for Harry. he also went on to marry & produce the pop star Melanie of 60′s fame. I didn't play on the record, you are correct there. We also had a blond haired drummer named Warren David Scherhorst, who was the 1st drummer of The Left Banke. No photos exist of Warren or Mick.

You're right about John Abbott except he wasn't 45, he was more like 28. Hugh McCracken didn't play guitar on The Magic Plants recordings. I remember seeing Mick Wexler playing guitar, he was actually a pretty good guitar player. Any way gentlemen, I hope I have been helpful in clearing up any confusion surrounding these classic garage recordings.

By the way, I was responsible for putting together the elements and members of The Left Banke. I met all of the members separately and introduced all of them to each other. I lost power in the group after "Walk Away Renee" became a hit. The money started to come in, and Michael Brown (Then Lookofsky) and his father Harry made a power play to keep only the lead singer Steve Martin-Caro and fire the rest of us. Well it didn't work. But it did destroy the trust and comradery we had. Good luck, -Tom Finn
Does anyone have a photo of the group?