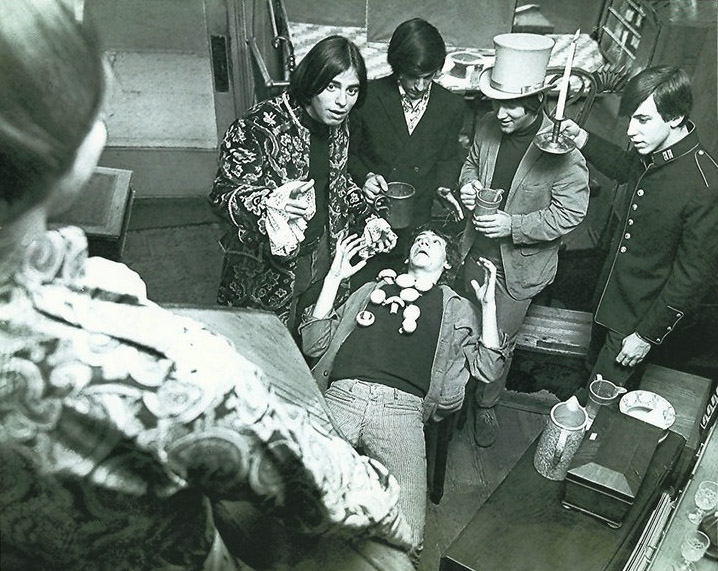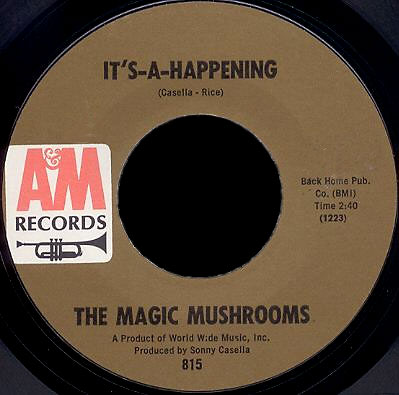 Five students at the University of Pennsylvania in Philadelphia formed the Magic Mushrooms. Original members were Stu Freeman vocals and guitar, Ted Cahill lead guitar and autoharp, Dick Richardson keyboards, Charles Ingersol on bass and Joe LaCavera on drums.
Allen Ginsberg gave them the Magic Mushrooms name after a campus lecture in late 1965. In early 1966, Josh Rice joined the band on vocals, flute and harmonica.
Sonny Casella heard the band playing at Drexel University and became their manager. Contrary to previous reports, he did not sing or play in the band, but he was responsible for mixing, arranging and producing their records.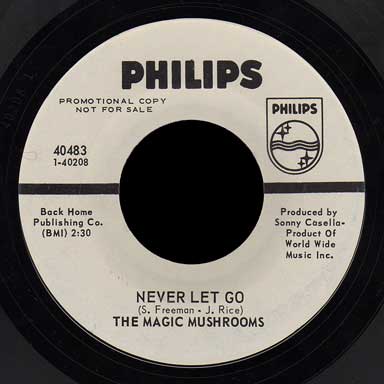 They recorded their first 45 in New York, "It's A-Happening", an original credited to Casella and Rice, but perhaps really written by Stu Freeman and Josh Rice. A bizarre psychedelic montage, it was released on A&M in September, 1966 and reached as high as #93 on the Billboard charts in November, backed with another original, "Never More".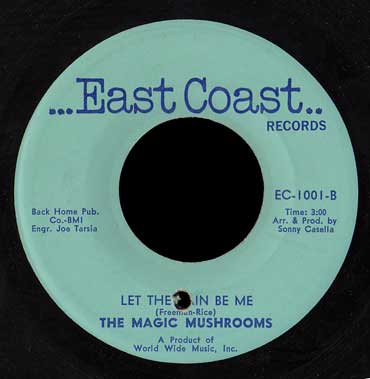 A close comparison could be made to the Electric Prunes, but unfortunately we'll never know how far a record this strange could go – when Herb Alpert of A&M realized the drug reference in the band's name, he pulled the record from the shops and ended their relationship with the label.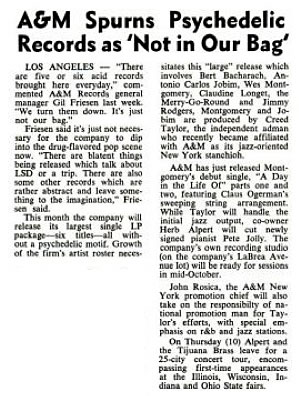 Despite this setback the band hooked up with Philips for their second record, "Look in My Face", which didn't chart. However, it was backed with the intense "Never Let Go", an original by Stu Freeman and Josh Rice and my favorite track by the band.
Their final release is the corny "Municipal Water Maintenance Man" on the East Coast label, hiding a very fine hippie-ish track on the b-side, "Let the Rain Be Me", another Freeman/Rice song.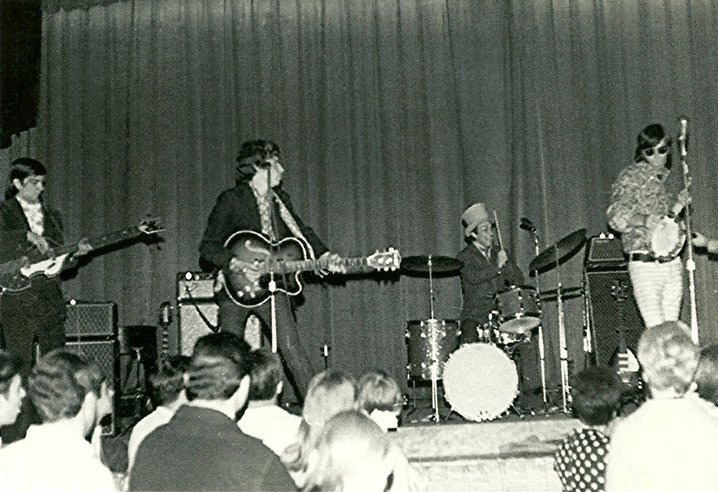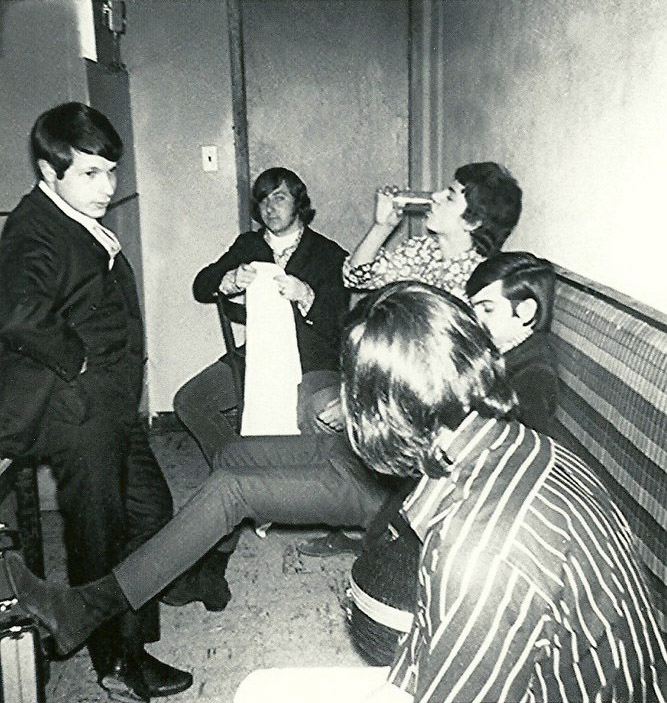 Lead guitarist Ted Cahill and vocalist and guitarist Stu Freeman have filled in some details on the band:
Ted Cahill:
I was the lead guitar playing for The Magic Mushrooms. I am still in touch with Stu Freeman. and Joe Lacavera, the drummer.

The original bass and keyboard players were replaced, I think, in the Spring of 1966. Those guys were replaced by Chris Barbieri (bass) and Bon Grady (keyboards). They had both been in a band with Stu in Westchester County, NY before Stu came to Penn.

That summer we played the Jersey shore at a place called Tony Mart's in Somers Point. We had a dispute with the owner later in the summer and quit. One of our lead singers had been sick and the guy docked us some money. Little did we know it was a mafia bar; our days of playing that part of the Jersey Shore was over. If you have ever seen the movie Eddie and the Cruisers, Tony Mart's is the club where a lot of the action in the movie happens.

Chris Barbieri and Bob Grady

We played a lot around Philly, the Hy Lit show on tv, some bars around the city and lots of frat parties at Penn. We also were supposedly in a movie the Andy Warhol shot at Penn's Mask and Wig Theater in Center City Philly, whether that really happened I don't know, but we were asked to play the party there and there was filming going on.

We saw no reward for the Nuggets appearance, all the money we made was from the gigs we played.
Stu Freeman:
I grew up in New Rochelle and presently live in White Plains. The band I had in high school was called the "Foremost" and later the "Fiendish Thingies". The other members were Barbieri, Grady and a guitar player named Lloyd McCool. All from Pelham Manor.

Barbieri and Grady replaced Charlie Ingersol and Dick Richardson in the Mushrooms after about a year. After about another year, Cahill, Josh Rice and drummer Joe LaCavera were out and the Mushrooms was composed of myself, a guitar player named Steve Rundle, bassist Pete Gries (both from Penn) and a couple of different drummers from around Philly.

"It's a Happening" was recorded in Sigma Sound studios on Broad Street in Philly, NOT in New York. Engineer was Joe Tarsia, who worked with Kenny Gamble and Leon Huff on all those great "Philly sound" records (Harold Melvin, MFSB, Ojays, Archie Bell, Jerry Butler, Soul Survivors, etc.). Tarsia expanded and opened up a studio in NY after the huge success of the Philly studios.

Stu Freeman

Also, Allen Ginsberg did indeed provide the name "Magic Mushrooms" (he was speaking at a Penn function and Josh caught up with him and asked him for a suggestion). And, there was never any "David Rice" on guitar. BTW, Josh Rice is nephew of Pulitzer Prize-winning playwright Elmer Rice.

Q. Did you ever see much in the way of royalties from It's a Happening?

We all received some royalties from the original sales (eons ago), but interesting you should ask that, because one of my erstwhile Penn roommates and current good friend asked me a while ago, after noting the success of the "Nuggets" albums, if any royalties had been received from them. I told him no and he suggested that I investigate, but I never did. I have no idea where Josh Rice is so I never contacted him about it either. Casella owned much of the original publishing so he may have received something from "Nuggets" but it's also possible the publishing had expired and he got nada.

I got involved with "Stars On 45" in 1981 with my current partner Ed Garr and we still play regularly (everything from weddings to CBS News holiday parties to Vegas conventions).
Sonny Casella also helped produce the first record by The Snaps (later known as the Underground Balloon Corps) "You Don't Want Me"/ "You're All Mine".
These Magic Mushrooms shouldn't be confused with the California group the Magic Mushroom (singular) who recorded "I'm Gone" / "Cry Baby" on Warner Bros.
Photos from the collection of Ted Cahill.