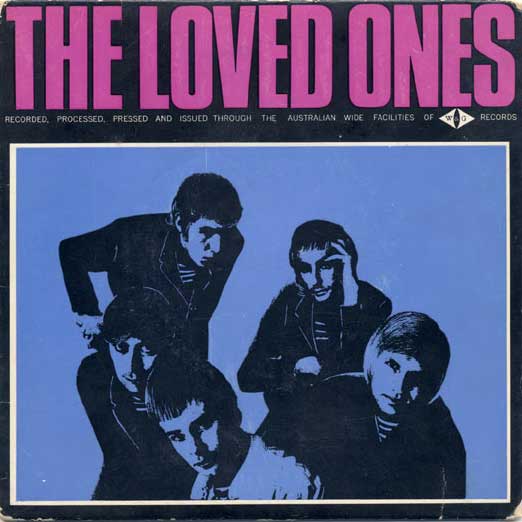 I just heard of the passing of Gerry Humphreys, lead singer of the Loved Ones, one of the most distinctive bands of the '60s. They formed in Melbourne and had just one lp.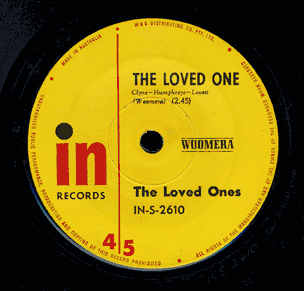 Other members were Ian Clyne piano, Rob Lovett (ex-Wild Cherries) guitar, Kim Lynch bass, and Terry Knott drums. Before recording, Terry was replaced on drums by Gavin Anderson. After their second 45, "Everlovin' Man", Ian Clyne left to be replaced by guitarist Treya Richards.
Several singles are excellent, including "Everlovin' Man" and "Sad Dark Eyes", but I think there's nothing quite like "The Loved One" in all of 60's garage and pop. It was a big hit in Australia, reaching #2 on the charts. The live tracks from Melbourne, 1966 that appeared on Raven's reissue of Magic Box are just fantastic.
Rare video of "Sad Dark Eyes", see it while you can!
Ged Fitzsimmons, a fan of the band, wrote in with some more information about the Loved Ones:
The Loved Ones did not form all of a sudden in 1966. Three members, Ian Clyne, Gerry Humphreys and Kim Lynch, had previously been The Red Onions Jazz Band for quite a few years, and had issued no less than three LP albums under that name.

Their musical skills enabled them to create blues recordings with unusual chord structures, rather than the normal 12-bar three-chord arrangement.

Ian Clyne, apart from singer Gerry Humphreys, was the group's most important member, as it was he who composed the group's first two big hits. Because of a democratic agreement, the other band members were listed as co-composers on "The Loved One" and "Everlovin' Man".

When Ian Clyne left the group, the band's original material suffered dramatically.

I saw The Loved Ones in 1966 at Zondrae's Disco in Keira Street, Wollongong, and they were every bit as good live as they were on record.

The band added a new lead guitarist, Danny De Lacey, who came from Los Angeles, USA.

Unfortunately, they seemed to go downhill rapidly after that. They put out an absolutely abominable and abysmal single called "The Loverly Car", and it sold about two copies, as it deserved. In mid-1967, the boys went their separate ways. Gerry Humphreys formed a group called Gerry & The Joy Band, but they did not get enough publicity to become successful.

Gerry returned to England, where he spent his latter working days as a nurse in a London psychiatric hospital.

In the 1980s, The Loved Ones had a very brief comeback in Melbourne, but Gerry could not reach those high notes. The producers of a televised "live" appearance actually dubbed in Gerry's wild verses from the original recording of "Everlovin' Man" because he sounded woeful in person!

May I add that The Loved Ones, despite their very few recordings, have always meant a lot to me, and I have never been without a copy of their output in the last forty years.

Two LP albums were issued, The Loved Ones' Magic Box and The Loved Ones Live and they have both been available as budget CDs for many years, still selling well in Australia.

Apart from the hit records, the highlights on their studio album include "Blueberry Hill", "Shake Rattle & Roll", and "The Woman I Love".