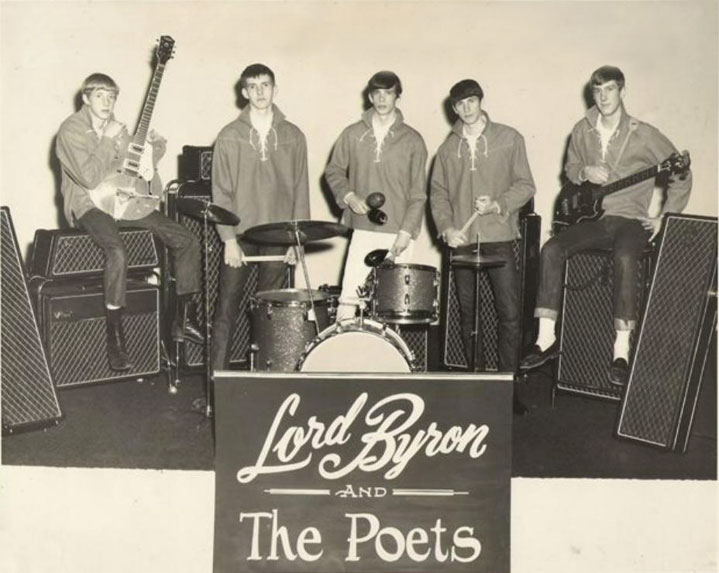 Lord Byron & the Poets did not release any records but did record a session at Ed Boutwell Studios like many other Birmingham area bands. Members were:
Chip Woody – lead singer
Ed Balog – lead guitar
Eddie Robinson – rhythm guitar
Jim Lacefield – bass and vocals
Danny Saxon – drums and vocals
John Wheatley III – drums
Drummer John Wheatley sent photos of the band and answered my questions about the band:
We had a great band and were well received wherever we played gigs. Our band was very unique in that we had two drummers. Our singer, Chip Woody, looked a lot like Mick Jagger and was very talented at singing Rolling Stones songs, so we did plenty of them along with the usual list of current favorite rock songs.

Several of the band members were very creative and wrote quite a few songs during my time with them in the 65/66 school year.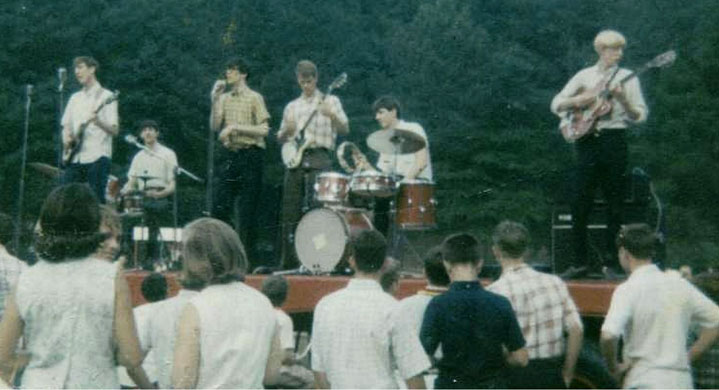 I have a few pictures from a "freebie" we did at Canterbury Methodist Church in Mountain Brook, AL for a benefit event. My family were members at the church for many, many years.

The one other picture I have is a promotional picture made at Phipps Piano Company in Birmingham that is connected with our band's purchase of a large amount of Vox sound equipment to amplify all of the guitars and all of the singers.

We had a really nice Vox PA system with two "sound columns" and amplifier. The lead guitar player (Ed Balog) played a Gretsch Country Gentleman gold plated guitar through a Vox Royal Guardsman amplifier accompanied by a Vox reverb unit, that actually recorded the initial sound on an audio tape and then replayed it in diminishing volume levels as the tape passed through a successive series of tape heads that progressively erased more and more of the original sound as the tape completed it's circuit while continuously recording and playing each new audio sound on the same tape … absolutely amazing to watch it operate with the cover off of the tape component area.

The bass player also had a brand new deluxe model of a bass amplifier that had its own hand truck type of chrome rack on wheels and sounded amazing for sure. I'm not sure what amplifier Eddie used, but he probably plugged into Ed's equipment sometimes and I think he had a classic Fender amp that he used some of the time.

We were "recruited" at one point during that tenure by a man representing himself to be a talent scout from RCA in Nashville and he had us to meet him on a weekend at the new Mountain Brook High School where we set up in a sunken carpeted area and he used an reel to reel tape recorder to tape all of the original songs that our group had to offer at that time. He kept in touch with the Balogs for some while, promising this and that. That's about all that ever came of it, except that one of our songs came out as a hit record titled "Hey Little Girl" with only very minor changes to our original version and it did quite well on the charts and got loads of airplay. The band members that wrote the song felt ripped off but there was little they could do about it.
 


Boutwell Studios control room with John Wheatley at right. Photo courtesy of Jim Lacefield

At another point, we did a recording session at Boutwell Studios in Birmingham and recorded several songs, including one entitled "Mister You're A Better Man Than I" performed by Danny Saxon for our group. During my efforts to re-connect with our original band members recently, I learned that the bass player, Jim Lacefield, still had the original reel to reel tapes from that Boutwell recording session, but had never done anything with them since 1966. One thing led to another and he was kind enough to ship them to me and I am in the process of getting them transferred so that all of our band members can enjoy and share them as they see fit when the project is finished. It will be interesting to hear the music on the tapes and re-experience those magical moments from 50 years ago surrounded by our current families.

We never actually made any records during my tenure with the band and the group essentially dissolved at the end of the school year as all members were heading off to college, etc … similar to the Ramblers and many other groups of that era.

Our lead guitar player, Ed Balog, was only 14 at the time while most of the rest of us were seniors in high school, but Ed was an extremely talented musician who had been playing the guitar daily since age 8 and was a child prodigy for sure. We practiced every day at the Balog house. When I tried to re-connect in recent years I was saddened to learn he had passed away after a legendary career as a musician in the greater Birmingham area.

I finally located the other drummer / singer, Danny Saxon, who lives out west in a beautiful part of the Great Rocky Mountains and is very happy doing wood work along with pursuing his current hobby of singing and playing music on a frequent basis.

Jim Lacefield was our excellent bass player / singer and I reached him in recent times to learn that he had continued his musical endeavors, shifting over to a really interesting and successful string of performances for many years singing and playing acoustic guitar in a variety of venues throughout the southeast. Jim lives near Tuscumbia now.

Eddie Robinson, Johnny Robinson's younger brother, played rhythm guitar with our group and I understand that he is alive and well in the Birmingham area these days, but I haven't actually spoken with him since 1966.

Chip Woody (lead singer) and Danny Saxon (drummer / vocals) both went to the University of Montevallo and seem to still be active in music now, although Danny lives out west in the Rocky Mountains and has switched from drums to guitar a long time ago. Chip Woody was last known to be living in Palm Springs, California about 15 years ago.
 


John Wheatley III with Lord Byron & the Poets

Jim Lacefield was very active in music for several years after Lord Byron and the Poets, often working with well known music acts and also doing his own one man shows in small clubs in the southeast. He later got heavy into geology and became a leading professor on the subject and has written several highly acclaimed books on geology in Alabama. He and his wife now own and operate a "preserve" park near Tuscumbia where they conduct tours and he does public speaking on such matters all over the state.
 
I have continued to be pretty active as a drummer in a variety of bands in the greater Montgomery area since moving here in 1972 and really enjoy pursuing those opportunities now during retirement from my "day job".
 
It would be really great to reunite the band, but would be very difficult due to the geographical locations of the surviving members after nearly 50 years of being apart but I would love to see it happen.

John Wheatley, 2015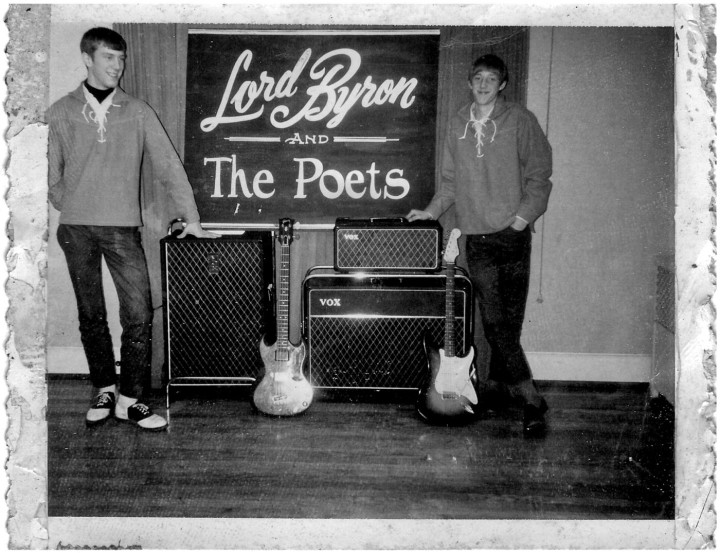 Jim Lacefield added:
I remembered that gig we played one cold Friday night in January or February of 1966 at the National Guard armory in Decatur. Our gig was cut short by a snowstorm that night, and we had to make the harrowing drive back to Birmingham in the snow. What an adventure!

After the band dis-banded in the summer of 1966 I went on to school at the University that fall. During the time I played bass with the Poets I had started getting interested in playing 12-string guitar and folk rock style music. I was just picking up the 12-string while in the Poets (you might remember I had a blue-green Vox 12-string that Ed used on some songs we played like "Gloria" and "Time Won't Let Me"). I never got great on the 12-string, but was quite passable, and I enjoyed playing in some small bands at the University. Down there at the time everyone wanted to play "soul music" because that's where the money was, playing for fraternity and sorority parties. I didn't care that much for that type music played for drunks, so I shifted over to playing regular 6-string acoustic folk music with a harmonica in a holder (like Dylan and Donovan). During the summer of 1967 I went down to New Orleans and had a chance meeting with some other musicians, poets, and artists who I got in close with. I played some little coffee house style clubs down in the French Quarter that summer and liked the town a lot. New Orleans became my home during the part of the year I wasn't in Tuscaloosa going to school.

Back in Tuscaloosa I played a little coffee house on campus called the "Down Under" several times, and met my future wife Faye there one night at a folk/blues gig I was playing with a friend. I also played a gig with the great blues man Johnny Shines right as he was making a career comeback playing before young, white audiences.

There was a 60 second or so film of me playing at an anti-war rally in front of a huge crowd at Denny Chimes on the University campus that had originally aired on national TV in October, 1969 on the old Huntley-Brinkley NBC Nightly News program. They were doing a feature on the NBC evening news on how opposition to the war was affecting college campuses, even in the South. The film was taken on October 15th, 1969 and in front of the crowd of students surrounded by FBI agents and policemen. I mention this because a tape of that anti-war mini-concert at Denny Chimes appears on Alabama Public Television whenever they have a show about the 1960s in Alabama.

I got married in the summer of 1970 and did two years of civilian service as a conscientious objector in the waning days of the Viet Nam war. I went on to be a science teacher, and later a college biology and earth science teacher, but never played music professionally after college.

from left: Chip Woody, Ed Balog, and Danny Saxon of Lord Byron and the Poets, photo courtesy of Jim Lacefield

I have had almost no contact with any other member of the Poets since 1966. I did run into Ed at a Jimi Hendrix concert at the University in 1969, but got to talk with him just briefly. I saw Danny Saxon once during the mid-1980s and did get to talk to him for a few minutes. I still have some reel-to-reel tapes of our Poets recording sessions, but have never had the right type machine to play them. I remember we did "Route 66" in Stones fashion and "Mister You're a Better Man Than I" by the Yardbirds (which Danny sang the lead on) during the session.

Faye and I have lived for the past 30 years out in the country near Tuscumbia where we have gathered together some 500 acres of land through the years. We have established a nature preserve that consists of some nice canyon land, waterfalls, boulder fields, etc. that we have open to the public for hiking and recreation. I have no trouble staying busy, even though I have been retired from teaching for several years. Several years ago I wrote a book on the geologic history of Alabama called "Lost Worlds in Alabama Rocks; A Guide to the State's Ancient Life and Landscapes." The book has done well, and is in its 5th printing. It has been used in geology classes at nine universities, but is getting a little out-of-date. Right now I'm working on the second edition of the book, which I hope will be to print some time in the next year.

Jim Lacefield