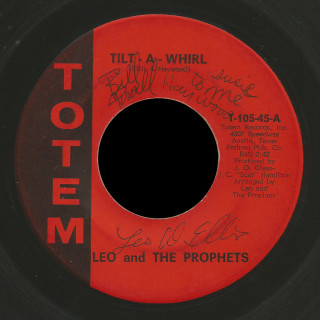 Leo and the Prophets cut one of the legendary Austin singles of the '60s, "Tilt-A-Whirl" b/w "The Parking Meter" on Totem Records T-105 in April, 1967.
The band members were:
Leo Ellis – vocals and lead guitar
Travis Ellis – tambourine
Dan Hickman – rhythm guitar
Rod Haywood – bass
Bill Powell – drums
In January or February of 1967 they recorded their first songs with Sonobeat's Bill Josey Sr. and Rim Kelley, resulting in a finished vocal, "Flowers on the Hill" and two instrumentals "Ozone Forest" and "Prophecy of Love". Unfortunately none of which were ever released, but you can hear about half of "Flowers on the Hill" at the impressive Sonobeat website. Thirty seconds of "Ozone Forest" used to be on the old Sonobeat site but I can't find it now. It's a pity these songs weren't finished and released, but at the time Bill Josey and the band felt there was too much distortion in the recording.
Andrew Brown published interviews with Dan Hickman, Rod Haywood and Bill Powell on his site 1966: Texas Music in the Sixties, which makes the best history of the band. I don't have much to add to that.
My copy of the single is signed by Leo W. Ellis, Bill Powell, Haywood and "To the Roman Nose … Danel Boone"  which I believe is Daniel Hickman as he signed the copy on the 1966 site in the same manner.
A possibly complete discography of Totem Records:
Totem T-101 – Rix Slaughter "Listen Little Girl" (Rix Dale Slaughter and James O. Glass)/ "Shades of Dawn" (Slaughter), November 1964
Totem T-102 – Rix Slaughter "Bright Lights" / "Everybody's Fallin' In Love"
Totem T-103 – Damon Meredith & the Western Caravan "Don't Interfere With Love" / "(I Know That) You're Trying to Forget Me" (WAM-45-66126, copyright reg. May 1966)
Totem T-103 – Cecil Moore & The Diamondbacks "Wind It Up" / "Stuff" (WAM-45-66125, copyright reg. June, 1966)
Totem T-105 – Leo & the Prophets – "Tilt-A-Whirl" (Ellis, Haywood) / "The Parking Meter" (Ellis, Hickman), April, 1967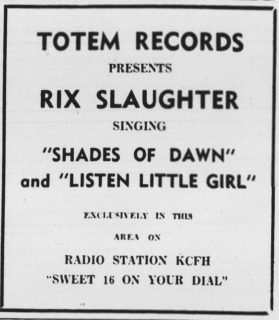 J.O. Glass (James Otto Glass) and J.C. "Scat" Hamilton produced all the singles.
Totem advertised Rix Slaughter's first single in conjunction with KCFH in the Cuero Record on November 3, 1964.
The Meredith and Cecil Moore singles have a code I'm not familiar with, WAM, the Moore reading WAM-45-66125, while the Damon Meredith notes WAM-45-66126. Both singles share catalog number Totem T-103.
The singles list Totem Records at 4307 Speedway, Austin, with publishing by Fathom Pub. Co.
James Otto Glass copyrighted other songs in 1963 and '64 that may not have been recorded, including "Halfway to Heaven (I Can't Believe In You)", "Window In My Heart", "Fleeting Love", "Just a Tear Away" and "What Doesn't Show (I'll Feel in My Heart)".