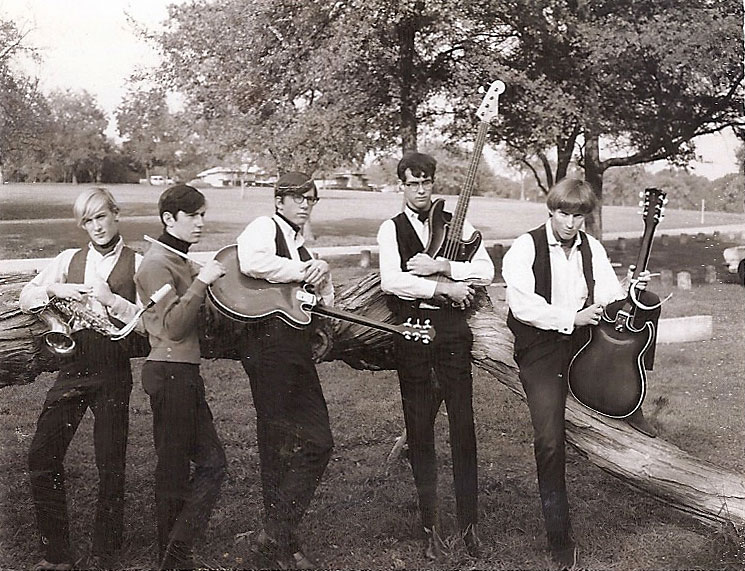 The Five of a Kind released one great double-sided 45: "Never Again" / "I Don't Want to Find Another Girl". For years collectors have listed the band as a Fort Worth group, but like their Vandan label-mates the Gentlemen, they were actually from Dallas, as their bassist Phil Patterson confirmed to me:
I was in Five of a Kind (1964-1967) in Dallas, Texas, I was the bass player.

The band members were:

Lead guitar and singer: Wayne Taylor (Rickenbacker 12 string and Vox 6 string)
Rhythm guitar and singer: Jimmy Reese (Vox)
Drums: Mike Magruder (Ludwig)
Sax: Jay Vestal
Bass: Phil Patterson (Fender Precision)

Rhythm Kings, from left: Jimmy Reese, Phil Patterson, James Parrish, and Wayne Taylor

We went to Bryan Adams High School in Dallas along with Kenny and the Kasuals and others you have listed. Our first band, 'the Rhythm Kings' with Wayne Taylor, Jim Reese, and Phil Patterson along with our first drummer, James Parrish, before Mike Magruder joined us. The Rhythm Kings never recorded, but became '5 of a Kind' with the addition of Jay on sax and Mike on drums. James Parrish died in 1966 racing his Corvette at a local quarter mile track. He had left the band about two years before I believe.

Rhythm Kings, from left: Jimmy Reese, Phil Patterson, James Parrish, and Wayne Taylor

The music we played was probably typical of the period. We played mainly the popular British Invasion music – Beatles, Stones, Yardbirds, Animals, Dave Clark 5, etc. as well as Young Rascals, Beach Boys, and we did a great version of Sonny and Chers' "I've Got You Babe" (sorta campy version really). Also some of the soul standards and rhythm and blues we needed to play depending on the crowd that night.

The Mystics beat us out for the record contract they received and I believe that would have been at Broadway Skateland in Mesquite, Texas. There were sixteen bands in that battle-of-the-bands. Ronnie Blocker was also a bass player for Ricky and the Royals who was the house band there, and his dad owned the place.

We also played at Louanns, the Sumpin' Else television dance show (with Ron Chapman as host) and Panther a Go Go television show in Ft. Worth where also on the bill that night were the Bill Black Combo, Peter and Gordon from England, and Johnny Green and the Green Men. We also played at La Maison in Houston and Gilley's as well, when they added rock type music. We also played at Dewey Groom's Long Horn Ballroom in Dallas when they added rock music to their usual country schedule.

We played at all the usual skating rinks in the area (Twilighters in Oak Cliff and Broadway in Mesquite come to mind); the Vaughan brothers would have played at Twilighters. Also high school sock hops and graduation dances. Small clubs and private parties all over the metroplex. Bill Ware's Pirates Nook, the Amber Room where Lady Wilde and the Warlocks also played (Frank Beard and Dusty Hill's older brother Rocky Hill); we played with the Marksmen (Boz Skaggs and Steve Miller at my uncle's airport in Garland with sponser KBOX and Scotty McKay I believe. Hate to call those guys a garage band but they probably were at one time. We played many times at White Rock Lakes' Winfrey Point for private parties, etc.

Early photo of Five of a Kind

I remember the night we played La Maison in Houston and were playing the Rascals song "Good Lovin'" when we were surprised by the actual Rascals coming on stage and finishing the song and announcing they would be playing there the next night. That was a thrill for us.

Some nights were not so great such as the time we were booked into the NCO club at Ft. Hood. We were double booked with a soul band. The club manager said we could battle it out to see who played and would be paid for the gig and let the audience decide. We played to luke warm response and the soul band clinched it with some James Brown and the two sax players they had doing a front somersault off the stage. The crowd went wild and we packed up to head back to Dallas that night.

We played all the time and had a good local following. All the band members were good musicians but Wayne wrote the original songs. Wayne was a typical lead singer/guitarist with lots of ego going on, but I think you have to be that way. The girls all loved Jay's blonde surfer locks. I, as the bass player had a good music following because I played my Precision bass by finger picking and could play fast Yardbirds riffs. Then there were the groupies (thanks Sandy and Sherri and all the others), they were probably the real reason we all became musicians in the first place.

We released one 45 on the Vandan label (Tom Brown manager, and recorded at Summit Studios [Sumet Sound]). The 'A' side was called "Never Again" and the 'B' side was "I Don't Want to Find Another Girl" [both] written by Wayne Taylor.

We sold almost a thousand records at 10 cents per record going to the band. I remember one check for $16.00 for each of us. Wow…

At one time we had a booking manager who said his name was Andy Presley and was a cousin of Elvis. The guy had the pompadour and the look. We later found out he was a Mexican guy and may not have been Elvis' relative after all. We dropped him as he was also not booking many gigs for us.

I have not heard from Wayne, Mike or Jay since not long after the band broke up in '67. I do know that Mike Magruder became a successful local DJ in Denton, Texas. Jimmy Reese worked all his life at the JC Penney company and lives in San Antonio, now retired I believe.

I'm now practicing commercial real estate sales in Plano, and was formerly an owner of the San Francisco Rose restaurant (still open after 32 years) with Scott Fickling and Larry Smith.

Phil Patterson, December 2009
Thanks to Phil for sending me the history of his group, and for the photos and scan of the 45. Thanks to Jay Vestal for the two flyers and the photo at the bottom of the page.