An unknown band from California, here they cover Them's "Little Girl" retitling it "Pretty Girl", with the singer substituting a head cold for Van Morrison's soulfulness. Good shot anyway, backed with an unsuccessful cover of "Heatwave".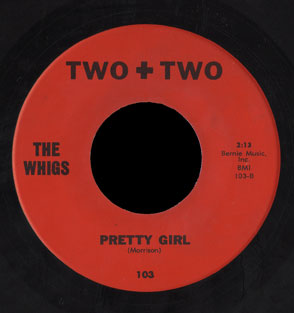 This was the third release on the Two + Two label, it was preceded by The Menn "A One Way Deal" (Kenneth Johnson) / "Ian Fleming Theme" (Two + Two 101, produced by Gary Paxton for Limelight Music, BMI) and the Emperor's "You Make Me Feel So Good"/ "Love Pill" (Two + Two 102).
One source gives the names of the Menn as Don Bagby (lead guitar), John Barnett (drums), Marvin Hale (lead vocals), Don Gray (rhythm guitar) and Fred Vanderheide (bass). Another stray sentence online lists Reynold Bagby as the owner of the Two + Two label, so maybe Donald Bagby of the Menn was his son.