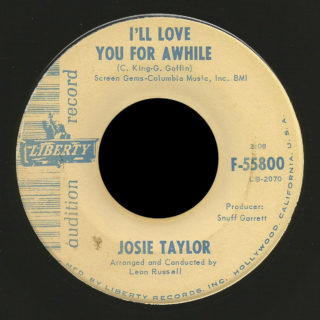 Josie Taylor was of the many women in the mid-'60s who had one or two fine solo singles then disappeared from the music scene and history books. A few others that come to mind include Karen Verros (two singles on Dot including the great "You Just Gotta Know My Mind"), Judy Hughes ("Fine, Fine, Fine" on Vault), and Marilyn Mattson who I covered ten years ago and still haven't found any info about.
Josie Taylor's single featured a rarely-performed Goffin – King song, "I'll Love You For Awhile" given a dark, heavy-hitting arrangement by Leon Russell. Dusty Springfield originally did the song in a plainer arrangement on her LP Ooooooweeee!!!.
The flip is the instrumental "Tra La La" (written by Pell), that could be the Wrecking Crew doing a simple jam, but is very much worth a listen.
Snuff Garrett, produced both sides. It was released June, 1965 on Liberty Records F-55800.