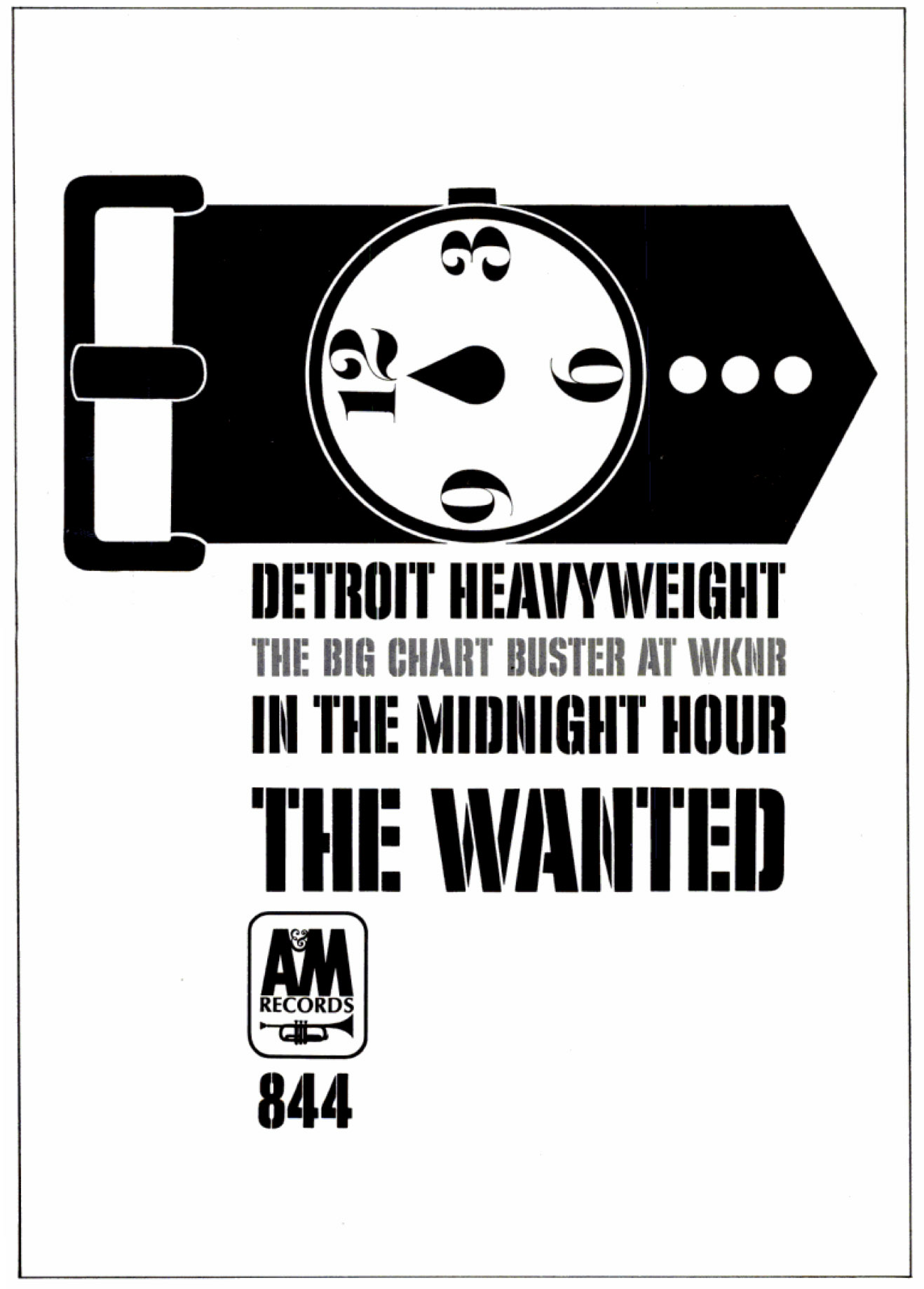 The Wanted released eight songs on six different singles, four on The Detroit Sound and two national releases on A&M.
The names of the band are well-known: they put them on the labels of their 45s. Other information is not easy to come by and I don't find them mentioned in any detail in my usual sources.
Arnie DeClark – rhythm guitar
Dave Fermstrum – organ
Bill Montgomery – bass
Tim Shea – lead
Chip Steiner – drums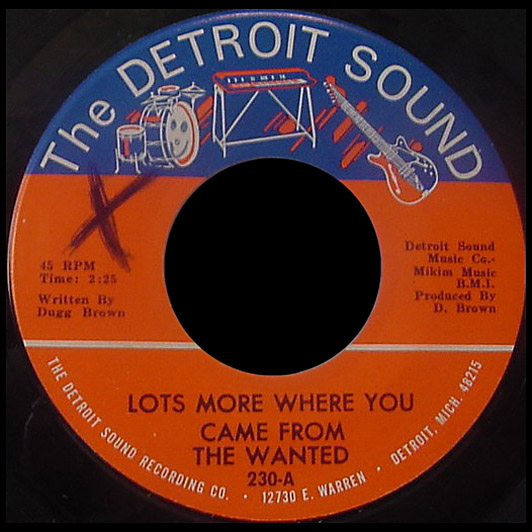 All their releases have excellent songs. "Here to Stay" is an amazingly mature ballad, with a great nasal lead vocal, written by Tim Shea and Chip Steiner. The flip "Teen World" is their most basic song, sounding much like "California Sun" with new lyrics, but it's a fine party song of the mid-60s and probably their rarest release. It was written by C. Shermetaro.
The Detroit Sound Recording Co. was located at 12730 E. Warren. I've read that Chip Steiner's father Irv Steiner owned the Detroit Sound label, which usually featured soul acts.
The label changed the graphics and re-released "Here to Stay", backed with a good version of "In the Midnight Hour" that reached #1 on WKNR in Detroit & Dearborn in March of '67, and #3 on CKLW in Windsor, Ontario. They appeared on Robin Seymour's TV show Swingin' Time, probably several times. I don't know which song was originally featured in the clip below as the audio is dubbed in.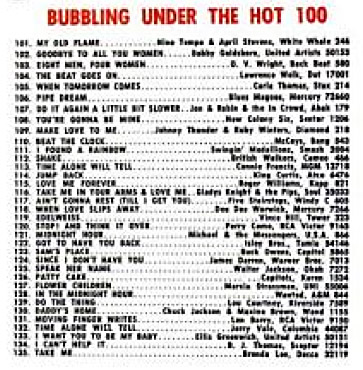 A&M picked this up for national release in April, 1967 and bought a full page ad in Billboard for it with a neat watch graphic. As far as I can tell, the furthest it reached in the national charts was "bubbling under" at #128, with Michael & the Messengers' version of the song on the U.S.A. label at #121. Too many competing versions kept these from breaking out nationally, although each has a distinct style.
They had one further release on A&M, a fine pop number with horns called "Big Town Girl" backed with "Don't Worry Baby". Despite being a Detroit Sound production I believe this single was only released on A&M.
Their next single was the tough "Lots More Where You Came From", with the lyric "girl I'm picking up on your bad vibrations"! It was written and produced by Dugg Brown (aka Doug Brown of the Omens and producer of Bob Seger, Del Shannon, Southwind, etc), backed with a version of "Knock on Wood". Their last on the Detroit Sound label was a good take on Bob Seger's "East Side Story" backed "Sad Situation", which is simply "Lots More Where You Came From" with a different title.
An email from a friend of the band was the inspiration for this post:
My name is Michael Surarez Thompson. In the 60's I was a close friend of the Detroit garage band The Wanted. The guys all came from the Grosse Point area. Chip Steiner's dad Irvin bought an old Detroit city bus and had it converted to a motor home if you will. The bus took us to gigs in and around Detroit and came with a chauffeur I believe his name was Walker.

I was a bit older then the boys and I left to serve in the Marine Corps. Through the years we lost contact. I have been searching for my former friends but they seem to have vanished from face of earth. I am from Port Huron, Michigan, retired Marriott executive chef living in Eugene, Oregon.
45 releases:
The Detroit Sound 222 (plain red label) – Here to Stay (Shea – Steiner) / Teen World (C. Shermetaro)
The Detroit Sound 222A/223A (red and blue label with instrument graphics) – Here to Stay / In the Midnight Hour (February, 1967)
The Detroit Sound 230 – Lots More Where You Came From (Dugg Brown) / Knock On Wood
The Detroit Sound 232 – East Side Story / Sad Situation
A&M 844 – Here to Stay / Midnight Hour (March, 1967)
A&M 856 – Big Town Girl (Dugg Brown) / Don't Worry Baby (produced by Doug Brown) (May, 1967)
Source: WKNR chart info from ARSA. Thank you to Jim Heddle for the clean scan of the chart.