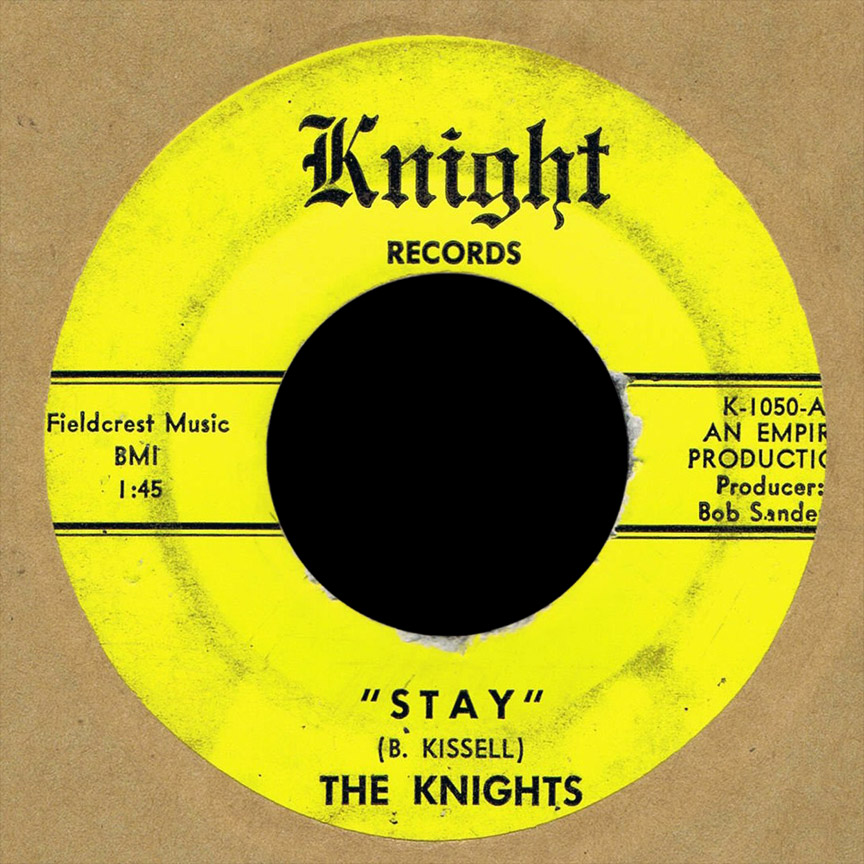 Bob Sanders ran the Knight and Spectra labels, among others, during the mid-'60s in Dallas, Texas.
The Knights 45 was completely unfamiliar to me until Brian Kirschenbaum wrote to me with the scan and transfers of the record. He was surprised to find a Texas 45 had made its way to upstate New York. It's an interesting single, very much influenced by the British sounds of the time in changes and feel, especially on "I Know It Now". Bob Kissell wrote both sides.
I had no information on the group until a couple comments were left (see below). As it turns out, this band made an unlikely journey from upstate New York to work in Dallas, Texas. In Watertown they were known as Dick and the Knights.
I'll repeat most of Dick Kissell's comment here:
The group consisted of Chuck Martuzas, bass (now deceased); Bob Lawlor, drums; Bob Kissell, lead guitar; and myself on rhythm guitar. The vocals were done by Bob and myself.

On a whim, we went to Dallas in the fall of 1964 because we had a friend down there who said he might be able to help us find some local clubs needing bands. We started out at a place called The Haunted House Club then moved on to the Disc-A Go Go and eventually LouAnns. We became house band at LouAnns.

Lewis Lindsey played the organ part on the "Stay" side. A guy named Bill Petty was friends with Lewis Lindsey and was also part owner in the Haunted House club; that's how we got the recording deal. Only 300 copies were pressed. Later the following year, we became friends with The 5 Americans and played around Dallas for awhile until returning home.
Dick Kissell added in an email to me:
The single "Only You Hold The Answer" was a regional hit for us around 1967. My brother Bob Kissell wrote the melody while I wrote the lyrics. He plays (blues) around the Daytona Florida area in the winter, and then comes home and plays here (Watertown, NY) summers.
The Knights second single, "Only You Hold the Answer" b/w "Walkin' The Streets" may have been their own production with no involvement from Bob Sanders of Knight Records in Dallas. The labels credit their last name as Kisslle (sic). The single had publishing by Pinent Music, BMI and the band recorded it at Dayson Studio in East Syracuse, NY.
Many thanks to Brian Kirschenbaum for alerting me to the Knights 45 and to retrogirl86 for the info in her comment.