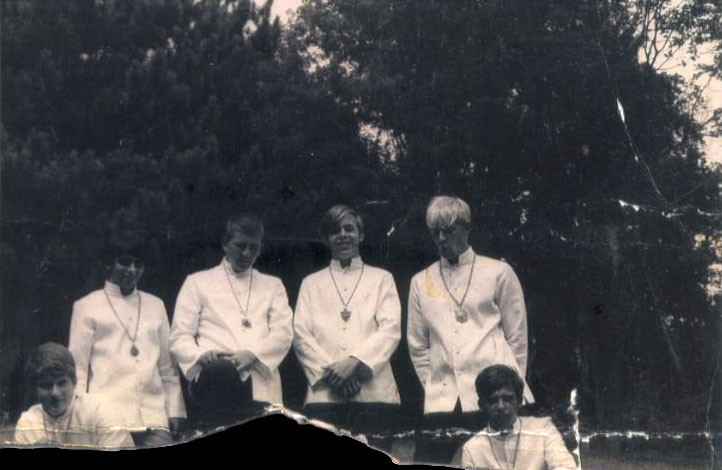 Bottom left to right: Art Thevenin and David Anthony.
Standing left to right: Eddie Swann, Dee Thevenin, Mike Carlisle and Jack Simpkins
The old US Route 60 runs through Milton, West Virginia, home of the Plato label, which released at least three garage discs and a great funk 45 from 1966-68. Anything else on the label is completely unknown as far as I can tell. All of these 45s were produced by Ullom-Wiseman.
Since hearing from a couple of the bands on the label, I've split the post into this one on King James and the Royal Jesters, and separate ones on the Outcasts, the Satisified Minds, and the Kickin Mustangs. Or check out the complete set of posts on the Plato label.
One of my favorite records on this label is King James and the Royal Jesters "I Get a Feeling". The swirling organ and lethargic vocals give it a haunted sound unlike any other garage song I can think of. The band came from Point Pleasant, WV, at the junction of the Ohio and Kanawha rivers.
Since my original posting, I've heard from the Dennis Thevenin, whose father Dee was lead singer of King James and the Royal Jesters. He told me that they recorded their 45 at King/Federal Studos in Cincinnati, Ohio, which thrilled them being the same studio James Brown used. They were only about 17 at the time, so they didn't play many live shows.
Mike Carlisle, the keyboardist wrote "I Get a Feeling". Mike Carlisle and D. Thevenin wrote the ballad on the flip, "Girl", which became popular with homesick soldiers in Vietnam when a Point Pleasant recruit took the record overseas with him. Other members of the band were Willie Louis guitar, Butch Bright and David Anthony on bass, and Eddie Swan drums. Dee remembers a photo was taken of the band but he does not have it.
Thanks to Dale for the photo and caption!