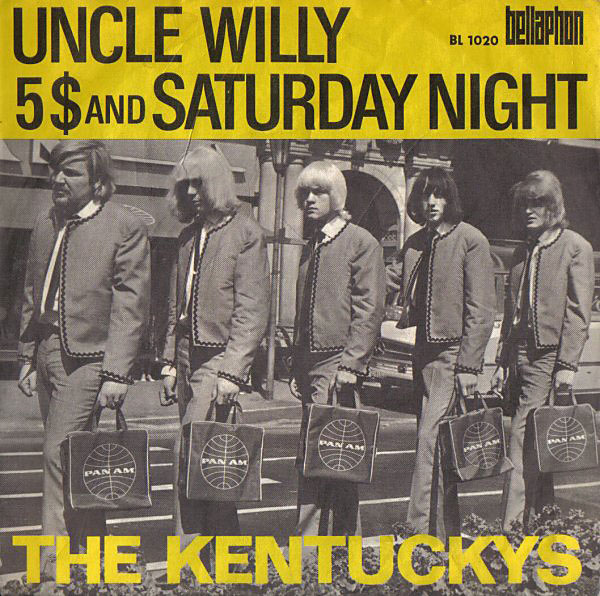 l to r: Benny Weiler, Manfred Weiler, Peter Frohn, Peter Zadina and Rocky Zimdars
Originally called the Kentucky Rockers, the group formed in Wuppertal in western Germany in 1962. The first lineup was Peter Frohn, Rainer Schiffgen, Klaus-Dieter Prange and Siegfried Wagner.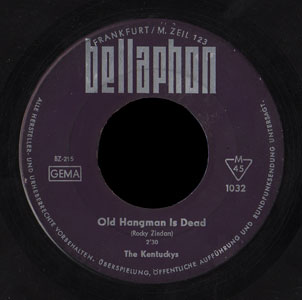 In 1963 they shortened their name to the Kentuckys, and new members included two brothers, Manfred Weiler on rhythm guitar and Bernd Weiler on Hammond organ. Still later Peter Zadina came in on bass and Rocky Zimdars on drums and vocals. They became known for dyeing their hair odd colors and dressing up as women on stage.
They released two 45s on the Bellaphon label. Their first, "Uncle Willy" is a good if conventional German beat record.
Their second is another thing altogether. After the opening chant the fuzz cuts loose on "Old Hangman Is Dead". "Stupid Generation" features Rocky Zimdars' lyrics and madcap laughter, and makes for a timeless anthem.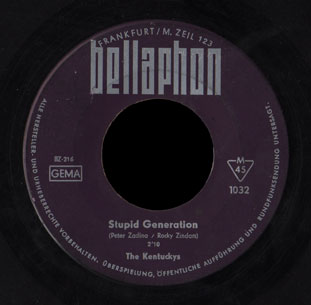 Both were issued with picture sleeves, but the copy I tracked of their second down doesn't have it. The band also cut a version of "Cadillac" that went unreleased at the time.
Peter Zadina left the group in '67, but the Kentuckys continued into the '70s with various lineups. Peter Frohn died in 1987, and Rocky Zimdars in 2006.
Special thanks to Bernd Rüttgers for sending in the sleeve to Uncle Willy!