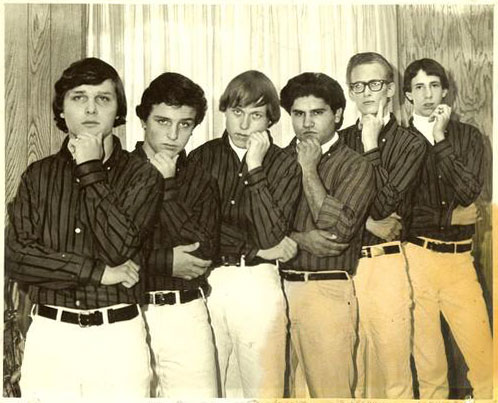 Roland Allen – vocals
Jimmy Allen – vocals
Rodney Vineyard – lead guitar
Tommy Fonseca – rhythm guitar
Jerry Colwell – bass
Bill Walden – drums
The Kavemen came from the southeastern section of Dallas, Texas. Jerry Colwell had discussed the Kavemen in a longer interview about his career with Kit and the Outlaws and other bands:
Later joined the #1 Dallas band The Cavemen [sic] and played battle of the bands against Jimmy Vaughan and his band, and the Royals and others. In 1965 the Cavemen was the home band for a Night club "Surfers A Go Go" in Dallas, where we played with Chuck Berry, Roy Head, the original Drifters, Jimmy Velvet and Johnny Green and the Greenmen. We played at clubs all over Texas, my favorites were the "Bamboo Hut" in Galveston, and "Panther Hall" in Fort Worth, a televised event every week. We also played at Louanns many times.
As it turns out, they recorded four songs at Sumet Sound Studios which were never released. Carlene Fonseca sent me the songs from their unreleased acetate and passed along this info from her ex-husband Tommy Fonseca:
The band got together first as an instrumental group playing at Twilight Time Skating Rink, in Dallas, TX and playing for high school dances at H. Grady Spruce High School and E. B. Comstock Junior High. Jimmy and Roland Allen were singers and they went to Spruce Hi and heard the band and offered to sing for them.

The recording was done at Summit [Sumet] in Dallas. The recordings were not released. The jumps & skips are because of a defect in the master dub. Tommy said somebody dropped it and it was chipped at the spot where the 1st song was on the 1st side and the 1st song on the flip side.

Rodney Vineyard, the lead guitar, left the group to play with Sunny Satin and the Mysterians. The Kavemen couldn't find another lead guitar so they broke up. When the studio was ready to release it they declined since the group was no longer together.

Tommy recently spoke to Roland Allen. He lives in Gun Barrel City and he told Tommy that Jimmy had passed away the just the week before. We cannot locate Bill. He was the drummer. Rodney lives in Balch Springs, TX and he still plays for VFW Posts occasionally.
Because of the chip in the lacquer, my favorite song "Can't You See" suffers from skips and drop-outs for the first thirty seconds. Same with the first song on the second side, "Why". The other two, "Without You", and "I Feel the Same" are fine. I'm hoping to get a photo or scan of the acetate labels. Despite the flaws, these are fantastic examples of mid-60s Texas rock 'n roll!
The Kavemen – Can't You See
The Kavemen – Without You
The Kavemen – Why
The Kavemen – I Feel the Same