John Smith and the New Sound were a band from the UK originally, but their releases did much better in Germany and France than back home.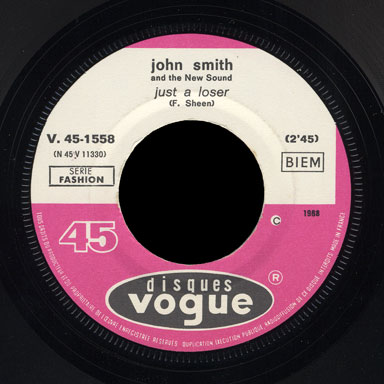 "Just A Loser" shows that soulful and heavy sound UK bands were getting at the time. It was written by F. Sheen. The version of "Birthday" is no improvement over the original. "Girl's in Love" is an excellent uptempo track with horns. They have several other 45s, including "Don't Back the Loser" and versions of "Winchester Cathedral" and "See See Rider".
Recently John Smith himself wrote to me in 2008:
I would like to point out that the band pictured on the [sleeve above] is NOT the original "John Smith & the New Sound." The original band frequently flew to Germany in 1966/67 where we had a hit record with "Winchester Cathedral." We followed that up with "Snoopy vs the Red Baron". The 'B' side of 'Snoopy' was "Send Her Home"…which was penned by John Smith. We appeared on "Beat Club" in Germany (TV Bremen), also in Hamburg, Munich & Frankfurt. My records were produced by his manager Bill Wellings. I hope this information is of some use … the reason it is so accurate is that I am the original John Smith (my real name incidently)!

I have a video of me performing "Winchester Cathedral" on 'Beat Club' in November 1966. Also appearing were Dave Dee & Co., David & Jonathan & a couple of others. I originally recorded "Winchester" with The New Vaudeville Band. Then Bill Wellings (my manager) created the John Smith line-up. The other [versions of] the band were formed after I went to Australia.

I did stay in music, and I started up a cabaret act on my own, sometimes using a guitarist as musical director. In 1969, I was offered a trip to Australia, as a cabaret act, so I went. I worked in Australia for many years, supporting some of the 'greats' such as: Guy Mitchell, Frankie Laine, Blood Sweat & Tears, Cilla Black, Chubby Checker, Bobby Rydell, Al Martino etc. I'm now 68 years of age and I live a quiet life in Devon.
Thanks to Borja for turning me on to 'Girl's In Love', to John Smith for his recollections of the band, and to Bernd for the scans of the Winchester Cathedral and Don't Back the Loser sleeves.