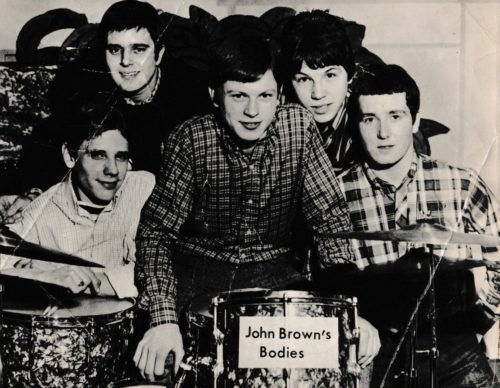 Clive Barrow – lead vocals
James Shanley – lead guitar
John Reeves – rhythm guitar
Chris Andrews – bass
David Morris – drums
A Hammersmith-based R&B band formed around 1964 who featured future All Night Workers' singer Clive Barrow. The five piece were regulars at the Goldhawk Social Club and also played twice at the Hammersmith Palais.
They also played at the Cellar Club in Kingston upon Thames, the Bromley Court Hotel, the London Cavern in Shepherd's Bush/Notting Hill, the Blue Triangle in Ealing, the Starlite Ballroom in Greenford and the Mechanical Orange in Chelsea.
Andrews remembers one show at the Mechanical Orange, a crypt under a church, where there was a big fight and the vicar was hit over the head with a statue of the Madonna.
John Brown's Bodies also opened for Jimmy James & The Vagabonds several times, including one appearance at Eel Pie Island.
The musicians changed name to The Clive Barrow Group in 1967/1968. Barrow left in early 1969 to join The All Night Workers.
Thanks Chris Andrews for the photo and memories
Copyright © Nick Warburton.  All Rights Reserved. No part of this article may be reproduced or transmitted in any from or by any means, without prior permission from the author.