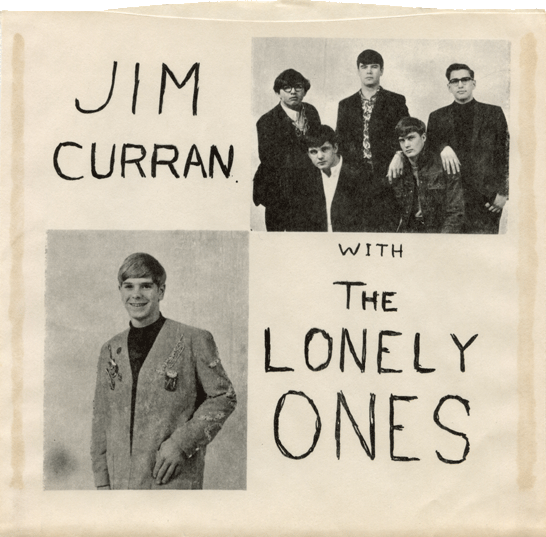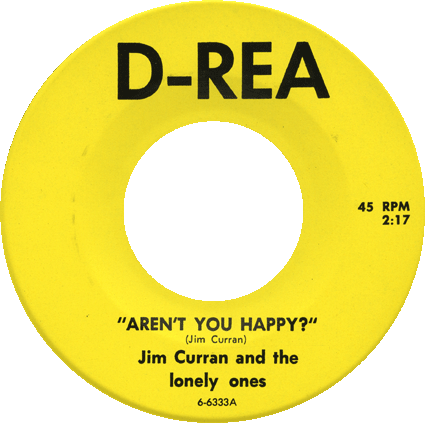 Here's a contribution from JP Coumans, who writes:
Here's an over-the-top-as-garage-music-should-be record: Jim Curran with the Lonely Ones – "Aren't You Happy" – on the super obscure D-Rea records!

Probably dating from '65 – '66 and besides the incredible crude production it's got great kinda "girl put me down" or is it "put the girl down" lyrics! And they definitely listened very well to "Twist and Shout"… since they took it over and changed it into their own song … with an incredible cool loud break!!!!!

This Jim Curran probably was a rich man's son who invited the Lonely Ones to release a record together with him. While looking at Jim he's probably some university dude who really wanted to make a record.

The B-side is something completely different … instead of "Let there be drums" it's "Drums Send Me" … with only Jim Curran credits. Is this drum instro music? Definitely Jim hasn't drummed before because that's how it sounds … completely off rhythm and it sounds more like a space filler!
I'll repeat Edward Scalzo's comment about this release, as it gives the most information about it:
This record was recorded in 1966 in the basment of Jim Curran's home is Rice Lake, Wisconsin. It is correct that he was a rich man's son that wanted to make a record and asked the band to take part.

The Lonely Ones were a very popular band from Spooner, WI that played gigs all around northern Wisconsin 1965-66 and a little bit in '67. Originally known as The Epitaphs the band loved doing Rolling Stones and the like. This song is not typical of the band. I played bass with the band '65-66. The guys had a bit of a bad boy image, but not me. I am the young gentlemen wearing glasses upper right.

I do not have a copy but would like to have one. The flip side is Jim trying to learn to drum, it was just filler.