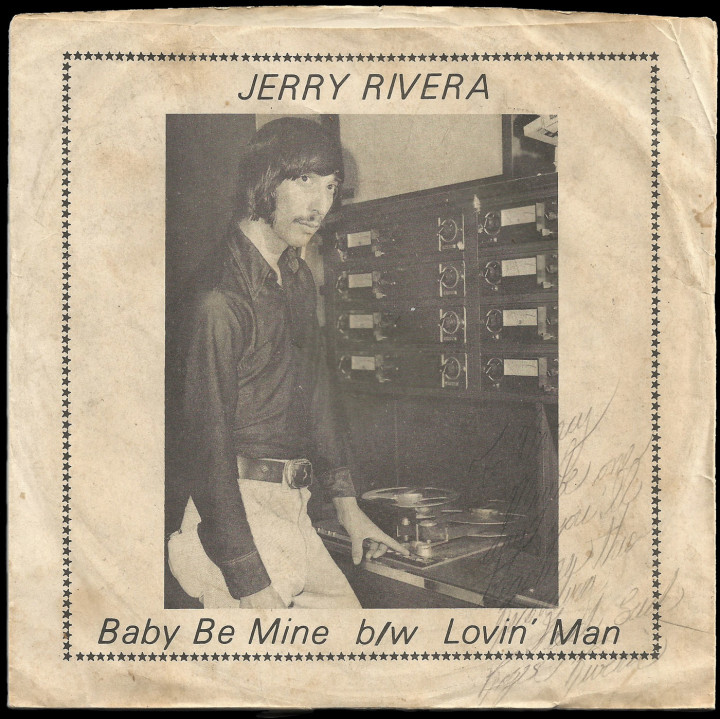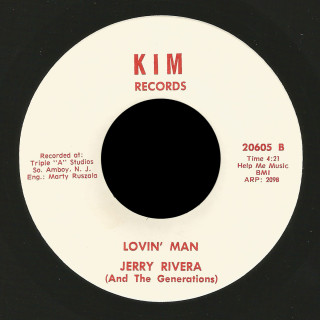 Jerry Rivera and the Generations released this single on the Kim Records label, probably in the early 1970s.
"Baby Be Mine" was supposed to be the A-side, it starts with a recitation and moves into an easy-listening ballad.
I'm more taken with the flip, "Lovin' Man" which starts quietly and gets a good psychedelic groove going, but refrains from cutting loose. In nearly four and a half minutes, we get several repetitions of the chorus, a long undistorted guitar solo and some overdubbed trumpet, and I did like how the lyric "let me ease your mind" sounds like "let me eat your mind"!
Jerry Rivera and the Generations – Lovin' Man (2 minute excerpt)
Both songs are originals published by Help Me Music BMI, and recorded at Triple "A" Studios, on Walnut Street in South Amboy, New Jersey with Marty Ruszala as the engineer.
The release on Kim Records 20605 included the cool picture sleeve with notes on the back ("LOVIN' MAN also projects a meaning but of a different nature"). The runout on this single is etched ARP-2097/8, I'm not sure the plant, but it would not be American Record Pressing Co. in Owosso, Michigan.
Max Waller informs me of another single by Jerry Rivera, "Fortunata" / "This World" on Kim ULT 70011 from about 1970, which indicates "written by Gerald D. Rivera" on the label. Neither of us has heard this single.
This is not the same Kim Records who released an excellent Night Crawlers sounding single by Ron Starr (aka Ron & the Starfires) with the Chuck Conlon penned "Crawl Into My Shoulder" in 1967.