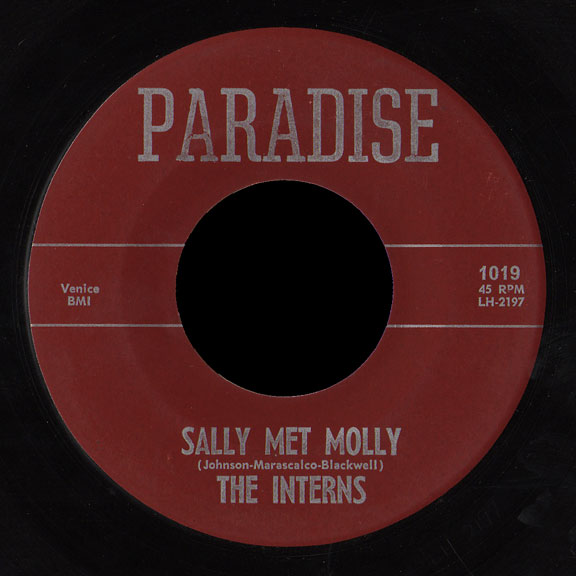 Updated December 2009
The Interns have two 45s on the Paradise label, both have A-sides of straight up rock n' roll. "Sally Met Molly" is a cool medley of Long Tall Sally and Good Golly Miss Molly. The flip is a a good version of Don Covay's "Have Mercy". What's that someone shouts during the fadeout at the end of the song? Anyway, it's like they were doing a song the Beatles covered on one side, and one the Stones cut on the other.
Their second 45 has "Don't Make Me No Mind", which sounds much like "Out of Sight", backed with an original by Jack Durrett and Graham Hill, "Life With You". With its harmonies and lighter sound "Life With You" is much different than their other material.
I knew nothing about the group until bassist and vocalist Graham Hill wrote in with info about the group (see comment below):
Lead singer- Jack Durrett, lead guitar- Reid Farrell, drummer- Rusty Dobson and I were the group's main players. Ernie Graham from Kinkaid H.S. and Albert Dashiels from Lee H.S. played guitar and Tony Pryor and Johnny "The Rabbit" Bundrich [John Bundrick] from North Shore H.S. played organ at various times. We attended Memorial High School and graduated in 1967.

We primarily played private high school parties and after football game dances but we were the opening act for the Animals, Hermann's Hermits, Neal Diamond, The Byrds, Sam the Sham and the Pharaohs and other groups at concerts at the old Houston Colliseum. We also played the Houston Club scene. The other bands of our time were the Coastliners, Neal Ford and the Fanatics, Thursday's Children, and Fever Tree. Roy Head and BJ Thomas were a few years older than us. Billy Gibbons was a little younger and he would hang out at our practices-Reid still stays in touch with him.

The recording you have was on a 4 track machine at Gold Star Studios. We double tracked the lead vocals on Have Mercy and added the hand clapping and back up singing on Sally Met Molly. We did hit the KILT radio top 10 list and were on the Larry Kane TV show several times.

Johnny has been playing with "The Who" since the mid-70s. Reid toured with Archie Bell and the Drells after graduating from high school. Jackie, Reid, Rusty and I still play once or twice a year in Houston.
Thanks to Graham Hill for info and photos of the band and for sending me their second 45 to transfer and scan.