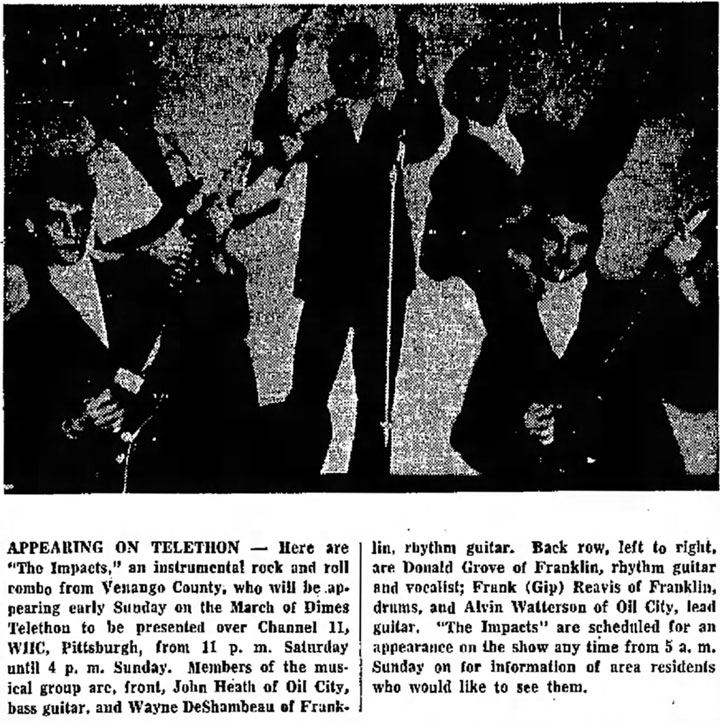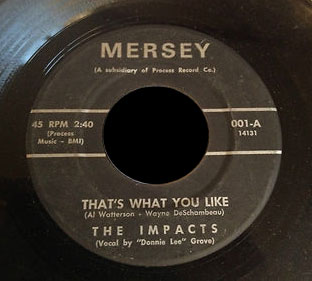 The Impacts, from the towns of Franklin and Oil City in Venango County, Pennsylvania included:
Donald Grove – rhythm guitar and vocals
Alvin Watterson – lead guitar
Wayne DeSchambeau – rhythm guitar
John Heath – bass guitar
Frank (Gip) Reavis – drums
The first notice I can find on the group is from January, 1965 when they were scheduled to appear on a March of Dimes telethon in WIIC, Pittsburgh. Franklin, PA is north of Pittsburgh and south of Erie. Wayne's surname is spelled DeShambeau in this article.

Less than two months later, a short news clip announces their record on the Mersey label, made by the Process Recording Company. Besides providing alternate spellings of their names including Donnie Grove, Wayne DeShambo and Jip Reavis, it also reads "contacts have been made with 'Shindig'"… for the group to appear one or two months after the record is released."
The 45 was "That's What You Like" (mistakenly reported as "That's How You Like It") and "Theme from the Impact". I haven't heard either side yet, but Teen Beat Mayhem calls the A-side "crude lo-fi drum-thumpin' fast rocker" while the flip is "crude lo-fi guitar instro with car effects". The label reads "Vocal by 'Donnie Lee' Grove". "That's What You Like" was written by Al Watterson and Wayne DeSchambeau for Process Music, BMI. The Process Recording Company was located in Franklin, begun in the 1940s.
The next notice I can find on the Impacts is from 1971, where the lineup has changed: Wayne and Al Watterson remain (his name spelled Al Waters), and the band has replaced the others with Ken Wheeler on organ, piano and bass, Denny Johnson on drums and Don Rivers on guitar and vocals.
After this the band changed its name to Everybody Does, active locally into the 70s. The lineup at this point included Wayne DeSchambeau bass and vocals, Mark West lead guitar, Ron Feroz, Dave Foote on drums and vocals, John Keeley and Al Waterson on guitar and vocals.
If anyone have better quality photos of the '60s version of the band please contact me!