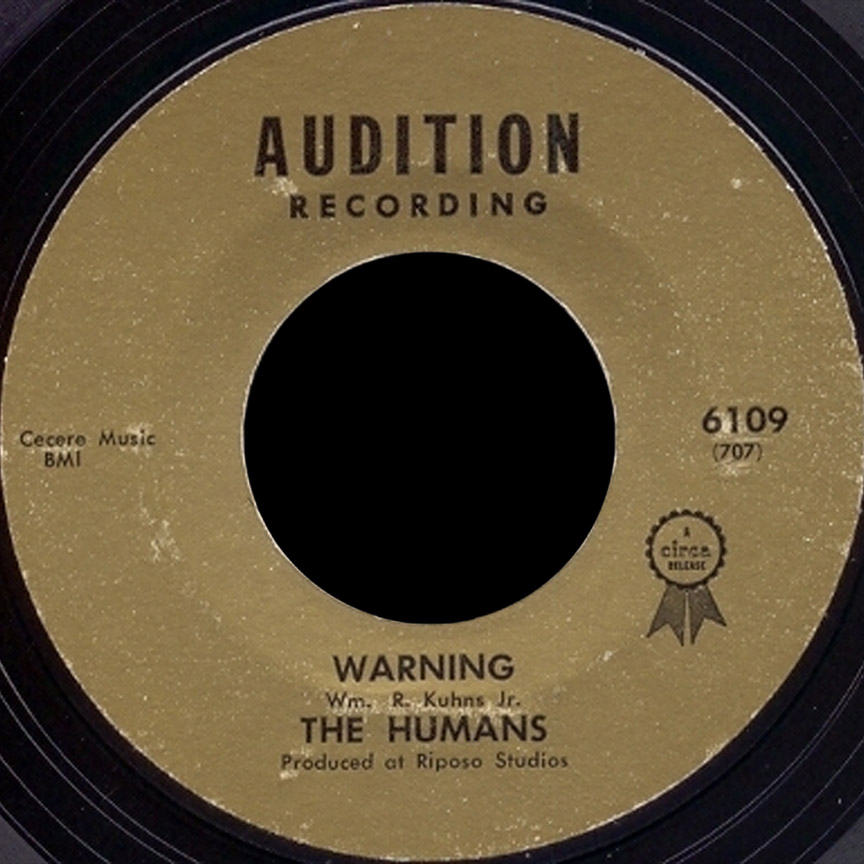 Dick Doolan – vocals
Danny Long – vocals and harmonica
Bill Kuhns – lead guitar
Gar Trusselle – keyboards
Marty Busch – bass
Jack Dumrese – drums
The Humans were from Albion, New York, 20 miles north of Batavia. According to the liner notes for Back From the Grave vol. 5, all six members were in high school marching band when they decided to form a band in the summer of 1964. Their band's moniker was a dig at all the groups naming themselves after insects and animals.
They toured throughout the northeast, opening for some big acts, including playing the Rheingold Festival in Central Park, Manhattan in 1966.
Their only 45 has a fine folk-rock original on the A-side, "Take a Taxi". The instrumental passage is a neat combination of twelve-string guitar and organ.
For years now, it's been overshadowed by the B-side, "Warning", which has become almost an anthem in garage-rock circles, and rightly so. It's a well-arranged combination of ringing guitar chords, thudding drum beat and bass line, simple organ melody, a great rough lead vocal answered by a second singer and a harmonica solo.
Lead guitarist Bill Kuhns (listed as William R. Kuhns, Jr. on the label) wrote both songs. It was recorded at Riposo Studios in 1966 and released on the Audition label, which had a number of classic mid-60s singles. I don't know what happened to the band after its release, or if the record sold at all. It's pretty hard to find these days.
Gar Trusselle answered some of my questions about the band:
Q. How did the band sign get to tour around the Northeast?
We were managed locally by Al Cecere in Rochester. As far as we knew, Al Cecere was the sole owner of Audition. He had some connections so he got us signed up with Premier Talent Associates (PTA) in NYC. Our agent with them was Rich Nader who went on to promote R&R revivals across the country. We also opened for the Hollies, Mitch Ryder and the Detroit Wheels (several times) and played a two week gig in Miami with the Standells.
We were friends with "The Heard" as they were also managed by Al Cecere. We alternated at Oak Orchard Lanes in Albion [with] Caesar and His Romans from Buffalo. By the way, Oak Orchard Lanes was quite a hot spot. In the summer, the owners would cover all 12 lanes with plywood and have dances on the lanes with some pretty big names. A couple that come to mind are the Rivieras and the Shadows of Knight.
Q. Do you remember any details about the Riposo Studio and making the record?
All I can remember is that the studio was in Syracuse. Someone said Wooly Bully was recorded there but I cannot verify that.
Q. Did it get any airplay at the time?
We did get good local airplay and some national as well. Billboard reported us in the top twenty in a Michigan and Texas market but it did not last.
Q. Did the band perform "Warning" and "Take a Taxi" during your live shows?
We did perform the two songs live at every performance.
Q. The band had long hair for 1966, did that cause any trouble?
Nothing but. However, we had a lot of local support even from the adult side.
Q. How did the band break up, and did you stay in music after?
It began when Dan died in a car accident in September of 1966. We went on from there but the draft started to whittle at the group. I think our last job was in November of 1966 at our own venue in Albion. We had rented the local (out of business) movie theater, remodeled it, and named it "Happiness Is…".
Gar D. Trusselle
The photo at top originally provided to RambleMusic.com (link dead as of 2013) by Bill Vosteen. The site includes photos and clippings of other Batavia-area groups like Beethoven's Dream Group, The Majestics, the Plague, Salt of the Earth, The Revengence, the Squires.