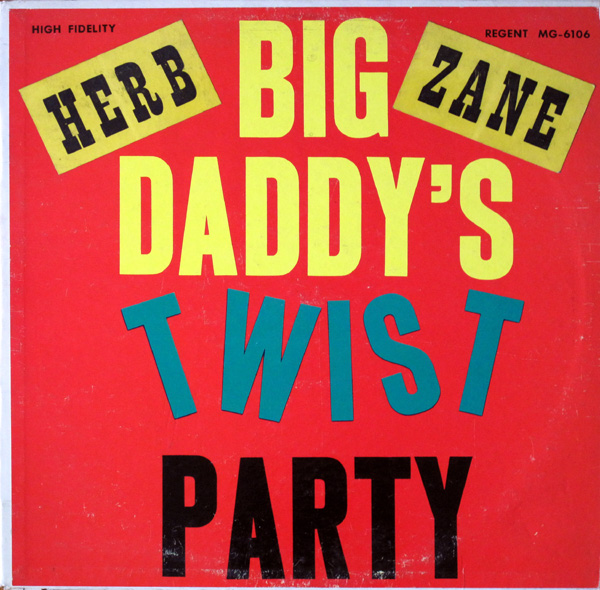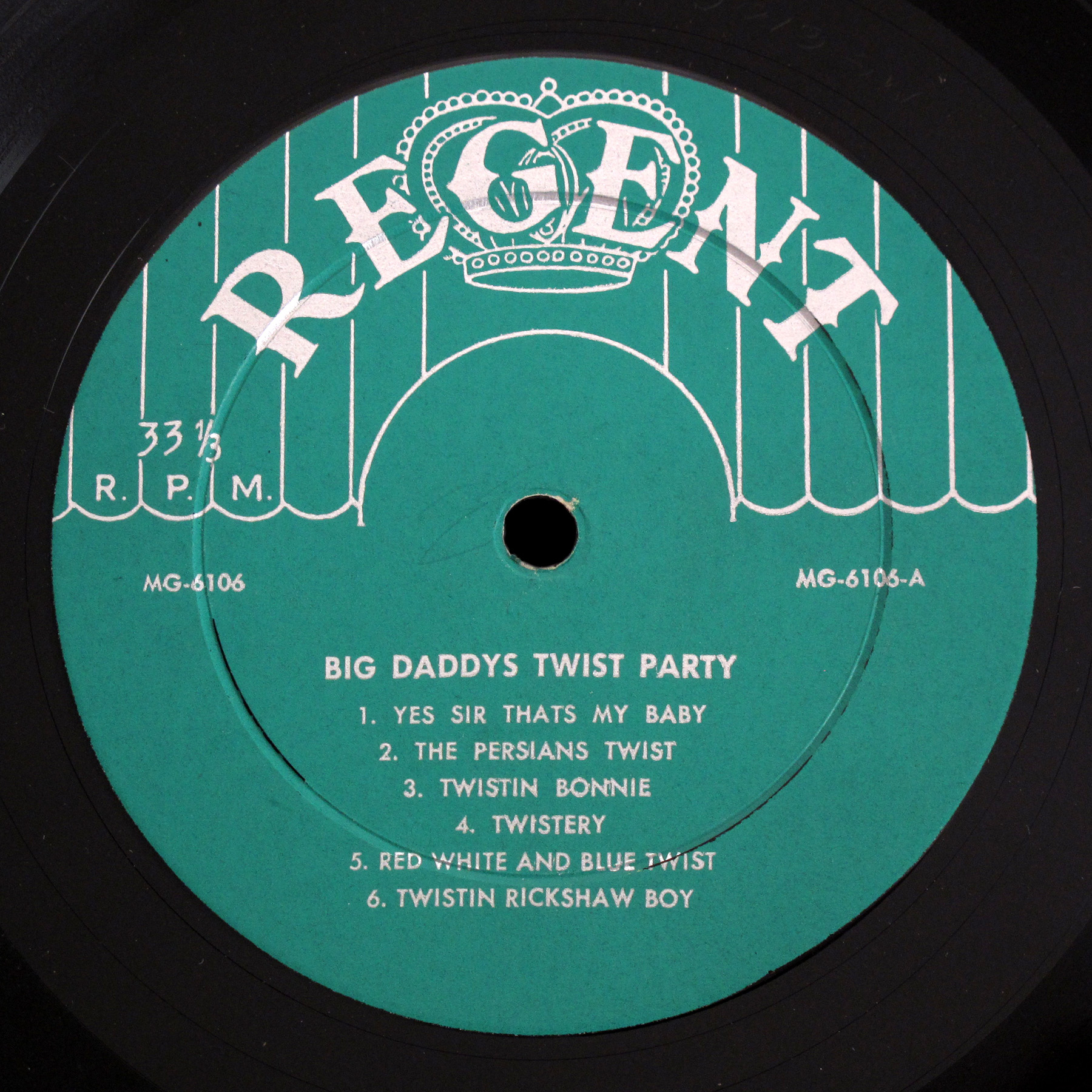 Last weekend I picked up a number of interesting LPs. None of them of the garage genre, but Big Daddy's Twist Party sounds great. My copy of the LP has stickers on the front cover saying "Herb Zane". Herb seems to have signed this copy on the top left of the back cover, which also lists him as producer.
WFMU's Beware of the Blog discussed this record a couple years back. They kindly included soundclips of all the songs if you want to hear them.
Herb Zane's real name was Herb Zukerberg. He lived in Patterson, New Jersey and his orchestra had a long stint at the Steak Pit in nearby Paramus. He died in 2009 at age 81; an obituary called him "the bar mitzvah king — a roly-poly force of nature". The article continues:
November of 1964 found the Herb Zane Orchestra at the Short Hills Caterers for Jay Rosenbaum's coming-of-age celebration.

"Before the party, he asked me what my theme song was going to be," Rosenbaum said. "I told him I wanted 'Blue Velvet' by Bobby Vinton. I remember him looking at me and thinking, 'Oy, kid, get a life!'"

Rosenbaum got his "Blue Velvet." He also got rock-and-roll.

"Some of my relatives thought the band was way too loud and left," Rosenbaum said. But the party went overtime and the bar mitzvah boy's friends danced out the door.
Zane had a great 1955 single, "'You Name It' Mambo" on Eddie Heller's Rainbow label out of New York, that included the line "Oh hot pastrami, hot pastrami mambo mambo".
Zane followed this with two singles on what might have been his own label, Caravan, in 1957, and had at least six additional singles on various labels. He cut his first LP,
Let's Go Latin Cha Cha Cha
, for Tico in 1960. Though a drummer and emcee with his orchestra, he's credited with the vocal on the Rainbow single and on at least one of his De Luxe 45s.
So Herb Zane must be Big Daddy, right? Here's where it gets confusing, and thus, the reason for my post on this record.
There were at least a few artists using the "Big Daddy" moniker in the late '50s and early '60s. One was Frankie Brunson, who recorded as Big Daddy for the Gee and Wynne labels, among others, but he doesn't seem to be involved with this album.
The two mentions of Big Daddy's Twist Party on the internet attribute this album to "Big" Bob Kornegay (pronounced Carnegie, I believe), a prolific r&b vocalist and songwriter (see this detailed discography) who sometimes recorded as Big Daddy. However, I don't believe Kornegay is actually singing on this record.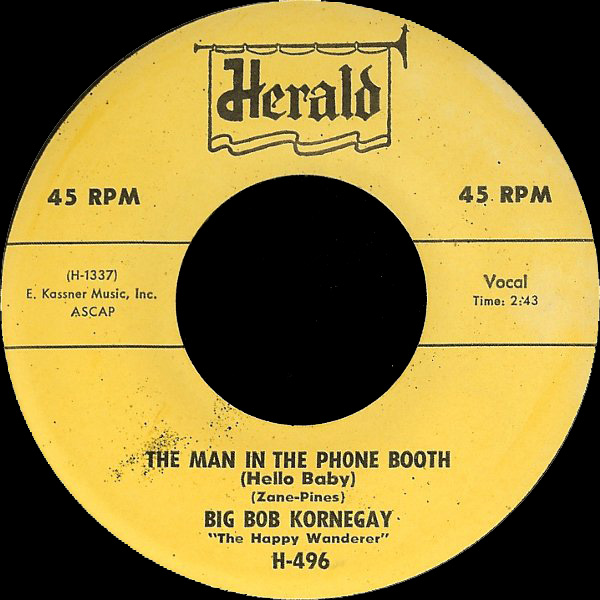 In February, 1957, Bob Kornegay cut a double-sided r&b novelty number "The Man in the Phone Booth", first as "The Wanderer" on the Flair-X label and then a week later for the Herald Label as "Big Bob Kornegay, 'The Happy Wanderer'".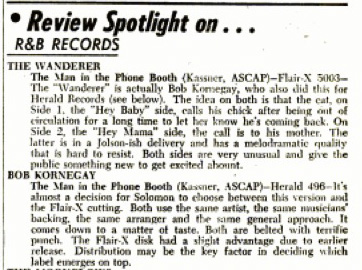 Billboard sussed out the story behind these competing records with two items in the February 23, 1957 issue (see clippings at end of article). One describes how Kornegay was under contract to Herald when he recorded the Flair-X sides. Herald had Kornegay cut an identical version, using the same musicians and arrangement, and rushed it out to compete with the Flair-X release.

A separate article notes "Al Silver of Herald said he and Kappi Jordon – blonde chick who runs Flair-X – had decided not to sue each other. 'We'll fight it out record for record like gentlemen' said Silver, 'and let the best wax win.'" Billboard later discovered Kornegay was signed to several other labels as well, so no wonder he recorded under aliases.
As it turns out, Herb Zane co-wrote "The Man in the Phone Booth" with Lee Pines. Fred Mendelsohn of DeLuxe Records decided to have Zane cut his own version and rushed it into the marketplace in a matter of days, though in a review Billboard preferred Kornegay's vocals.
Coincidently, an ad for DeLuxe, King and Federal records from March of '57 (Syd Nathan owned all three labels at that time) includes Herb Zane's "The Man With the Phone Booth" and also lists Kornegay (as Big Daddy) with "Bacon Fat" / "Bad Boy" on King 5013. Not only did Herb Zane and Bob Kornegay release the same song, but they simultaneously were also recording under the same umbrella of labels.
By 1961, Felix Mendelsohn had left Deluxe and started his own label, Regent, which he would later sell to Herman Lubinsky of Savoy. One of his first LPs on Regent is Big Daddy's Twist Party, produced by his old friend from the DeLuxe days, Herb Zane.
Is Bob "Big Daddy" Kornegay singing on this LP? It's possible, but I doubt it. The Music Maestros label released a 45 featuring the identical cut of "The Persians Twist" from this album with Herb Zane's name on it, and no mention of any other vocalist. Considering he was characterized as 'roly poly', I am inclined to think that Herb Zane took the Big Daddy name for himself for this album.
There's a secondhand reference on the 'net that Kornegay had throat cancer and stopped singing in 1959, but see Robin's comment below that he actually lived into the 1980s.
Herb Zane discography
(any help would be appreciated)
U.S. Singles:
Rainbow 289: "'You Name It' Mambo" / "Wedding Mambo" (1955)
Caravan 15605: "Double Talk Cha Cha Cha" / "Cuban Rangers Cha Cha Cha" (June 1956)
Caravan 15606: "Encanto Cubano" / "Itsfunto" (meringue)
DeLuxe 6099: "By You, By You" / "Let Me in Your Heart" (December 1956) (vocal by Herb Zane and Chorus)
DeLuxe 6118: "Man in the Phone Booth 'Hello Baby'" / "Man in the Phone Booth 'Hello Mama'" (February 1957)
Arrow 718: "Love, Love, Crazy Love" / "Y-Yi-O-U" (October 1957)
20th Century Fox 289: "Hokey Pokey Rock" / "Digga Digga Dum Dum Dum" (January 1962)
20th Century Fox 405: "Didn't Want To Get Hitched" / "I Laughed Till I Cried" (1963)
Music Maestros Z6201: "The Persian Twist" [written by Zane and Gross (Felix Gross?)] / "Twistin' At The Pit" (year?)
Music Maestros Z6202: "Yes Sir, That's My Baby" / ?
Unconfirmed singles:
Allegre 5560 – "Melancholy" / "Bye Bye" (may be demo acetate only)
Bond 605: "Double Talk Cha Cha" / ?
Foreign Singles:
Ronnex 1181 (Belgium) "Encanto Cubano" / "Itsfunto" meringue
Ronnex 1185 (Belgium) "'You Name It'" Mambo" / Alfredito: "His Majesty Cha Cha"
Regency 596 (Canada) "Man in the Phone Booth 'Hello Baby'" / "Man in the Phone Booth 'Hello Mama'"
LPs:
Tico LP 1073: Let's Go Latin Cha Cha Cha (1960)
Regent MG-6106: Big Daddy's Twist Party (1961 or early 1962)
Thank you to Tapio and Bob of Dead Wax for help with the discography.