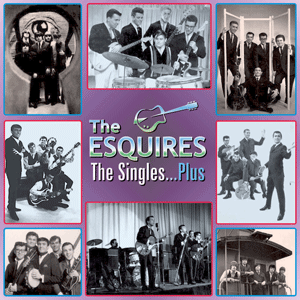 The Esquires – The Singles… Plus (2011, Pacemaker PACE 085)
Review by Rebecca Jansen
It's been two dozen years now since a short b&w film clip of a well-groomed skinny-tied early '60s instrumental combo began showing up on the Canadian music video channel. They played an original Shadowsesque toe-tapper on Fenders and a Gibson whilst a not too serious drummer paradiddled at a kit with a bass drum that read "The Esquires". It was too perfect to be a hoax, and the song burrowed into my mind even more than the drum lettering.
About a dozen years ago a CD series was launched by EMI Music Canada called the "Northern Heritage Connoisseur Series," and part of this series was the 1963 album Introducing The Esquires. Remembering the Shadowsesque group in the film clip and seeing the cover made up to look like the Shadows own famous first LP (right down to the guys' sweaters) I knew this must be that Esquires. It was, and I would hit replay after the track "Man From Adano" so many times I risked wearing out that button! I don't know if it's the memory of the almost Devo-like vintage film clip appearing anachronistically among a lot of modern videos, or the interweaving of guitar and background aaaah-aaaah-aaah-aaahs, but I'd almost swear The Esquires were more the Shadows than the Shadows ever were for this sligthly under two minutes. Like Les Paul's "Nola" or Link Wray's "Rumble" before it, it's one of those tunes that branded itself right onto my brain and will never go, and yet somehow with each relistening making the mark deeper it feels good there.
Now Pacemaker has collected up seemingly everything else by the Esquires of Ottawa and with a photo-festooned and informative book I can scratch this itch all over again. In the manner of England's Fluer De Lys or Germany's Rattles, the Esquires of the earliest demos included here are a totally different group of people than the ones who play on their final Columbia single some years further along. In between still other members came and went, like singer Don Norman who dominated vocally and lyrically for the third through fifth Capitol singles only and then went on to lead Don Norman & The Other Four. Norman's style was very smooth mid-60s Cliff Richard, and his original songs are as satisfyingly hook-laden as anything by bigger names of the era, particularly "So Many Other Boys".
Don Norman has become somewhat familar to me before this release, so the real revelation here are the final two Columbia singles from 1966. With new members Ted Gerow on keyboard (a future Staccato, see Pacemaker's great two disc First Sparks collection), and John Cassidy on guitar the Esquires took a moddish r&b turn for the interesting. Still with second drummer Richard Patterson (destined for 3's A Crowd), and lead vocals from Brian Lewicki, "It's a Dirty Shame" is a solid garage-rocker that escaped my ears until now, and the follow-up "Love Hides A Multitude Of Sins" is a totally infectious dancable raver (reportedly Zombies inspired). My poor replay button! The flipsides of both are almost equally deserving of attention as well, and yet what with the lack of support in Canada for homegrown rock & roll this was to be the last heard from the Esquires until much later reunions.
This CD is however loaded with bonus tracks from unissued demos and TV appearances to quality live recordings. And now finally, wonder of wonders, that film clip that haunted me all this time itself is explained; "shot in 1963… (two clips, one I've yet to see) are considered the first-ever Canadian pop videos and were made when a local vending machine entrepreneur brought back some early video machines [Scopitones] from France. Having nothing but French pop stars on them, he decided to feature Canadian acts." That 16mm film of "Man From Adano" stands as a peek into a different time and sound as iconically as the celebrated 1906 Market Street in San Francisco film, as only a few weeks later the Beatles began their invasion! In the footsteps of Lonnie Donegan, Cliff and the Shadows, the Beatles hit first in Canada (many later-famous U.S. musicians have noted how they first heard that group while in Canada), but for me 'Man From Adano' will always be the coolest piece of Canadian rock.
See the Pacemaker site for more information on this release.
Rebecca Jansen's writing and artwork can be seen at Hippies stole my blog! *
Garage Hangover accepts recently-released LPs, CDs, books and DVDs for review. Please contact us for a mailing address.