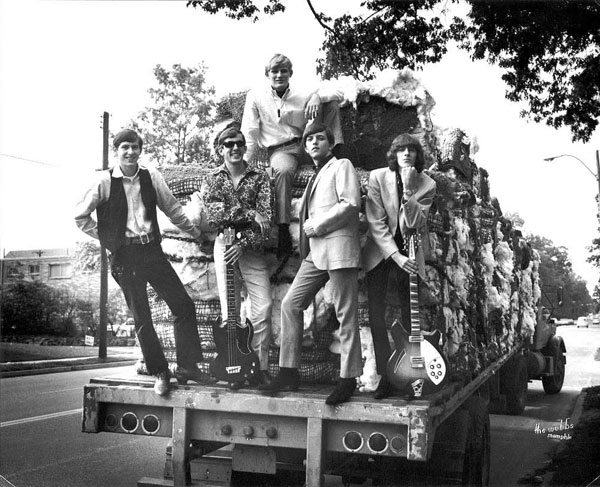 l-r: Tom Minga, Dale Roark, Ronny Williamson, Ron Gorden and Bennie Kisner.
The Escapades were among the dozens of working teen bands in Memphis in the mid-'60s. Vocalist Tommy Minga had been part of the Jesters, who cut "Cadillac Man" for Sun Records. Though Minga was the primary songwriter for the Jesters and is given songwriting credit for "Cadillac Man", the song was actually written by Jesters guitarist Teddy Paige. Paige disliked Minga's vocal arrangement on an early take of the song and forced Minga out of the band soon after the session. Jim Dickinson was brought in to play piano and sing on the released version.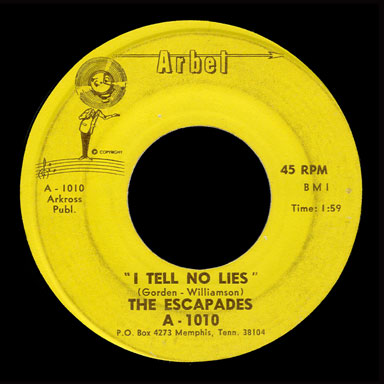 Within a couple months of leaving the Jesters in late 1965, Minga formed a new version of the Escapades with Bennie Kisner guitar, Ron Gorden keyboards, Dale Roark (not Rourke as has been listed before) bass and Ronny Williamson drums.
They released their first 45, "I Tell No Lies", on the local Arbet label in January of 1966. The band moves seamlessly from verse to chorus, with swirling organ playing from Gorden and solid bass playing from Roark propelling the rhythm for Tom Minga's strong vocal. Bennie Kisner provides a neat sitar-like solo on his Rickenbacker.
"She's the Kind" is a little slower in tempo, and reminds me of the Zombies, Minga at times sounding very much like Colin Blunstone. Ronnie Gorden and Ron Williamson wrote "I Tell No Lies", while Minga, Gorden and Roark wrote "She's the Kind".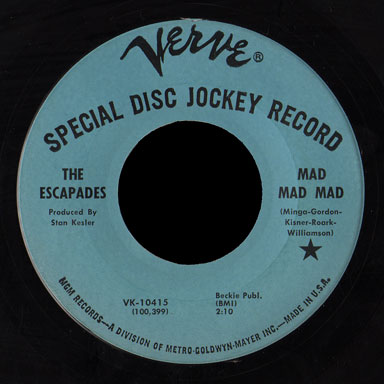 This record was picked up by the XL label, but it's unfortunate that Verve didn't re-release it when they signed the band soon after its release, as "I Tell No Lies" should have had some chance at chart action.
Despite Kisner's hard riffing fuzz sound, their second 45 doesn't quite capture the magic of the first. Released on Verve in May of 1966, it failed to ignite the charts and the band was dropped.
The flip, "I Try So Hard" may be the band's most ordinary composition, but Bennie Kisner's interesting guitar picking is a highlight, and sounds great with headphones. Both sides are credited to the entire band, and produced by Stan Kesler.
The draft broke up the group in 1967. Ron Gorden joined the Bar-Kays and later worked as an artist for Stax.
Keyboard player Ron Gorden contacted me with the photos you see here and his story about the band:
Our first release "I Tell No Lies" was on a small independent label in Memphis. As it had success regionally, we were signed by Verve Records, a subsidiary of MGM Records, through Phillips Recording Studio (Sam Phillips of Sun Records/Elvis, Jerry Lee, etc. fame) with Stan Kessler producing us. For some reason the decision was made to not release I Tell No Lies nationally on Verve, but to record another song. So "Mad, Mad, Mad" was the result. I agree with you that it is unfortunate that "I Tell No Lies" did not have a chance to go further. I see it sell on E-Bay these days for as much as $350 for a 45rpm. I wish I had stashed a case of them!

The band wasn't actually dropped by the label. We split up due to the draft, as you said on your site. Williamson, Roark, and Minga all entered the service. I continued in music for several years, ending with the Bar-Kays (1968-1970) before going to work for Stax Records where I eventually became Advertising Manager. During my tenure there, I was directly responsible for coordinating the development of more than 130 album covers and the trade and consumer advertising that accompanied those products. We did great work and won numerous awards including a "Grammy Award" nomination for package design ("Isaac Hayes Live at Sahara Tahoe").

Benny Kisner died sometime in the late Seventies. Tom Minga died in approximately 2000. Williamson now lives in North Mississippi and does not play drums anymore. I am in Northwest Arkansas, where I own an insurance agency. I do not play professionally any more, but sometimes play in church.
Thank you to Ron Gorden for the photos and story on the band. The Ace/Big Beat CD Cadillac Men: the Sun Masters includes Minga's vocal take of the Jesters' "Cadillac Man" along with some great Minga originals and an unreleased Escapades track, "What You Know About Love". I highly recommended it.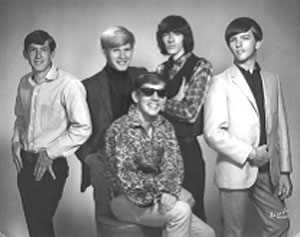 l-r: Minga, Williamson, Roark, Kisner and Gorden