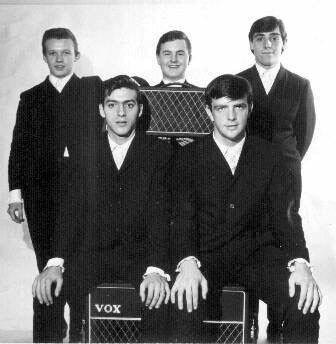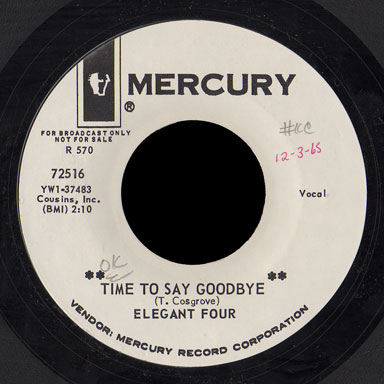 From the Bronx, the Elegant Four were also known as the Elegants. Tom Crosgrove was lead guitarist and vocalist, and wrote both songs on their only 45. Other members included Bill Dennis and Pete Santora.
The chanted vocals and echoing chords give "Time to Say Goodbye" a downcast mood, brightening momentarily during the chorus where the singer gives the boot to the girl holding out on him.
On the flip is the uptempo "I'm Tired", with more fine harmonies and a good guitar solo.
These songs were originally released on the Cousins label, produced by Mike Barbiero. It was picked up for a December '65 release on Mercury, but doesn't seem to have made much chart impact.
Sources: photo from Pete Santora's site. Thanks to Tom for clarifying the photo IDs.
A couple other photos are available on Tom Walsh's site Bronx Bands of the Past (warning: Angelfire sites like this one always have pop-up ads).