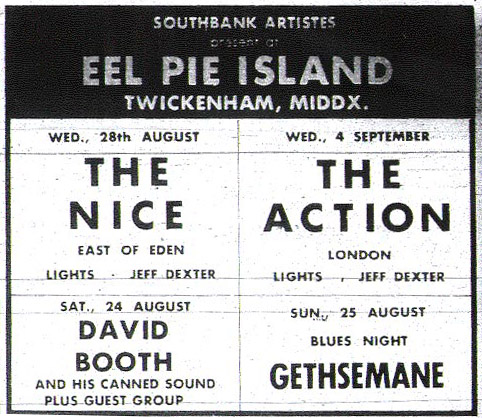 Eel Pie Island in Twickenham, Middlesex has often been described as the birthplace of British rhythm and blues. Alongside the Ealing Club (where The Rolling Stones came together) and the Crawdaddy in Richmond, Surrey (where The Rolling Stones and The Yardbirds both held down residencies), the hotel on Eel Pie Island featured a virtual who's who of soon-to-be famous British artists.
However, unlike the two above venues, Eel Pie Island bridged the gap between the early 1960s R&B scene and the late 1960s British psychedelic/heavy rock period.
From 1962-1967, The Rolling Stones (who held a residency there from April-September 1963), The Downliners Sect, David Bowie (with The Mannish Boys), Jon Lord (with The Artwoods), Rod Stewart, Jeff Beck (with The Tridents), The Yardbirds, John Mayall's Bluesbreakers, Cream, Pink Floyd and many others graced the stage.
The hotel closed briefly in the summer of 1967 but reopened the following summer. During late 1968-early 1969, top groups like The Who, The Crazy World of Arthur Brown, The Moody Blues and Joe Cocker & The Grease Band performed there. During 1969, the venue changed name and became Colonel Barefoot's Rock Garden.
Below is a list of gigs that I have started to compile. I would welcome any additions in the comments box below and any memories people have of this historically important venue.
24 April 1963 – The Rolling Stones
1 May 1963 – The Rolling Stones
8 May 1963 – The Rolling Stones
15 May 1963 – The Rolling Stones
22 May 1963 – The Rolling Stones
29 May 1963 – The Rolling Stones
5 June 1963 – The Rolling Stones
12 June 1963 – The Rolling Stones
19 June 1963 – The Rolling Stones
26 June 1963 – The Rolling Stones
3 July 1963 – The Rolling Stones
10 July 1963 – The Rolling Stones
12 July 1963 – The Rolling Stones
14 July 1963 – The Yardbirds and Cyril Davies All Stars (unconfirmed)
17 July 1963 – The Rolling Stones
24 July 1963 – The Rolling Stones
31 July 1963 – The Rolling Stones
7 August 1963 – The Rolling Stones
14 August 1963 – The Rolling Stones
21 August 1963 – The Rolling Stones
28 August 1963 – The Rolling Stones
4 September 1963 – The Rolling Stones
11 September 1963 – The Rolling Stones
21 September 1963 – The Rolling Stones
28 September 1963 – The Rolling Stones
8 December 1963 – Manfred Mann
25 May 1964 – The Manish Boys
18 June 1964 – Manfred Mann
21 June 1964 – The Manish Boys
26 July 1964 – The Manish Boys
19 August 1964 – Davie Jones & The Manish Boys
2 September 1964 – Davie Jones & The Manish Boys
7 October 1964 – Davie Jones & The Manish Boys
23 October 1964 – The Second Thoughts
8 November 1964 – Davie Jones & The Manish Boys
21 November 1964 – Dave Hunt's R&B Band featuring Hamilton King
30 October 1965 – The Who (unconfirmed)
15 December 1965 – The Stormville Shakers
26 December 1965 – John Mayall's Bluesbreakers
20 March 1966 – John Mayall's Bluesbreakers
23 March 1966 – Graham Bond Organisation
29 May 1966 – John Mayall's Bluesbreakers
8 July 1966 – The Stormville Shakers
24 August 1966 – Cream
18 September 1966 – John Mayall's Bluesbreakers
21 September 1966 – Dave Anthony's Moods and The Stormville Shakers (check)
27 November 1966 – John Mayall's Bluesbreakers (cancelled)
1 March 1967 – Pink Floyd
26 March 1967 – Carl Douglas & The Big Stampede
29 March 1967 – Pink Floyd
18 June 1967 – Carl Douglas & The Big Stampede
23 June 1967 – Carl Douglas & The Big Stampede
28 June 1967 – Pink Floyd
5 July 1967 – Pink Floyd
26 July 1967 – Family
31 July 1968 – Spooky Tooth and Spice
7 August 1968 – Blossom Toes and Spice
14 August 1968 – Skip Bifferty and Juniors Eyes
21 August 1968 – The Crazy World of Arthur Brown
24 August 1968 – David Booth
25 August 1968 – Gethsemane
28 August 1968 – The Nice and East of Eden
4 September 1968 – The Action
11 September 1968 – The Moody Blues
14 September 1968 – Gracious
18 September 1968 – Family and The Downliners Sect
25 September 1968 – Eclection and Village
28 September 1968 – Gracious
2 October 1968 – Joe Cocker & The Grease Band and Terry Reid
5 October 1968 – Gracious
6 October 1968 – John Thomas Blues Band
9 October 1968 – Elmer Gantry's Velvet Opera and Freedom
16 October 1968 – Colosseum and July
23 October 1968 – Alan Bown, Gethsemane, Proteus and David Booth
30 October 1968 – The Who and East of Eden
6 November 1968 – Crazy World of Arthur Brown
13 November 1968 – John Mayall's Bluesbreakers
23 January 1969 – Eire Apparent
24 January 1969 – Van Der Graaf Generator
7 February 1969 – The Pretty Things and Ian Whitcombe with Turnstyle    
14 February 1969  – Roy Harper, Juniors Eyes and Edgar Broughton
Most of the late 1960s gigs were sourced from Melody Maker and Mick Capewell's Marmalade Skies. Other useful sources were Middlesex County Times & West Middlesex Gazette, Richmond & Twickenham Times and Time Out. Thanks also to Andy Neill, Ken Baxter, Alan Clayson and Greg Russo